Navy Apologizes After Phallic-Shaped Flight Path Recorded By Marine Pilots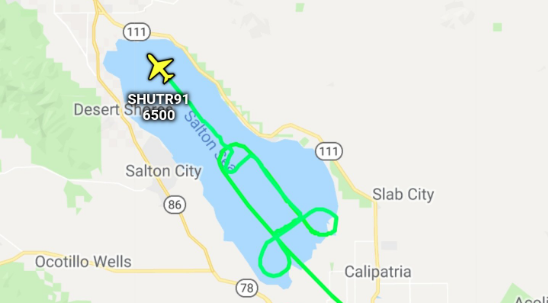 A U.S. Marine Corps aircrew is under investigation after a second flight pattern outline of a penis was drawn on scanners in the past two years.
The 3rd Marine Aircraft Wing was identified by the Aircraft Spots social media account on Twitter after the penis-shaped flight path of the T-34C aircraft was revealed. Pilots were recorded flying the phallic flight above California's Salton Sea in posts Tuesday.
"Somebody needs to have a word with the crew of US Navy T-34C 160937 SHUTR91 out of MCAS Miramar" the account quipped Tuesday.
The United States offered an official apology regarding the penis-shaped flight path recorded by the online scanners.
"The U.S. Navy owes you, your parents, and your students an apology for the unacceptable obscene contrails that were created by one of my aircraft on Nov. 16," the military branch said in their later apology.