Airline Calls Police on Disabled Man Trying to Take Wheelchair Aboard Holiday Flight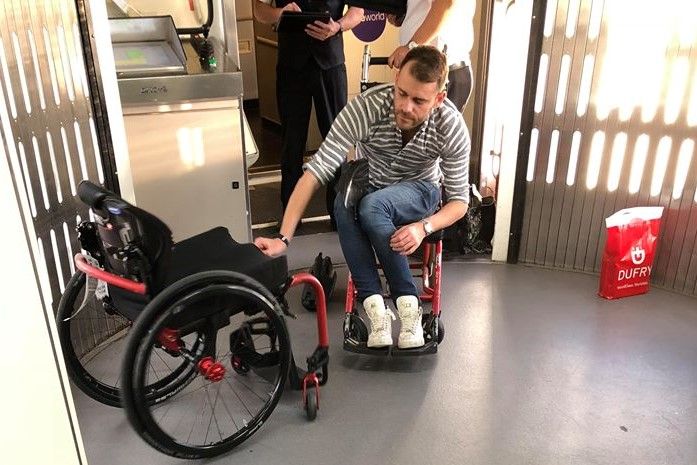 A disabled Australian man who had booked a flight to Bali for a holiday was told he could not take his wheelchair on board, leaving him humiliated.
Melbourne businessman Shane Hryhorec was ready to board the Qantas flight on Wednesday when staff said the wheelchair must be placed in the aircraft hold. Hryhorec argued that his wheelchair could be stored in the cabin as it folds in half. However, Qantas only allows wheelchairs in the cabin on Airbus A380 and Boeing 787 flights. The Bali flight was on a Boeing 737.
After debating with the airline staff, Hryhorec was escorted back to the terminal where he was met by Federal Police. According to news.com.au, the police quickly brushed off the incident as a matter they did not need to deal with.
"I just really wonder when things like this will stop happening to us," Hryhorec said. "I got in the car and cried. I was so upset. Sadly, this is not uncommon for people with disabilities. When you go to Bali you have no idea what chair they're going to give you. My wheelchair is designed to fit in the overhead and that's why I take it traveling."
Hryhorec's business replaces broken parts on wheelchairs—a common occurrence on flights.
"I can't afford having my chair damaged. I run the company that replaces wheelchairs that have been damaged in flights. I understand what happens when people fly with their chair in the hold."
Hryhorec has now boarded another flight to Bali but was less than enthusiastic about the experience, he revealed on Twitter. "I've been told my wheelchair will not meet me at the plane door. I will have to collect my wheelchair when I collect my bags and someone will push me through the airport. I feel so disabled. I've not felt so low about my wheelchair for years."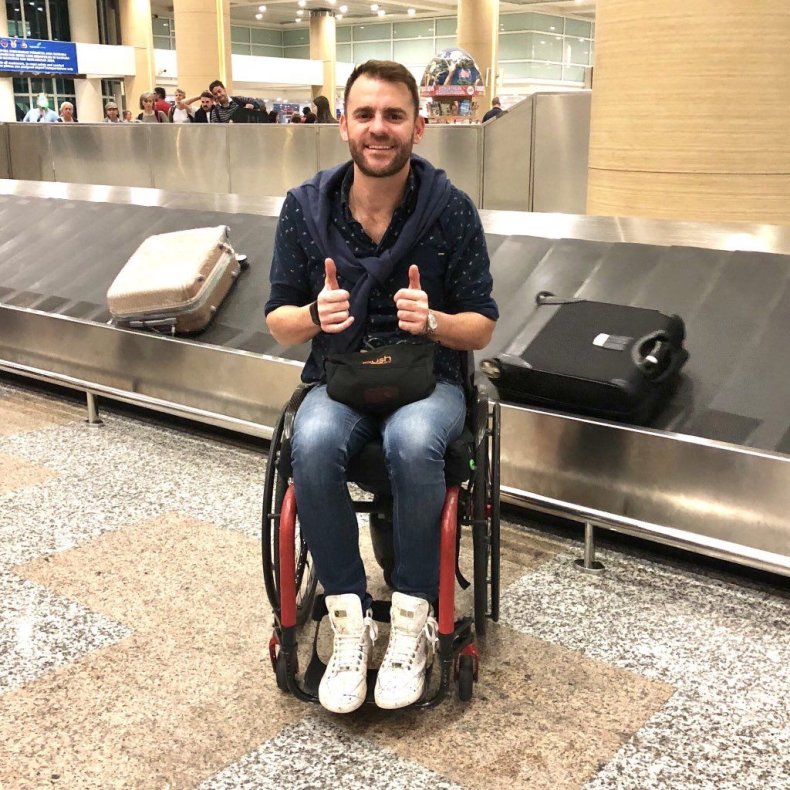 "I feel so anxious not knowing what will happen when I land in Bali, if my chair will be there at all. This is why I started my business, so others didn't have to experience this when traveling. Now I am, I could cry."
Speaking to Newsweek following the flight, Hryhorec said it was a mostly smooth experience. "During the flight the Cabin Services Manager [CSM] came up to me and said 'We've arranged for your chair to be brought to the door when you land'. A great relief after all I'd been through in the past 24 hours. Crew were amazing during the flight."
Unfortunately, Hryhorec did have another unpleasant run in with the manager who denied his wheelchair on Wednesday. "Once we disembarked, I ran into the CSM from yesterday. I held my hand out and said 'Hey how are ya?' In front of the entire flight crew who was waiting with him to board, he refused to shake my hand. I said 'not going to shake my hand?' and he said "anything for free press."
Qantas did not immediately respond to a request for comment.