The CEO of Ryanair, one of the largest airlines in Europe, said last week that those who have chosen not to get vaccinated against COVID-19 should be banned from various aspects of everyday life.
Michael O'Leary told The Telegraph that authorities should be making life harder for "idiot" anti-vaxxers or those who've denied the jab without good cause.
"If you're not vaccinated, you shouldn't be allowed in the hospital, you shouldn't be allowed to fly, you shouldn't be allowed on the London Underground, and you shouldn't be allowed in the local supermarket or your pharmacy either," O'Leary told the paper.
Both in the United Kingdom and the U.S., governments are pushing vaccine campaigns even harder as the highly contagious Omicron variant continues to wreak havoc on both populations.
On December 16, as previously reported by Newsweek, President Joe Biden said in a press conference that those who are unvaccinated would overwhelm the hospitals.
"For unvaccinated, we are looking at a winter of severe illness and death—if you're unvaccinated—for themselves, their families, and the hospitals they'll soon overwhelm," he said, according to the White House report.
"But there's good news: If you're vaccinated and you had your booster shot, you're protected from severe illness and death—period," he continued.
Across the pond, U.K. Health Secretary Sajid Javid has echoed that sentiment saying that the unvaccinated could cause "huge damage" to the rest of the population, Newsweek previously reported.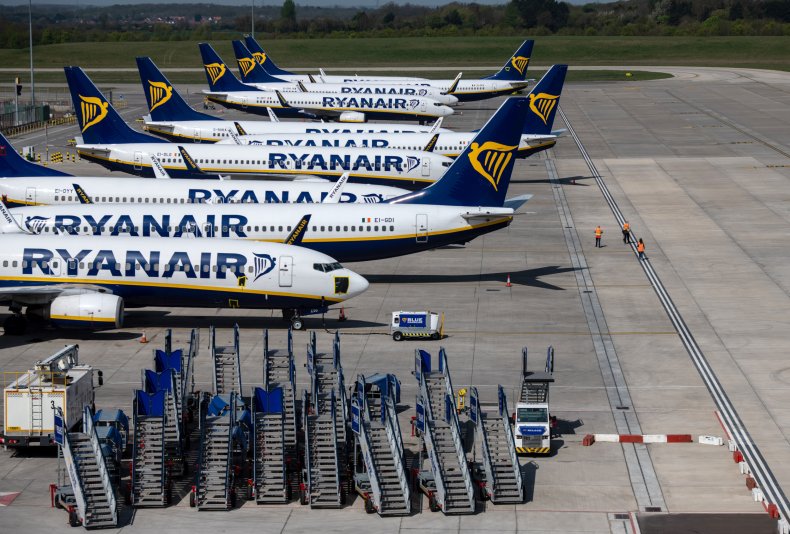 Last week, Dr. Anthony Fauci said that Omicron can evade protection provided by the initial vaccines alone but that getting a booster shot increases efficacy and provides better protection against the variant, ABC news reported.
O'Leary went on to say that making vaccines mandatory would be "an infringement of your civil liberties," though pushes the idea of making life difficult for those who make the decision not to.
"We recognize the rights of everybody to decide not to get vaccinated if you so want," he said, as reported by The Telegraph. "If you personally object to vaccination, because it's some huge government/Big Pharma conspiracy; apart from the fact that you would be plainly an idiot, we respect your right to be an idiot."
Newsweek reached out to Ryanair for comment.
As of November 12, 202, the Centers for Disease Control and Prevention recommends that passengers delay even domestic travel until they are fully vaccinated. For those who are not vaccinated, the CDC says to get a test both before and after the trip.
Uncommon Knowledge
Newsweek is committed to challenging conventional wisdom and finding connections in the search for common ground.
Newsweek is committed to challenging conventional wisdom and finding connections in the search for common ground.