'I'm Going to Kill Everyone': Plane Passenger Who Tried to Open Emergency Exit Fined $106,000 for Mid-air Rampage
An unruly airline passenger who sparked a major incident last month after attempting to open an emergency exit mid-flight has been hit with a massive bill.
Chloe Haines, 25, was arrested on June 22 after hurling death threats during a Jet2 flight from London's Stansted airport to Dalaman in Turkey. A witness said Haines had to be restrained after rushing to the cabin door, at one point shouting: "I'm going to kill everyone."
The Berkshire woman's meltdown resulted in two Royal Air Force fighter jets being scrambled to escort the diverted plane to ground, causing a "sonic boom" that was heard for miles.
In a statement this week, Jet2 described the behavior as "abusive and dangerous." Haines was billed more than £85,000 ($106,000) and is now banned from using the airline for life.
The amount was for costs incurred by the airline, a spokesperson told Newsweek.
Steve Heapy, the chief executive of Jet2.com, said: "Miss Haines' behavior was one of the most serious cases of disruptive passenger behavior that we have experienced. She must now face up to the consequences of her actions, and we will vigorously pursue to recover the costs that we incurred as a result of this divert, as we do with all disruptive passengers.
"We hope that this sobering incident, with its very serious consequences, provides a stark warning to others who think that they can behave in this fashion," the airline boss added.
Local media reported at the time the flight left Stansted airport at roughly 4:50 p.m. It was intercepted by fighter jets and successfully landed just shortly before 6 p.m.
Police said operators received a slew of calls about a suspected explosion, explaining the noise had been the jets breaking the sound barrier as they rushed to attend to the incident. According to The Sun, a British tabloid, the woman's outburst started about 45 minutes into the flight.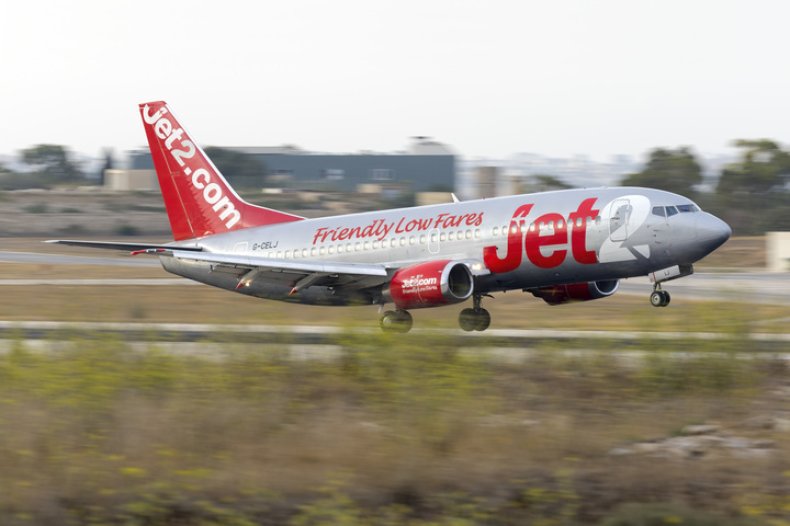 A female passenger who was in the plane at the time, Amy Varol, told the newspaper: "She literally ran to the exit door. She had her hands on the handle trying to open it.
"She started assaulting the two crew members, a woman and a man. A big guy then literally threw her down to the floor and there was one person holding one arm and another person holding the other. Then a man sat on her and one person was holding her leg and someone else holding the other one. That's when she started screaming 'get off me, I'm going to kill everyone.'"
A second witness, identified as 36-year-old Stewart Brown, said: "The stewards gave her several chances and did the best they could before she became abusive and then made a dash for the cockpit and had to be restrained by staff and passengers. We had to turn round and police removed her off the plane."
Essex Police confirmed in a statement that a 25-year-old woman had been arrested by officers at Stansted airport on suspicion of common assault, criminal damage and endangering an aircraft. The suspect was released on bail. Jet2 said it continues to support the ongoing investigation.