Korean Air Heiress Apologizes As She Faces Assault Claims of Throwing Orange Juice Over Colleague
The daughter of the billionaire chairman of Korean Air has apologized in front of journalists as she faces claims she sprayed a colleague with orange juice.
In a story that has gripped South Korea, Cho Hyun-min told journalists of her regret outside the Gangseo police station in Seoul where she was due to report for questioning on suspicion of assault over the incident.
"I'm really sorry for causing concern," she said, without admitting to any specific actions, Agence France Presse reported.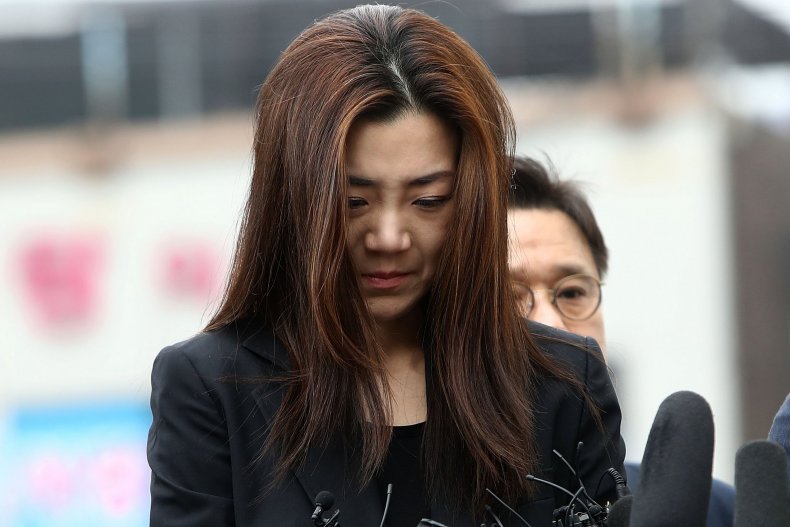 Cho, 35, resigned from her marketing post after she was accused of throwing the liquid at a colleague during a company meeting.
Korean Air has partially disputed reports of the incident, saying she "only threw a cup with water on to the floor." Cho Hyun-min says she only pushed the employee, Yonhap reported.
At the time, she wrote on Facebook: "I apologize with my head down for my foolish and reckless behavior. I have no words to say for my action that I should not have done under any circumstances."
In 2014, her elder sister, Cho Hyun-Ah, 44, made two flight attendants kneel and beg and then forced a plane that was taxiing to return to its gate after she was served macadamia nuts in a bag rather than a bowl.
The incident was dubbed "nut rage" and led her to a stint in prison as media widely discussed the bad behavior of the families that control the country's major companies, in a system known as chaebol. Their father, Cho Yang-ho has apologized for his daughters' "immature" behavior.
Police are also investigating their mother Lee Myung-hee over claims she verbally and physically abused airline employees and the family is also accused of using Korean Air planes to smuggle luxury goods into the country.
"The Cho family is one of the most vilified chaebol families, with multiple family members implicated in alleged bad behavior," Chung Sun-sup of online information service chaebol.com told AFP.
A movement has been building for the government to ban the airline from using "Korean" in its name and to expel Cho Hyun-min from the country, as she is a U.S. citizen.
President Moon Jae-in has said he would try to curb the influence of the families controlling the country's major companies like Korean Air, Samsung and Hyundai.
Korean Air Heiress Apologizes As She Faces Assault Claims of Throwing Orange Juice Over Colleague | World