Airline Passenger With Chronic Asthma Forced to Wear Mask After Pilot Rejects Exemption Card
A man with chronic asthma was forced to wear a mask during a flight in the U.K., even though he carried an exemption card.
The man, who was named "Nick" for anonymity purposes by the BBC, was also threatened by the plane's pilot to be taken off the flight.
Nick printed an official exemption card from the government's website before flying to the island of Jersey to see his family, and this was accepted on the outbound flight in August, but not on his return flight.
In the end, Nick wore a mask for the one-hour long journey, but this caused him to hyperventilate for the duration of the flight.
"I would do anything to avoid wearing anything that restricts my breathing. That's more terrifying than being insulted by 100 passengers, but eventually I felt like I had no choice.
"The staff came to speak to me around six times. The 30-minute delay was seen as my fault and each visit whipped up more hostility among the passengers. I was insulted, shouted at, laughed at. It felt like everybody was against me," the passenger told the BBC.
Face coverings are compulsory on U.K. public transport, and most airlines request passengers to wear a mask at all times during flights, but some people are allowed not to wear them, due to age, health or disability reasons.
The Department for Transport for England says those who are exempt can choose to carry a card, badge or a homemade sign, but it is not compulsory to show evidence of the exemption.
The U.K. government website on guidance around mask-wearing states: "Those who have an age, health or disability reason for not wearing a face-covering should not be routinely asked to give any written evidence of this, this includes exemption cards".
Budget U.K. airline EasyJet, which was the carrier of Nick's flight to London, said that his behaviour was "disruptive," but another passenger on the flight, who did not want to be named, told the BBC that Nick was calm during a stressful situation.
The statement from the airline to the BBC said: "We have recently updated our policies in line with recent U.K. government guidance so that as well as a medical certificate, customers can alternatively provide a relevant document from a government website or lanyard. We are sorry that this new policy was not recognised by the crew on this occasion."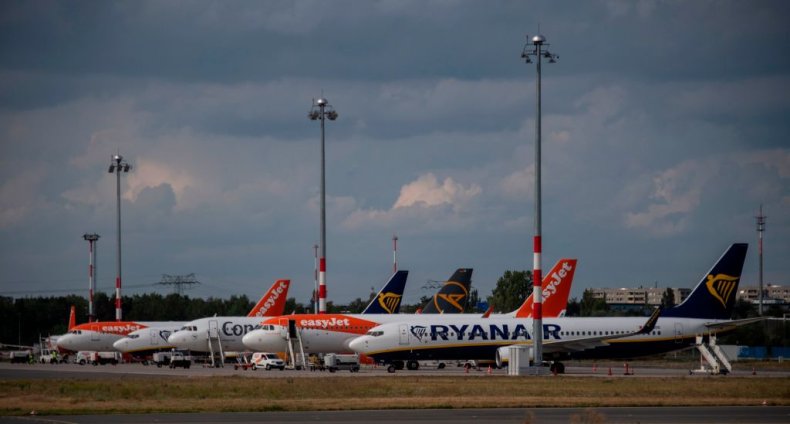 Most major U.S. airlines also require passengers to wear masks for the duration of their flight. Taking it one step further, as of August, Alaska Airlines is strengthening its regulations, saying it would ban any travellers who repeatedly did not wear a face covering from any future travel with the airline for as long as its mask-wearing policy remained in place.
In late June, the airline allowed its flight attendants to issue a final notice to any passenger—in the form of a yellow card handed to them—who repeatedly disregarded the requirement to wear a mask while onboard.
"Going forward, if a guest chooses not to comply after receiving the yellow card, his or her travel with Alaska will be suspended immediately upon landing," the airline's guidance said.
"Any remaining portion of the guest's itinerary will be cancelled—including connecting or return flights—along with any future trips the guest has booked. The guest will be provided with a full refund for any unused travel and will be responsible for making their own travel arrangements from that point."