Airline Passenger Claims Crew Bound And Punched Him On Flight To Chicago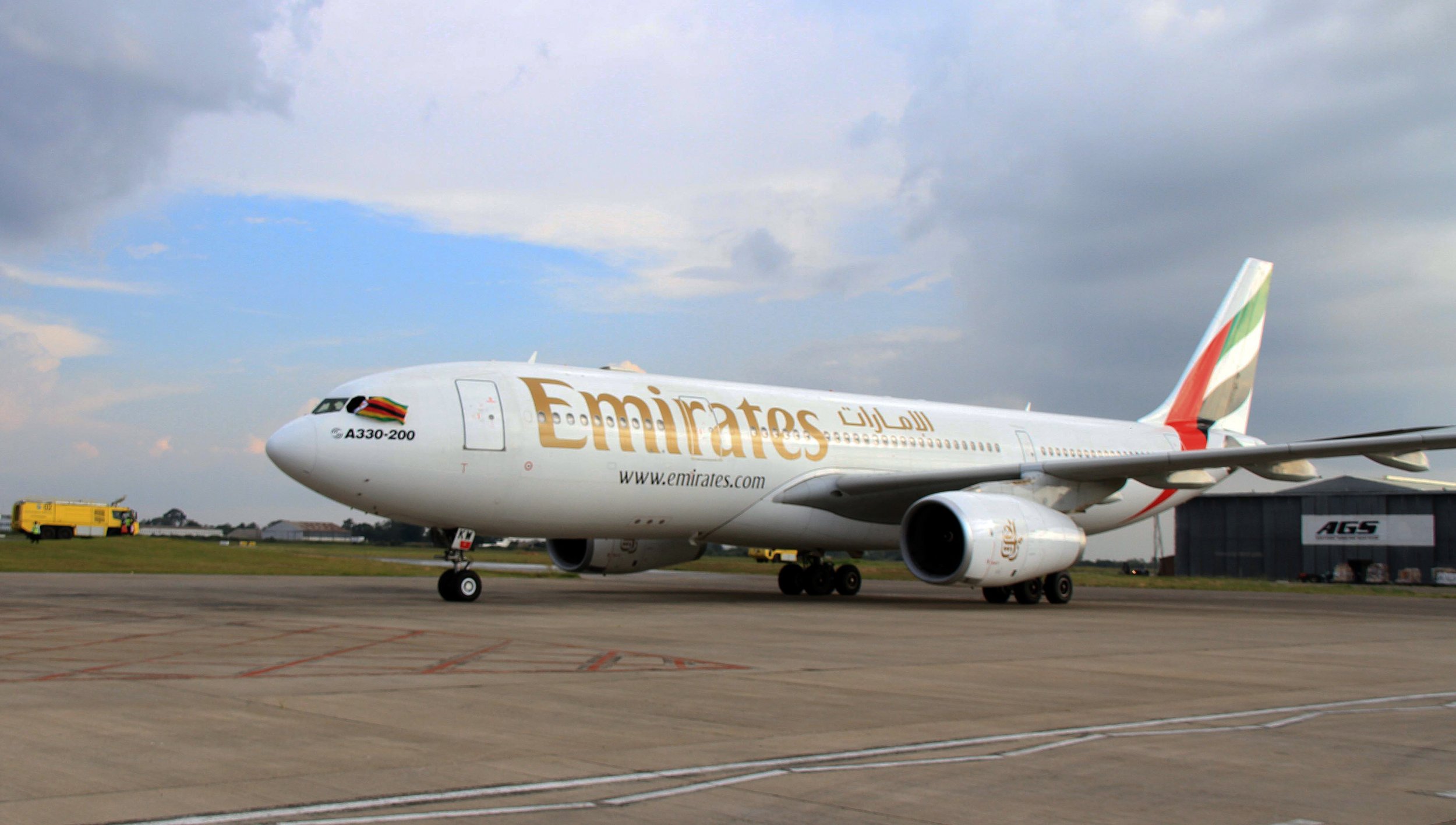 Updated | A Nigerian man in his 70s claims a flight crew bound and punched him before taping his mouth shut for hours on a Chicago-bound flight from Dubai last week.
An attorney for David Ukesone told ABC News his client was traveling from Nigeria to Chicago to reunite with family when the incident occurred on his Emirates Airline connection flight from Dubai.
"He apparently sits in the wrong seat and was told to change seats by a flight attendant," Chicago-based attorney Howard Schaffner told the broadcaster.
"He didn't think he was in the wrong seat and there was an argument, and, at some point, he was hit."
Emirates Airlines confirmed that an incident did occur on January 23, alleging that Ukesone "had to be restrained by cabin crew due to unruly behavior during the flight."
"Despite the best efforts of our crew to intervene and reason with him, Mr. Ukesone repeatedly disturbed other passengers, refused to remain in his assigned seat and forced his way into another cabin class. He also assaulted crew and bit another passenger. As a consequence, he was restrained by our crew," an airline spokesperson told Newsweek.
"Our cabin crew are highly trained to ensure the safety and security of our passengers, and constantly monitored Mr. Ukesone's welfare throughout the flight. The safety and seurity of our passengers and crew is of the utmost importance and will not be compromised," the spokesperson said.
"We would like to take the opportunity to thank the other passengers on the flight for their understanding, in particular, the individuals who had assisted our crew during the flight," they added.
Read more: Instagram Model Jen Selter Kicked Off American Airlines Flight by Police
U.S. Customs and Border Protection (CBP) agency spokesperson Kris Grogan confirmed to Newsweek that officers responded to the incident after being contacted by Emirates Airlines about an "inbound flight from Dubai International with a disruptive passenger on-board."
"The airline informed CBP that the passenger had been restrained on-board the aircraft by the aircrew," the spokesperson continued.
CBP officers met the flight upon arrival, along with responders from the Chicago Police Department officers and the Chicago Fire Department and "removed the passenger and transferred him to an awaiting ambulance that transported him to a nearby hospital for further evaluation."
The spokesperson said CBP "is unaware of what took place to the traveler while on the flight and can not confirm anything that took place on-board the Emirates aircraft."
The Chicago Police Department told Newsweek it had no information pertaining to a passenger being removed from an Emirates flight that day.
Schaffner said the dispute began when Ukesone got up from his seat to use a bathroom and that when he returned, he accidentally sat down in the wrong seat.
He said his client was confused when a flight attendant asked him to move. He wanted to "take his bag in the overhead compartment with him."
Ukesone didn't understand why the flight crew was asking him to move, Schaffner said, alleging that the elderly man understands and speaks English, but has "some difficulty" understanding the language when it is spoken by someone who is not Nigerian.
That's when the situation escalated, Schaffner said, with a member of the airline's flight crew striking Ukesone "at least once" in the face, leaving a "large welt."
"He also had significant wounds on his wrists and ankles," Schaffner added, saying he believes the wounds were caused by a hemp rope allegedly used to retrain Ukesone. He also alleged that the Nigerian's "mouth was taped" and that he was left for hours on the flight "without any food or water."
Ukesone had just received a visa to enter the U.S. and was traveling to Chicago to meet his wife, son and daughter who had all immigrated to the country earlier.
His family was reportedly left waiting at the Chicago airport for hours before they were informed that their father had been taken to the University of Chicago Medical Center for treatment for lacerations and bruising.
Schaffner told ABC he had remained in treatment for several days after the incident and was "disoriented" after the event.
"The man did nothing more than sit in the wrong seat," the attorney said. "Even if he's in the wrong seat, you don't have to beat the guy."
Read more: Airline Passengers Stranded in Boston Told to Delete Videos From Phones or Face Getting Arrested
Despite Emirates Airlines alleging Ukesone had been turned over to police, Schaffner said no formal charges had been filed against Ukesone following the incident.
Partner at Chicago law firm Clifford Law Offices Michael S. Krzak said the incident represents another case of airline employees "overreacting" to a situation.
"Once again, we have airline employees who appear to be overreacting to a situation that is not a threat to others," Krzak said on the law firm's website. The firm won one of the earliest cases of "discriminatory bumping" documented in the U.S. after it successfully represented former Illinois Supreme Court Justice Thomas Kluczynski and his wife when they were removed from a flight despite having tickets.
"Training is lacking and airline employees who are not well-versed in recognizing security risks are taking things to unnecessary levels," Krzak added.
Schaffner has said "there's no question" a lawsuit will be filed against the airline, adding that he hopes other passengers on the flight that day will come forward as witnesses.
This story has been updated to include a statement from an Emirates Airlines spokesperson.