Airline Passengers Voice Concern That Protective Mask Policies Are Not Being Enforced
Most major airlines now require passengers to wear face masks in efforts to prevent the spread of COVID-19 when flying, but with vague exceptions, some passengers are voicing concern over social media that protective policies in place are not being enforced.
On May 9, Dr. Ethan Weiss tweeted a photo that went viral of a full United flight that caused the airline to implement policy change allowing passengers on flights near capacity to rebook for a different flight or be issued credit.
Other airlines have blocked customers from booking middle seats and reduced the number of total passengers on each flight.
On May 4, Jet Blue was the first major U.S. carrier to require face masks for all passengers. Delta Air Lines, American, United and Southwest Airlines followed shortly after. As of May 11, passengers and crew members are required to wear face masks when flying with any of the five major U.S. carriers.
However, mask policies have not been as stringent as other social distancing measures. Passengers with certain conditions and small children are exempt from most policies that require face coverings while boarding. In an internal memo obtained by CNN on May 14, Southwest Airlines told flight crews that passengers would not be denied boarding if they refused to wear a mask.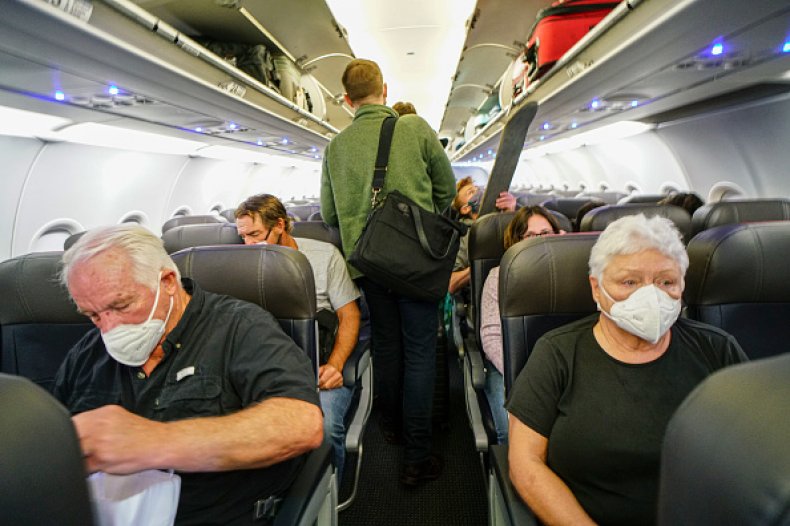 Despite the response to the new coronavirus pandemic from airlines, passengers have reported seeing other passengers, flight attendants and pilots without masks while on the plane and at the airport.
Several passengers on recent American Airlines flights have tweeted about being greeted by uncovered flight attendants, as well as photos picturing other passengers without masks during flights.
Tania Joseph and her sisters, who flew from New York to Miami on Sunday, found their traveling experiences to be "jarring." After being alerted that their American Airlines flight was reaching capacity, they were given the option to switch flights. An agent from the airline reassured Joseph that their new flight would be fairly empty and that seats had been blocked off, she told Newsweek.
However, Joseph and her sisters were seated directly next to other passengers and when one passenger urged another practice social distancing, a crew member said, "you can't social distance on a plane."
"You can tell people want to speak up, but they feel like they have no voice," she told Newsweek, "That's the situation."
Joseph said she was also concerned that her flight boarded approximately 10 minutes after the previous one disembarked, leaving little time for the crew to properly sanitize the plane. She added that the plane did not smell of cleaner or disinfected when she boarded.
Before boarding began, Joseph said she saw flight attendants conversing without any facial coverings despite standing in areas where signs instructed those in the terminal to wear them. At the gate, the passengers on her flight were also instructed to fill out forms indicating where they would be self-isolating once they arrived in Florida, but she was worried when the gate agents handed around pens for travelers to share.
"I feel like there has to be some type of regulation. We're bailing them out and the government is giving them money. Are you helping with safety precautions, safety measures and protocols in place?" Joseph said, "My sisters and I were talking and we just felt like we weren't able to fly American Airlines again."
In a statement American Airlines sent to Newsweek, the airline defended its current policies.
"The safety and well-being of our customers and team members is our highest priority. American, like other U.S. airlines, requires customers to wear a face covering while on board, and this requirement is enforced at the gate while boarding. We also remind customers with announcements both during boarding and at departure. Some passengers are exempt, such as young children and those with a medical reason why they cannot wear a mask. The policy also does not apply while eating or drinking," the statement read.
In a statement released to Newsweek in an email, Southwest Airlines said that "we ask that Customers comply with the policy out of respect for the safety and well-being of other Customers and our Employees. As part of our enhanced policy, Southwest will deny boarding to any Customer choosing not to wear a face mask or covering while traveling with us. Of course, we understand there may be times when a Customer needs to temporarily remove their face covering; for instance, to eat, drink, or take medicine. However, we expect Customers to put their face masks or coverings back on as soon as possible."
Newsweek reached out to United Airlines but did not receive a comment in time for publication.
The Transportation Security Administration (TSA) has also updated new guidelines for security procedures on May 21 in anticipation of Memorial Day weekend. Travelers are expected to scan their own boarding passes and practice social distancing whenever possible.
TSA officers are also required to wear face masks at checkpoints, while travelers are encouraged to do the same.
05/28/20, 12:35 p.m. ET: This story has been updated with comments from Tania Joseph.