Airline Questioned for Not Upgrading Old 6-Foot-5 Man's Seat: 'Shame'
A man has questioned why an airline refused to upgrade a passenger that looked "uncomfortable" during a flight to London's Gatwick Airport this week.
YouTube, TikTok, and Instagram content creator Roland Hall shared the video on Thursday and it has since been viewed more than 6 million times on the video-sharing app TikTok.
As a result of the COVID-19 pandemic in 2020, there was an estimated 50 percent loss in global air passenger traffic compared to 2019. But since the impact of the pandemic and new cases of COVID-19 have continued to ease, air travel has made a comeback.
The International Air Transport Association (IATA) recently reported that global air traffic was up 76.2 percent in June compared to 2021.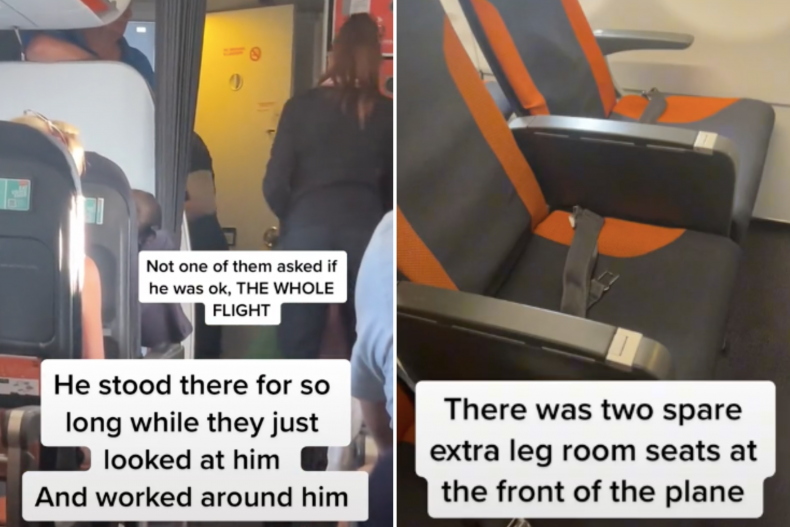 The flight that has captured viral attention online was between Malaga, Spain, and London Gatwick and operated by easyJet. One of Europe's leading short-haul airlines, easyJet is famed for low-cost flights.
Hall filmed throughout the flight as a fellow passenger who he said was around 6-foot-5 appeared to struggle with the small seat space.
In the video, Hall explains there were two spare seats with extra legroom available on the flight, but instead, the older man stood for most of the flight while attendants continued to work around him.
Hall told Newsweek: "I asked mid-flight why they could not offer him the extra legroom seat, because in my eyes, he looked uncomfortable, and they said no because it is an upgraded seat."
On their website, easyJet reports their minimum seat dimensions are approximately 29-inch pitch (distance between the back of the seat and the seat in front) and 17½-inch width. It is possible to pay for allocated extra legroom seats on easyJet flights for an upgrade fee of between £7.99 ($9.25) and £12.99 ($15).
In a statement, easyJet told Newsweek: "We are sorry if the customer in the video was uncomfortable. We offer all customers a range of seating options including seats with extra legroom which can be purchased prior to travel so the passenger could have selected one of these. In fairness to passengers who have paid for an extra legroom seat our crew wouldn't routinely offer extra legroom seat upgrades free of charge but they can use discretion which may have been appropriate here."
"Who knows, he might have liked standing up or have been happy," Hall said. "But from my perspective and probably what you can see from the video it looked very uncomfortable for him."
After hearing that the spare seat was unavailable because it required an upgrade, Hall said that he would have offered to pay the charge on the flight, but was not offered the option.
"They couldn't actually give me a reason other than saying it was an upgraded seat," he said: "My concern was the way they never approached the situation or tried to comfort the man."
Shocked by the footage, TikTok users have rushed to the comments to share their thoughts.
"Money driven world," said one commenter: "Sometimes you just need to have a heart."
Another user said: "I'm 6ft2 and it actually makes my whole day when cabin crew notice and offer an extra legroom seat when free."
One viewer of the viral video wrote: "Good on you. If the plane is already in the air I don't see an issue with him using the spare chairs. Shame they didn't help," while another reply quipped: "They act like they were gonna pick someone up mid-flight."
CORRECTION 09/02/22, 11:47 a.m.: This article was updated to correct the interviewee's name.