Airline Turns Ukrainian Mom, Baby Away Because 4-Month-Old Lacked U.S. Visa
A mother attempting to flee the invasion of Ukraine was reportedly turned away by an airline due to her infant child lacking a travel visa and passport.
Olha Korol initially fled from the Ukrainian capital of Kyiv with her 4-month-old son, Severyn Korotniuk, and mother, Tanya, when Russian forces began attacking her country. She left behind family members, including her husband, Pasha, and father who stayed in Kyiv. According to United Nations estimates, Korol is among the roughly 2.8 million refugees fleeing the current crisis in Ukraine.
"When I look out at Germany, I feel guilt that we can breathe," Korol said. "My husband and my father are not able to go out because it's safer to stay in the shelters."
She is currently stuck in Frankfurt after taking a 20-hour bus ride to Katowice, Poland, and a flight to Germany, where she attempted to catch another flight to San Francisco. She ultimately planned to reach extended family living in San Jose. On March 7, after buying tickets and boarding a plane, the flight crew said that she and her mother could not continue traveling due to her son's lack of a passport, according to KRON 4.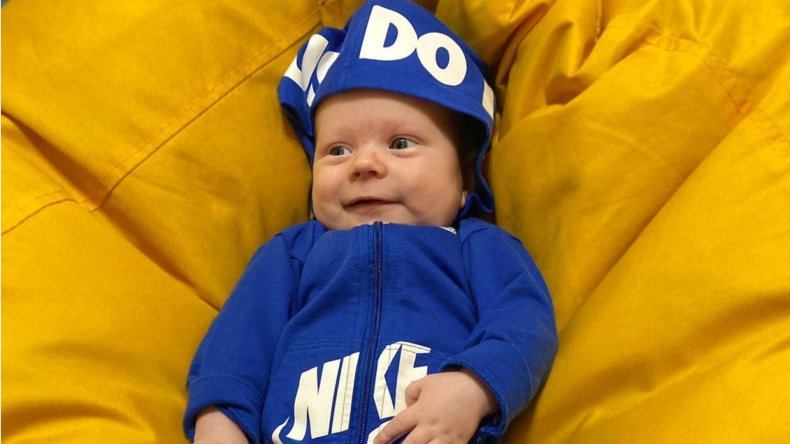 Korol explained that she had gone through official processes at a Ukrainian consulate that lead her to believe her baby would be fine to travel.
"I went to the Ukrainian consulate in Frankfurt," she said. "They put a photo of my baby in my passport. They put stamps showing it's official and legal. They said it should be enough. He's an infant, he's small, he doesn't have anything. Then we boarded the plane and the [airlines] did not board us because the baby doesn't have a passport."
Lena Tutko is the cousin in San Jose that Korol is attempting to reach. She has established a GoFundMe on Sunday page to help her relatives pay for places to stay in Frankfurt while the situation is resolved, for their own daily expenses, and for the care of Severyn. As of Monday, it had raised only around $1,600 of its $15,000 goal. A day later, the family had raised nearly $5,000.
"The donations mean the world to my family. Until 4-month-old Severyn's documentation is resolved, Olha and her son are stuck in a foreign country with no family support," Tutko told Newsweek. The donations allow me to provide a roof over their head and some sense of stability during this uncertain and chaotic time."
As of Tuesday, Tutko explained to Newsweek that there has been no progress made on a solution to her family's predicament.
"Unfortunately there has not been much progress," she said. "They are in a Catch-22: the U.S. demands a passport and visa for entry which the Ukrainian Consulate is unable to issue at this time. Olha has all the necessary documents, but little Severyn does not."
Tutko said that she made contact with the Ukrainian consulate in Germany, as well as several U.S. lawmakers, including Representatives Ro Khanna and Zoe Logren, and Senator Alex Padilla. Only Khanna's team has responded so far, saying that the U.S. is not capable of issuing Ukrainian passports.
"I am sorry to share this unpleasant news and wish that there was more that can be done," Khanna's team wrote in an email shared with Newsweek.
Despite the dire present circumstance, Korol hopes to return to Ukraine someday.
"I had a good life in Kyiv," she told KRON 4.
Update 03/15/2022 3:40 p.m. ET:Added responses from Lena Tutko.