An airline union representing nearly 50,000 flight attendants across 17 different airlines called for rioters who breached the U.S. Capitol building on Wednesday to be banned from flying.
In a statement issued by the Association of Flight Attendants-CWA (AFA), President Sara Nelson noted how "mob mentality behavior" was noticed from numerous passengers flying to Washington, D.C., on Tuesday calling it "unacceptable" and a threat to "the safety and security of every single person onboard."
"Our first priority in aviation safety and security is to keep any problems on the ground. Some of the people who traveled in our planes yesterday participated in the insurrection at the Capitol today. Their violent and seditious actions at the Capitol today create further concern about their departure from the DC area," the statement said. "Acts against our democracy, our government, and the freedom we claim as Americans must disqualify these individuals from the freedom of flight."
Newsweek reached out to the AFA for comment but did not receive a response in time for publication.
The release from the airline union came shortly after the rioters stormed the Capitol building, in support of President Donald Trump to protest Congress certifying President-elect Joe Biden's win. Photos and videos of the events that unfolded showed the rioters breaching police lines and eventually entering the Capitol building, leaving four dead, according to D.C. Police Chief Robert Contee.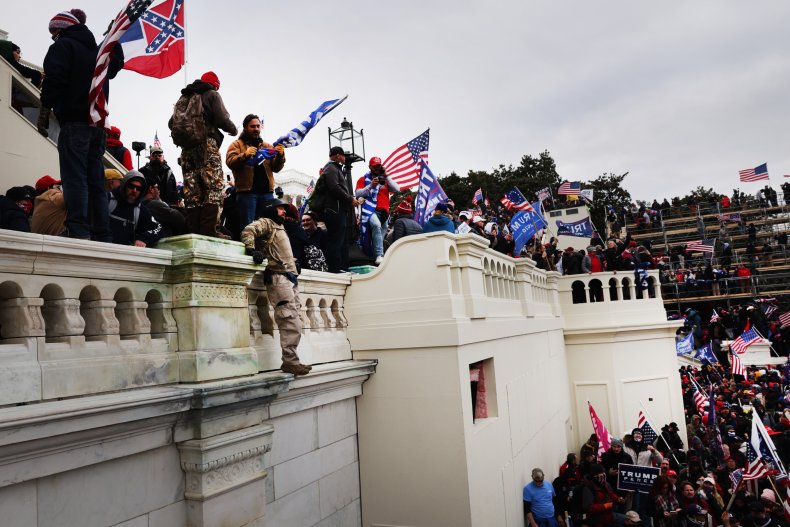 As the statement from the airline union notes, the rioters were not only causing havoc in D.C. as an incident occurred on Tuesday at the Salt Lake City airport and a Delta flight to the nation's capital.
Prior to the flight, a video showed several Trump supporters berating Utah Senator Mitt Romney and calling him a "traitor" over his decision to vote in favor of Congress certifying state's Electoral College votes.
Another video posted to social media showed Trump supporters on an American Airlines flight from Dallas to Washington, D.C., yelling at other passengers and accusing some of threatening them.
In addition to the statement issued by the Association of Flight Attendants-CWA (AFA), several airlines have also informed Newsweek that they are increasing their safety and security efforts to keep all passengers safe.
"We are working closely with local law enforcement and airport authority partners to ensure the safety of our customers and team members on the ground and in the air," a spokesperson for American Airlines told Newsweek via email. "We have also increased staffing at DC-area airports as a precautionary measure and will not be serving alcohol on flights to and from this area. We will continue to enforce policies that ensure our customers' and team members' safety and wellbeing."
Similarly a spokesperson for Delta Air Lines told Newsweek that, "There's nothing more important than protecting the integrity of the safety and security measures that keep our employees and customers safe."
The email from Delta continued, "We can say Delta continually works with law enforcement agencies and all aviation stakeholders to enact methods—both seen and unseen—as part of our unwavering efforts to keep everyone safe at our airports and on our flights."
A spokesperson for United Airlines told Newsweek via email that they "echo the sentiments of AFA that our first priority must be the safety and security of our passengers and crew," and noted that they have moved crew members from downtown D.C. hotels.
"Additionally, we have increased staffing at Washington-area airports and are in close contact with appropriate law enforcement agencies, including TSA and MWAA Police, to continuously monitor the situation in real time," United Airlines told Newsweek.
Updated January 7, 2021, 10:41 a.m. ET, to include a statement from a spokesperson for United Airlines.