Foreign Travel for U.S. Citizens May Return with COVID Contact Tracing, Testing: Airlines
More airlines will start requesting passengers' personal information to boost contact tracing during the coronavirus pandemic in a move the aviation industry hopes will encourage lawmakers to lift international travel restrictions.
The trade group Airlines for America said that passenger information such as names, email addresses, phone numbers, as well as addresses of their U.S. locations will be passed onto the U.S. Centers for Disease Control and Prevention (CDC)
Delta Airlines and United Airlines have been collecting that information since the end of last year, but other airlines will follow suit, including Alaska Airlines, American Airlines, Hawaiian Airlines, JetBlue Airways and Southwest Airlines.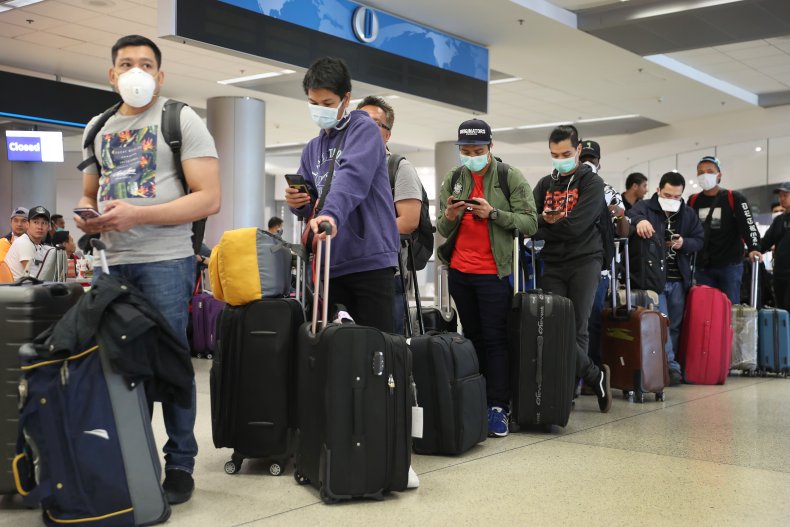 Airlines for America, CEO Nicholas Calio, said he hoped the voluntary decision to gather and pass on the data to the CDC would assure people that the aviation industry and the federal government "are prioritizing the health and safety of passengers and crew."
"We are hopeful that this measure, coupled with existing testing requirements for passengers flying to the U.S., will lead policymakers to lift travel restrictions so that international travel can resume and the social and economic benefits of that travel can be realized," he said in a statement. Newsweek has contacted Airlines for America for comment.
Airlines have been reluctant to gather such information over concerns that the process would be time consuming and require expensive computer upgrades. Also, the data was often not available on passengers who bought tickets from vendors such as online outlets, the Associated Press reported.
It comes as airlines and unions representing the aviation industry raised concerns that President Joe Biden's administration was looking at putting in place a COVID-19 testing requirement for all domestic air travellers.
The CDC requires all travellers to prove they had a negative COVID-19 test result within three days of their scheduled flight before travel to the United States.
But Delta Air Lines CEO Ed Bastian said that making domestic passengers show proof of a negative COVID-19 test would mean travel with the U.S. "would be substantially reduced."
The pandemic has hit the aviation industry hard. The International Air Transport Association (IATA) said this month that 2020 was the worst year in the history of global aviation, with passenger traffic declining by 65.9 percent compared with 2019.
The IATA predicts that even in an optimistic scenario, air travel demand this year might only reach 50 percent of 2019 levels in 2021 and new strains of the virus could mean even lower passenger demand.