Airlines, Unions Take Stand Against Possible Domestic COVID-19 Testing Requirement
Airlines and unions within the air travel industry raised concerns this week about reports that President Joe Biden's administration is considering implementing a COVID-19 testing requirement for all domestic air travelers.
The Centers for Disease Control and Prevention (CDC) recently updated its guidance for international travel, requiring that all air travelers show proof of a negative COVID-19 test taken within three days of their scheduled flight before they travel to the United States. The testing requirement for international travelers went into effect on January 26.
While the international testing decision has support from some airline unions, the possibility of testing all domestic air travelers is less popular.
Earlier this week, Department of Transportation Secretary Pete Buttigieg told Axios on HBO that there was an "active conversation" with the CDC about implementing a domestic testing policy for air travelers and later told CNN that the CDC was "looking at all its options."
"What we know is that it's the appropriate measure for international travel, people traveling into the U.S. given some of those considerations," Buttigieg told CNN on Monday. "I'd say the domestic picture is very different, but you know, the CDC is always evaluating what can best be done to keep Americans safe."
When contacted for further comment, the Department of Transportation pointed Newsweek to Buttigieg's earlier comments.
The airline industry has been hit hard by the COVID-19 pandemic as leaders in the U.S. implemented lockdowns that caused domestic and international travel to plummet. During a recent interview with the Associated Press, Delta Air Lines CEO Ed Bastian predicted domestic travel "would be substantially reduced" if all travelers are required to show proof of a negative COVID-19 test before flying in the United States.
"We don't have the facility or the technology or capabilities to be administering or monitoring domestic testing," Bastian said.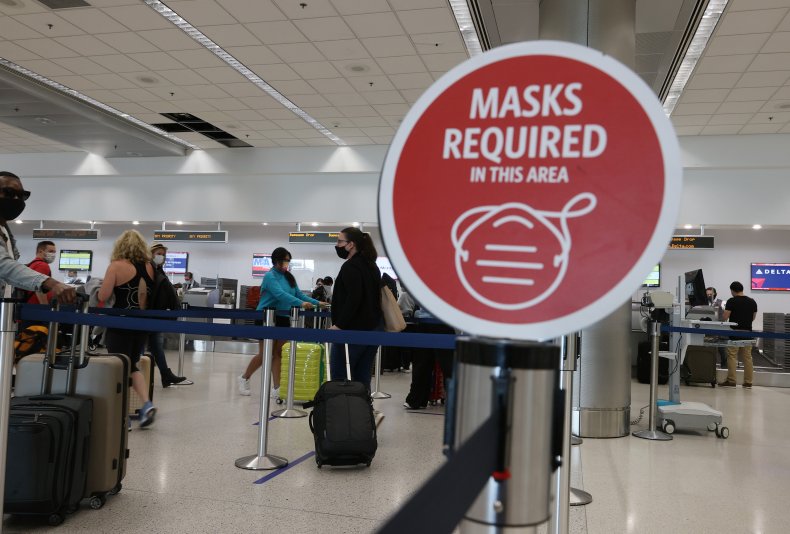 Gary Kelly, the CEO of Southwest Airlines, also expressed concern about implementing a COVID-19 testing requirement for domestic travelers in a February 9 letter addressed to Biden.
"We believe such a mandate would be counterproductive, costly, and have serious unintended consequences, including for millions of people who have travel needs but may not have access to testing resources and for the millions of people whose livelihoods depend on a stable air travel industry," Kelly wrote.
The Allied Pilots Association, which represents American Airlines pilots, and Airlines for America, a Washington, D.C.-based airline lobbying group, also raised concerns about a possible domestic travel testing requirement.
"Mandatory pre-flight testing would be unwarranted, logistically impractical, and wasteful, and it would seriously threaten the stability of our industry," President Eric Ferguson with the Allied Pilots Association said in a Wednesday news release. The union's release said there were already measures in place to prevent transmission, such as enhanced sanitation and air filtration systems, which the union said helped "commercial aircraft cabins pose a very low risk of virus transmission."
Airlines for America also pointed Newsweek toward recent scientific research that suggests those precautionary measures "significantly reduced" the threat of COVID-19 transmission on planes. In a report assessing the risk of COVID-19 spread during air travel published last October by the Harvard T.H. Chan School of Public Health, the school's public health researchers said a "layered" approach to preventing virus spread—including disinfecting commonly used surfaces and wearing masks—"results in a very low risk of SARS-COV-2 disease transmission on aircraft."
Airlines for America joined more than 20 other organizations in signing a January 29 letter discouraging a domestic travel testing requirement that was sent to Jeffrey Zients, the head of Biden's COVID-19 task force.
"Given the strong scientific evidence that the risk of COVID-19 transmission onboard an aircraft is very low, we believe that a testing requirement for domestic air travel is unwarranted," the letter said. "Further, public health and economic data indicate that this policy would disproportionately prevent low-income travelers and rural Americans in small communities from travel" due in part to testing access, it continued.
Airlines for America shared with Newsweek an assessment it and other airline unions and organizations put together in response to the question of COVID-19 testing for domestic travelers. While the assessment said the smaller number of international flights made testing all international passengers possible, doing the same for all domestic travelers in the U.S. would be a project about 17 times bigger. The requirement would likely require additional job losses as well, the organizations said.
"Since the onset of this crisis, U.S. airlines have relied on science to help guide decisions as they continuously reevaluate and update their processes, procedures and protocols. U.S. airlines have implemented multiple layers of measures aimed at preventing virus transmission onboard the aircraft, including strict face covering requirements, enhanced disinfection protocols and hospital-grade ventilation systems," Airlines for America spokesperson Katherine Estep told Newsweek.
"In addition to implementing multiple layers of measures to mitigate the risk of transmission onboard, A4A member airlines proactively implemented pre-departure health-acknowledgement forms to encourage passengers to evaluate their own health prior to travel. We remain confident that this layered approach significantly reduces risk and are encouraged that science continues to confirm there is a very low risk of virus transmission onboard aircraft," Estep said.
During a Thursday press briefing, White House Press Secretary Jen Psaki was asked about additional domestic travel restrictions the administration may be considering.
"We are always considering what steps are necessary to keep the American people safe," Psaki said. But "no decisions have been made around additional public health measures that would delay—or would change, I should say—domestic travel considerations," she continued.
Newsweek reached out to the White House for further comment but did not receive a response in time for publication.