AirPods (Third Generation) Review: Still the Gold Standard of Wireless Earbuds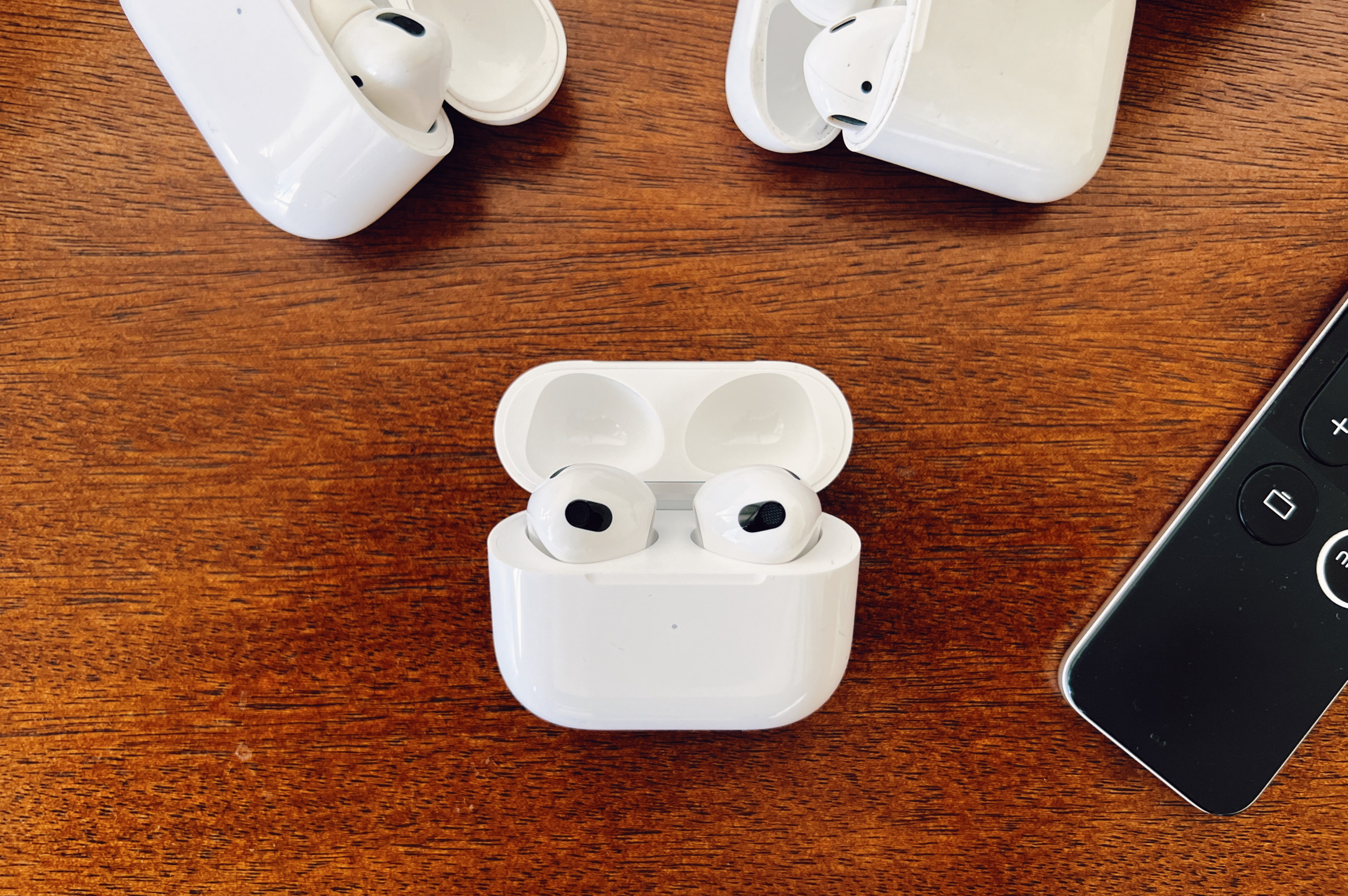 The first AirPods released in 2016 were groundbreaking at the time: truly mainstream independently wireless earbuds. Now, five years and a few iterations later, AirPods are basically commonplace. So what do people really want to know about the new AirPods? I found that most were interested in how these redesigned AirPods fit. These bring new features, like better battery life, sweat and water resistance, spatial audio support and more. But it's their revamped shape, and how they fit, that seems to provoke the most curiosity.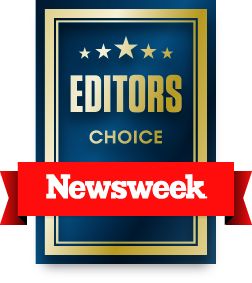 These third-generation AirPods might look a lot like the AirPods Pro, but they fit and feel mostly like the standard AirPods they're replacing. They are ever so slightly more snug, but they largely retain a "resting" state in the ears. For me, that means I can wear them longer than AirPods Pro before fatigue sets in, but they're secure enough to wear while running—whereas the previous AirPods weren't able to stay in.
I found the new fit to be nearly perfect and the sound to be better than the second generation's. The story here is about a very capable pair of earbuds that can extend iOS device functionality. These are absolutely worth purchasing—they're still the gold standard.
TL;DR
Pros:
Excellent overall sound; surprisingly deep bass
IPX4 water resistance
MagSafe wireless charging case
Cons:
Buy at Amazon.
What's New With Third-Generation AirPods?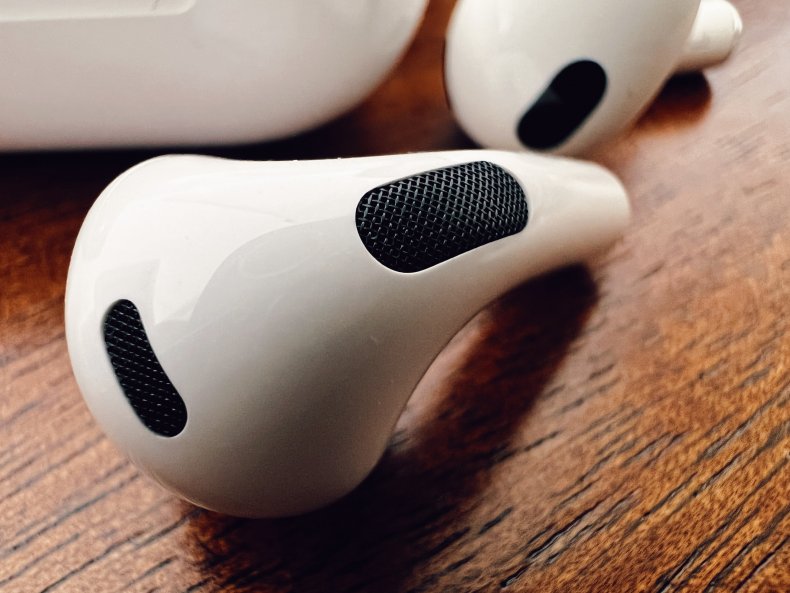 The most noticeable thing about AirPods is a new design that mimics AirPods Pro's. They also get a lot of features that had previously been relegated to the Pro model. That includes smaller stems with force sensors for media controls.
The simplest differentiator between the two models is whether you want ANC and think that noise-canceling feature is worth an additional $60.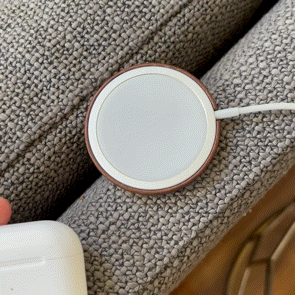 The new MagSafe wireless charging case will still work with all Qi wireless chargers but is better suited to align on MagSafe accessories.
TYLER HAYES
Other new features of these new AirPods include spatial audio with dynamic head tracking, adaptive EQ, increased battery life and IPX4 water resistance. All said, they're a significant upgrade over the previous AirPods that is noticeable in daily use.
The AirPods come with a MagSafe wireless charging case. That simply means that it has a magnet to better align it with and adhere to MagSafe accessories.
One thing I think often taken for granted is Apple's ability to pack so much functionality, including improved battery life, into such a small size. Part of what makes these a premium product is their great technology in a size that goes everywhere. This AirPods case is smaller than the AirPods Pro's and will still fit into that small, fifth jeans pocket. Most other companies can't get the small physical size and the large sound in a single package like Apple has been able to do.
AirPods Sound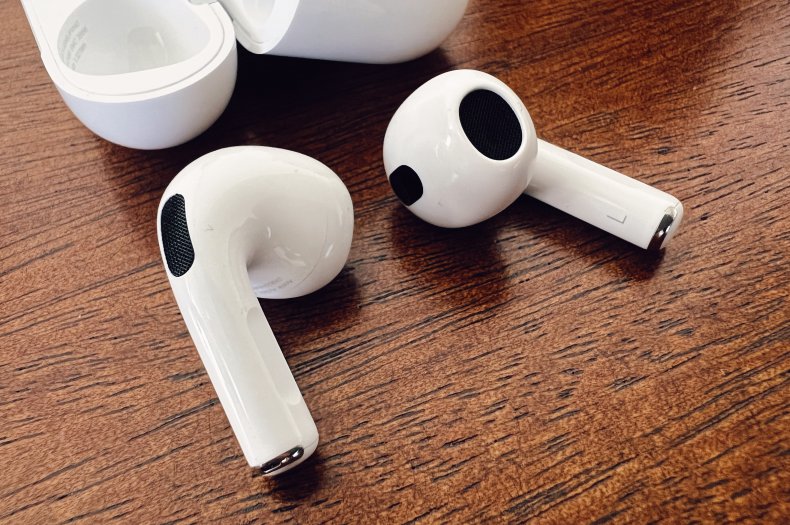 A lot of wireless earbuds opt for silicone tips because they seal off the ear canal and keep more sound from escaping. It usually produces a richer and fuller sound. Having the seal also usually means a tighter fit—and more ear fatigue. These new AirPods manage to have their cake and eat it, too, with regard to fit and sound.
These AirPods don't use silicone tips, so there's no seal. They rest gently in my ears, almost identically to the previous AirPods. I felt no pressure from long, extended use. What I did notice was a big, full sound that had depth and clarity.
Without thinking much about the song selection, the first song I listened to using these earbuds was "Where You Go" by the Lighthouse and the Whaler. The pounding of the kick and tom drums was thick and brought much more airy resonance than I was expecting. The sound caught me off guard for a moment.
Musician and producer Terrace Martin has had a hand in a couple of the songs I like to use to test audio products. He knows how to make speakers give it their all. Listening to Leon Bridges' "Sweeter," which Martin produced and played on, with these new AirPods, for example, is a complete experience. Waves of soft bass envelope your head but don't distract from Bridges' lyrics or the smooth saxophone that makes an appearance.
"Freeze Tag" by Dinner Party is another of Martin's gems. The bass rolls from side to side and is the foundation of the track as soon as it enters at the 4-second mark.
To be clear, the sound isn't perfect. AirPods Pro, and other earbuds with silicone (or foam) tips capture more details and bass. If you want to really feel music or a movie, you'll need something like that. But my point is that the sound is still impressive, with almost no pressure on the ears. In a lot of circumstances, I'll take that trade-off so I can listen longer.
Hardware-wise, there is a new custom driver inside these AirPods. That's at least partially to thank for the better sounding audio quality. These earbuds also use Adaptive EQ which tunes the frequencies to each person's unique ear. To do this, there's an inward-facing microphone to get a sense of how the person listening is hearing music. That's likely the other half of the equation for the overall improved sound quality.
I'm a big fan of Spatial Audio with Dolby Atmos on Apple Music. Long term, I do think it's the future of all audio mixing. I'm glad it's supported on the basic AirPods now. As far as the head tracking that comes in iOS 15, I've been impressed with how much it doesn't bother me. That aspect seems like a gimmick for music listening, but I haven't minded it so far.
Watching Movies and Extended iOS Functionality
Part of the appeal of AirPods over other wireless earbuds, for Apple device owners, is that they extend the functionality of Apple's software.
Here's one example. I go running using only my Apple Watch. I stream music from it while it tracks my run. In the past, I told my wife not to text me—to call instead—if anything serious comes up while I was running, because I wouldn't see it. But, with the increased prevalence of Announce Messages with Siri, AirPods are extending iOS functionality beyond the phone and watch. When I use other earbuds while running, I miss incoming messages automatically being read to me.
Similarly, the ability to automatically select AirPods on an Apple TV without visiting the settings and pairing is a practical nicety.
I did watch The Green Knight on an Apple TV 4K with the AirPods to get a sense of the cinematic experience. Spatial audio here and on other shows and movies is a nice capability. AirPods joins AirPods Pro and AirPods Max for a faux surround sound experience that's convincing.
New AirPods Versus Other AirPods Models
Apple is still selling the previous, second-generation, AirPods for $129. They don't come with a wireless charging case for that price. The only reason I would recommend the older model is if the cost of the new ones is just too high. The fit shouldn't be a concern between the two, and I think there's more overall value in the new ones than the $50 price delta.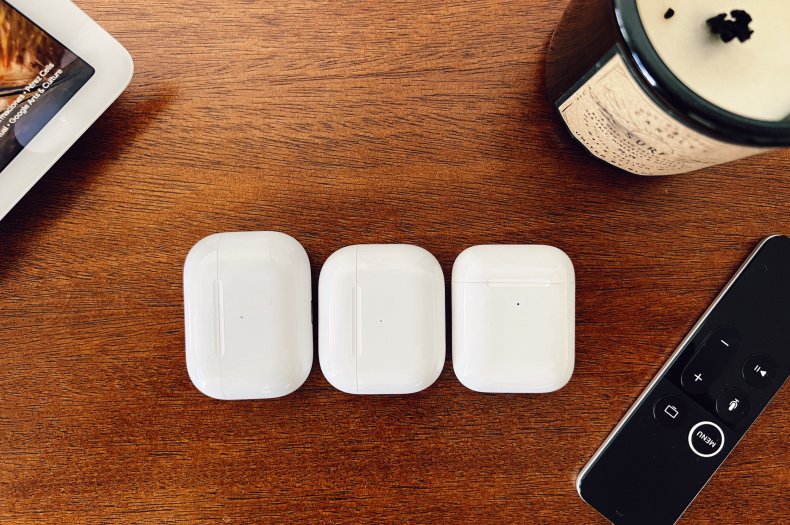 As for the AirPods Pro, if you need the advanced sound isolation that the Pro's ANC provides, then those are the ones to choose. If not, save $60 and get the regular AirPods.
I can't comment on the long-term durability of the new earbuds. Each version has seemed to wear better than the one before it, so I'm optimistic that these last longer than its predecessors have.
Exercise
In terms of exercise, my prior experience was that AirPods Pro can stay put in my ears fine while running, despite sweat making them a bit slippery. The second-generation AirPods were hit or miss when it came to whether they would stay in my ears. After my few initial miles on these new AirPods, I think they handle running just fine. They never felt like they were on the verge of slipping out. The force sensor stems are also nicer than tapping directly on the tiny speaker to control media.
Interestingly, during those first running miles, I felt as though I could hear the podcast I was listening to clearly while still having an awareness of street noise. There's no transparency setting on AirPods—it's all just passive isolation—and these seem to strike a good balance. They let in some noise, but not too much.
Should You Buy the New AirPods?
No product is perfect, but these AirPods are pretty close. They fit comfortably and sound terrific. The biggest consideration is that they might not be perfect for everyone's budget. They are premium earbuds and cost a premium price of $179.
Personally, I think a pair of earbuds you might use all day, every day, is a product worth splurging on. These can handle almost every daily task, from exercise to music listening to video calls. So, yes, if you're an iPhone, iPad or Mac user, these are easy to recommend—even as an upgrade from the previous version.
Buy at Amazon for $174.99.
Newsweek may earn a commission from links on this page, but we only recommend products we back. We participate in various affiliate marketing programs, which means we may get paid commissions on editorially chosen products purchased through our links to retailer sites.