Indian Man Disguised Himself as 81-Year-Old to Sneak Aboard Flight to U.S.
Security at New Delhi's Indira Gandhi International Airport stopped a man trying to pass himself off as a senior citizen by dying his hair and beard gray.
Using a fake passport under the name Amrik Singh, 32-year-old Jayesh Patel successfully cleared both an initial security screening and the immigration counter on Sunday, reports NDTV. Riding in a wheelchair, Patel made it all the way to Terminal 3 before being intercepted before boarding a flight to New York City.
Hemendra Singh of India's Central Industrial Security Force (CISF) said there were some signs "Amrik Singh," whose passport said he was 81, wasn't who he claimed to be.
"[We were] suspicious about him as his voice didn't match his age," he told news agency IANS. "Despite [his] gray hair, his skin seemed to be quite young, as there were hardly any wrinkles on his face." Patel completed the look with thick glasses and a white turban.
According to CISF, Patel avoided eye contact with officers and refused to get up from his chair. When they put him through a more intensive screening, his true identity was uncovered.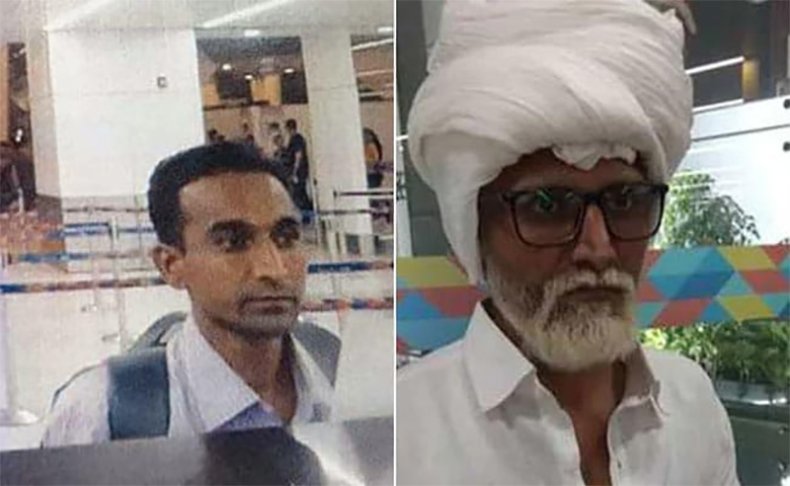 Police officer Sanjay Bhatia told NDTV, "We've never seen a similar case at the Delhi airport before."
Patel reportedly confessed his scheme, telling authorities he was going to the U.S. for a job but had trouble acquiring a visa. A man named Bharat told him that he could get him to the States for 30 lakh, or a little under $42,000, to be paid when Patel reached New York.
Bharat allegedly introduced Patel to an agent who provided him with an introduction to a makeup artist who came to his hotel room and applied the extensive disguise before he headed to the airport. After he was intercepted at the terminal, Patel was handed over to immigration authorities.
Police are still attempting to locate Bharat and the makeup artist who aided him in the scheme.
In 2011, a young man from Hong Kong tried a similar scheme: Swapping travel papers with a 55-year-old man, he boarded a flight to Vancouver wearing a silicone mask that made him look like an older Caucasian. Once the flight took off, he slipped into the airplane bathroom and removed his disguise.
He was reportedly intercepted by border agents in Vancouver, who were tipped off by his youthful hands. After being caught the unnamed suspect applied for refugee status in Canada.
"The subject admitted at this time that he had boarded the flight with the mask on and had removed it several hours later," reported the Canada Border Services Agency at the time.