Syrian Man Stuck in Airport for 100 Days Applies to Go to Mars
For 100 days, as millions of travellers pass through the transit lounge of Malaysia's Kuala Lumpur International Airport, Hassan Al Kontar can only wait. And wait. The 36-year-old Syrian man has been stranded in the terminal, unable to leave, almost penniless and living off the kindness of airport staff. But now, he says, he has found a way out: He is applying to join NASA's mission to Mars.
Kontar was deported from the United Arab Emirates, turned away from Cambodia and refused entry into Ecuador over the past year while trying to escape his war-torn home country. If the young man from Dama, south of Damascus, returns to Syria, he says authorities will arrest and punish him for evading the country's compulsory army draft. Since March 7, Kontar has been living under a stairwell in the airport's terminal 2 transit zone—with nowhere to go and diminishing funds—confined to a world of fluorescent lighting and transient passengers.
"I have become more disappointed, more desperate and more depressed over time," Kontar told Newsweek on Wednesday in a phone interview that was interrupted intermittently by loudspeaker flight announcements. "I was optimistic earlier in my stay because I thought I had more options."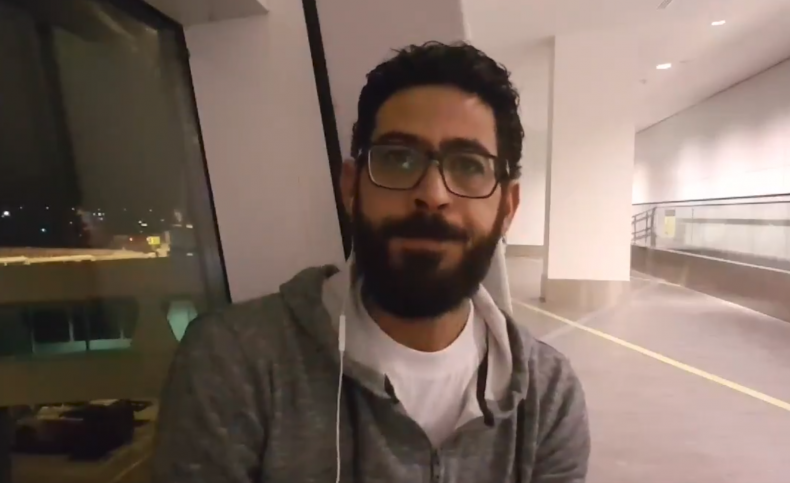 Kontar lives off three pre-packaged AirAsia meals a day, uses the bathrooms after midnight to clean himself—although there are no showers—and relies on friendly airport staff to wash his clothes. "Even coffee is a little bit of a challenge," he said. "Every few days someone from the airport brings me a cup."
Sometimes he dips into his savings to purchase a snack from McDonald's but in recent months, his main expenses have been purchasing electronic chargers, a small but expensive essential that keeps getting lost. Kontar's phone and laptop are both his window to the outside world and only source of entertainment. He passes time by surfing the internet, chatting with his mother and contacting various agencies he hopes can get him leave.
A number of media outlets compared Kontar's case to The Terminal, a 2004 film starring Tom Hanks and inspired by the story of Mehran Nasseri, an Iranian refugee who spent 18 years living in the Charles De Gaulle airport in Paris, France. "I love Tom Hanks, he's an amazing actor with a great career," Kontar said. "But it is kind of insulting because my life is the real show. It's not a movie."
On Monday, Kontar used Twitter to offer a darker homage to Hanks. "I'm tired. Tired from this terminal, lonely as a sparrow in the rain. Tired of never having a soul to be with or a country I can call home, tired of people being ugly to each other," Kontar tweeted, paraphrasing Tom Hanks' The Green Mile, a film about a man on death row.
A few weeks ago, Kontar also posted side-by-side comparison photos of his current sleeping situation next to an immaculate hotel room, alongside the caption "Dream Vs Reality."
Kontar originally moved to United Arab Emirates from Syria in search of work and a better life in 2006. But after the Syrian civil war broke out, he ignored a summons to join the regime army. The Syrian embassy would not renew his passport, and his visa soon expired. "I refused [to join the army] not because I am a coward but because I don't believe in war," he said. "It's not the solution, it's not the answer. I don't want to kill my own people and it is not my war."
When his visa expired, Kontar overstayed and worked illegally to avoid returning to Syria, where he would be detained and punished for refusing to fight. In October 2017, Kontar was apprehended by immigration authorities and deported to Malaysia, one of the few countries that allows Syrians to enter upon arrival for up to three months. From there, he tried to board a plane to Ecuador but was turned away at the airport. "It's impossible to get a visa anywhere. This is our life as a Syrian. It's a tragedy," he said.
Running out of options, Kontar tried to enter Cambodia, another country that offers tourist visas to Syrians, but authorities at Phnom Penh International Airport forced him to board a flight back to Kuala Lumpur, where he has been living ever since. "From that day I have been stuck here alone," Kontar said. "I am very familiar with feelings of rejection, hatred and being unwanted."
After Kontar's story was picked up by the media a few weeks into his stay, various rights organizations have attempted to help him. Yante Ismail, the spokesperson for the United Nations High Commissioner For Refugees (UNHCR), told Newsweek in April that the organization was aware of Kontar's case and has reached out to "the individual and the authorities." However, Kontar says only temporary solutions have been offered to him, which he has rejected on the basis that he is searching for a permanent place to call home. "I am losing hope slowly and I can now feel things I have never felt before," Kontar said. "I'm losing hope in governments, in nonprofit organizations."
In April, a group of Canadian volunteers reached out to Kontar with a lawyer, a job application and more than $17,000 to sponsor him to enter their country as a refugee. After three phone interviews, a hotel in Vancouver offered him a hospitality role in its organization.
The final step is for Canada's minister of immigration, Ahmed Hussen, to issue Kontar a temporary resident permit. "Canada is the only hope I have," he said. "I have not heard anything yet. They have not rejected me but they have not accepted me either. I need to keep my hope alive." A petition to the minister to issue the permit has gathered 15,000 signatures to date.
In the meantime, an exasperated Kontar wrote a job application to NASA, asking them to send him to Mars on their next expedition. Underneath a small description of his situation, Kontar listed reasons why the agency should consider him. "It's very clear by now that there is no place for me on this earth as no country is allowing me in," he wrote. "I have a lot of space movies experience so I know my way around a spaceship including space combat from star wars movies so it will not take long time for you to train me."
Despite the flippant tone of his application, Kontar says his desire to travel to Mars is genuine. "[If] they accepted me, I would go and never look back," he said. "I cannot understand why there is so much hatred in the world, if I could escape that, I would."