AJ Michalka Talks 'Schooled', 'The Goldbergs' and Aly and AJ's Future In Music
AJ Michalka started life in the limelight as a teen singer with a Disney movie, but her life hasn't followed the Disney mold. Instead of majorly altering her look, interests and reputation, Michalka has remained steady in her career, which supports both music and acting, and her latest role lets both of her passions shine through.
Lainey Lewis isn't a new character for Michalka. She's been playing the teen since 2013 when The Goldbergs premiered on ABC, and though the character has been through a rollercoaster of main and recurring character status, she's been given the ultimate respect: a spin-off. So Michalka will return in Schooled as the vibrant, vocal Lainey who is returning to her old high school as the newest music teacher.
For Michalka, playing Lainey as an adult is rewarding. "To play her as a teenager and now as an adult as she figures out what she wants in life is really satisfying as an actor," Michalka told Newsweek. "I think her slight immaturity and strong attitude to "stick it to the man" are the things that bring the comedy to this role. She's still working through things but I do think she's grown up since we last saw her. This job is gonna give her an opportunity to carry a new responsibility."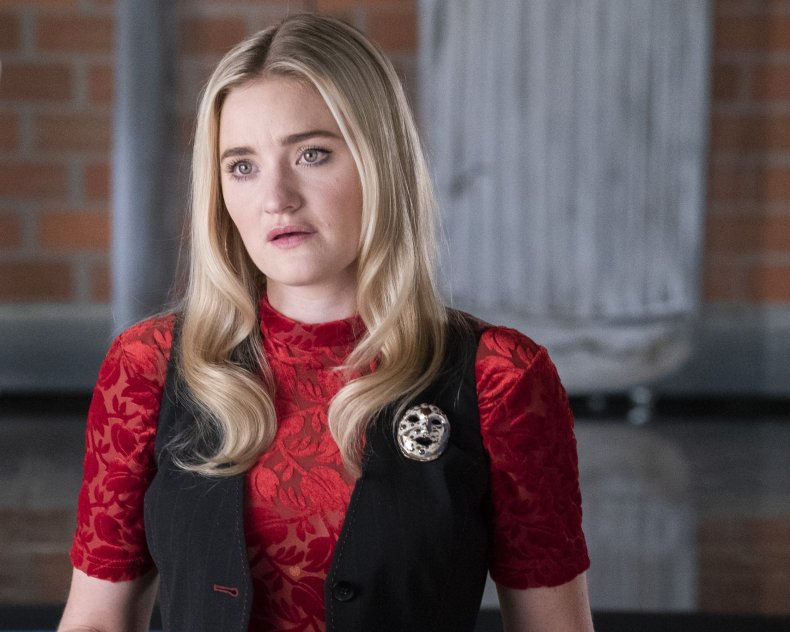 And with her character's love of music, Michalka identifies with Lainey on a personal level. "We both have a pretty dry/sarcastic type of humor," she said of their similarities. "She just tends to defy the rules a bit more. We're both extremely passionate about music. For Lainey, she just hasn't been able to use her skills in a professional setting. Until she gets the job at William Penn. It's a different route than she initially planned for herself but it ends up filling a need that she didn't expect."
As Schooled will air alongside The Goldbergs, Michalka said the biggest challenge is playing two versions of Lainey. "Switching back between Goldbergs and Schooled and transitioning between two different eras has been the most challenging since I'm playing this character in two completely different stages of her life."
Michalka said she hopes to see Lainey inspire students and reconnect with her mother as Schooled goes on. Viewers will be able to see a transition in Lainey from teen to in-charge adult and balancing her career and love of music. In real life, Michalka is doing the same.
"It's extremely hard to balance both careers in regards to the timing of it all. However, I never want to have to choose. I love what I do and I'm blessed to be able to do both," she said. Michalka sees her acting career continuing but plans to balance it with her music career and tour internationally with sister, Aly Michalka who is half of her duo, Aly and AJ.