'AJ and the Queen' Ending Explained: What Happened at the End of the Show and What It Means for Season 2
Netflix's latest comedy-drama AJ and the Queen spend its 10 episodes heading towards Dallas, Texas, where Robert/Ruby Red (played by RuPaul) is trying to win back her self-respect and some of the $100,000 Hector (Josh Segarra) stole from him by winning a pageant, while AJ (Izzy G) is hoping to get to "Pop Pop," the man her mother told her is her grandfather.
Of course, neither of these things go quite to plan, with events left on a cliffhanger that could set up a more dramatic Season 2 of the Netflix show. At the close of the show, AJ's mother Brianna (Katerina Tannenbaum) is free of drugs and along with police has finally tracked down AJ, who back in Episode 1 had stowed away in Robert's RV after his mother went missing.
Robert, Brianna and the police all find AJ in a field after she ran away from the house she thought belonged to her "Pop Pop." A few minutes previously, Robert had dropped AJ off at the house, only for AJ to tell him she did not want Robert to come to the door with him as she did not know what her "Pop Pop" felt about drag queens and did not want to give him any reason not to keep her.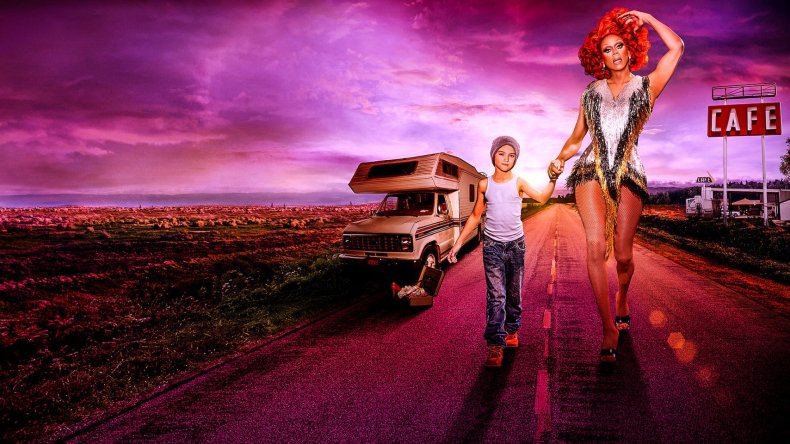 Left despondent after realizing he has to let go of the child he has come to love like a father, Robert looks through AJ's belongings, only to discover that "Pop Pop" does not exist. The photo Brianna gave her daughter is a stock image, while the cards AJ received from him were all written by her mother to give AJ some hope even in their hopeless situation. Robert knocks on the door of the person whose house they were outside, who tells him that a very upset AJ ran into the field after discovering everything she had been told was a lie.
The ending of AJ and the Queen seems to set up a number of possible options for Season 2. With Brianna and AJ reunited, Robert's role in AJ's life could be very different. If Brianna has another relapse, the same would apply in a more tragic light. Robert could also find himself in some legal trouble—after all, though AJ was basically forced upon him, the authorities may not see it that way.
Either way, the end of the Netflix series seemed to tie up a number of the other plots of the first season. After nearly choking to death on some fast food, Hector realizes that he may have loved Robert after all, and tries to return the $100,000 he stole from him—well, $96,000, as he admits he spent four grand on a suit to make himself look nice for his former boyfriend. However, suspecting a trick, Robert gets AJ to hit over the head with a pageant trophy, knocking him out. When Robert and AJ learn social services and the police have come to the pageant to get them, they escape with the money and head to the house of "Pop Pop."
As for Lady Danger (Tia Carrere), the evil silicon dealer who has been trying to kill Robert since he tried to have her arrested, she is still around to cause trouble for him at the end of the episode. As she watches the end of the pageant, which Robert's blind roommate Louis (Michael-Leon Wooley) is taking part in in Robert's place after he has to escape, she has a flashback to how she was robbed of the title of Miss America in her younger years, and so runs off with the winner's crown. The last time we see her, she is escaping the conference center.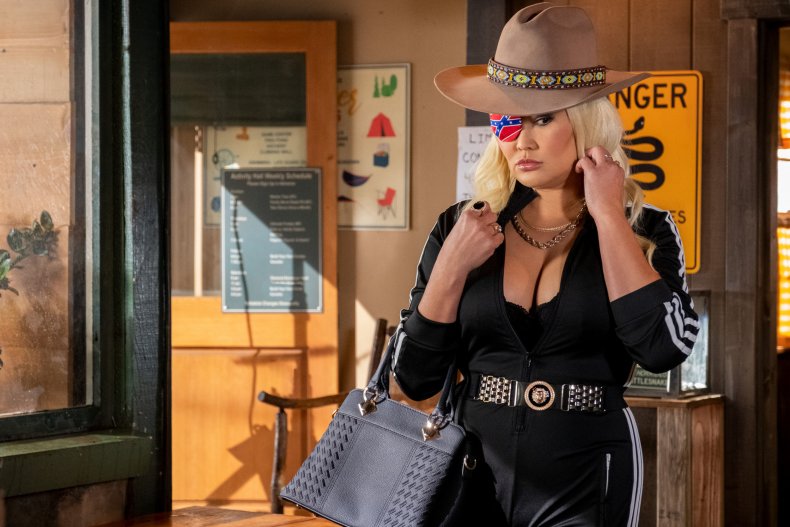 As for Louis, he may be named first alternate at the pageant, but things are still patchy with his boyfriend Patrick (Matthew Wilkas). The pair broke up earlier in AJ and the Queen after Patrick accused Louis of being more interested with Robert than Louis was in him. Louis goes to apologize to Patrick, but discovers him naked with another man. Season 2, therefore, could see the two of them trying to make it work despite the problems they had in the latter half of the series.
Season 2 of AJ and the Queen has not been announced yet, and as Netflix does not release viewing figures it is hard to know how popular it has been since it released on January 10 with subscribers. However, if critical reception is anything to go by, we might not get any more of the show.
Vulture sums up the negative press when it says, "Whether AJ and the Queen is a good or bad television show isn't really up for debate. It is a bad television show...It looks and feels chintzy. Its politics are loud, proud, and as simplistic as a child's My First Read-Aloud book. It has all the aesthetic and tonal hallmarks of a made-for-TV family movie from the early '90s...but spread across ten hours of a Netflix season. The acting is not great. It is bad."
AJ and the Queen is streaming now on Netflix.