AJ Styles Hitting Vince McMahon Has the WWE Universe Talking
Despite a title changing hands, the talk of the WWE Universe is the final segment of the Christmas Day episode of SmackDown Live involving AJ Styles and Vince McMahon..
Following the US Championship match between Rusev and Shinsuke Nakamura, the cameras turned backstage, where Styles came face-to-face with McMahon for the first time on WWE television.
That alone is noteworthy, but AJ's actions have people stirring and questioning the direction of his character.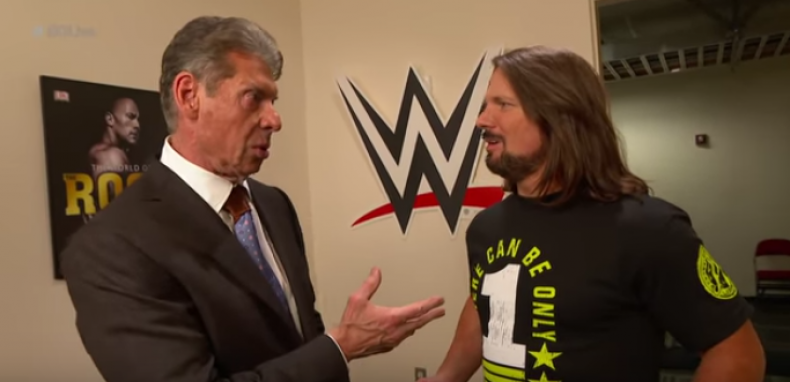 Check out the clip of the Styles and McMahon segment below.
During the segment, Vince asked AJ who he is. Styles responded with his favorite catchphrases, like "the face that runs the place." McMahon then goaded the WWE Superstar, asking why he wasn't competing or taking out his aggression on Daniel Bryan, the man who took his title away.
McMahon commented that he and AJ are a lot alike, whether Styles wants to admit it or not. According to McMahon, they both have black hearts, but AJ is holding the "animal" inside. McMahon then slapped AJ, who promptly punched the Chairman to the ground before being escorted out. Vince laid on the floor with a noticeable smile on his face, which was cut from the YouTube version.
Did AJ turn heel? What's going to happen in the weeks to come? These are the questions being debated in the wrestling community. SmackDown Live's roster is heavy with heels already, so making Styles another wouldn't make a lot of sense. It would leave the faces to be headlined by Rusev, Jeff Hardy, Rey Mysterio and Mustafa Ali, not the deepest roster of good guys.
A course correction in AJ's character could be on the way, as many fans in the Squared Circle subreddit believe this segment could be the start of changing Styles from a "bland" babyface who suffered from way too many low blows, to one with more of an edge.
"Not really a heel turn but a change in character," Reddit user tcasper961 wrote. "We might be getting no nonsense AJ where he's not gonna get pushed around anymore. Where he's more serious and wont put up with bullshit. We might get the aggressive AJ we seen around Royal Rumble 2017 to Wrestlemania 33. Not the cocky AJ but badass AJ who did what he can to get respect but wont let others walk over him."
Styles' year-plus reign as champion was marred by dream matches that didn't live up to their potential. Feuds with Shinsuke Nakamura and Kevin Owens fell flat, and his bouts with Samoa Joe—while starting off hot—didn't reach a satisfying conclusion.
Losing the title to Daniel Bryan before Survivor Series may be just what AJ needs to up his game in the WWE and to bring more thrilling matches and stories to SmackDown Live. AJ has his Club brethren in Luke Gallows and Karl Anderson on the roster so a reunion can happen. John Cena—who has had memorable clashes with Styles in the past - is also set to return. There are a lot of promising possibilities and directions for AJ in the coming year.
What do you think of the segment between Vince and AJ? What do you hope to see happen in 2019? Let us know in the comments section below.