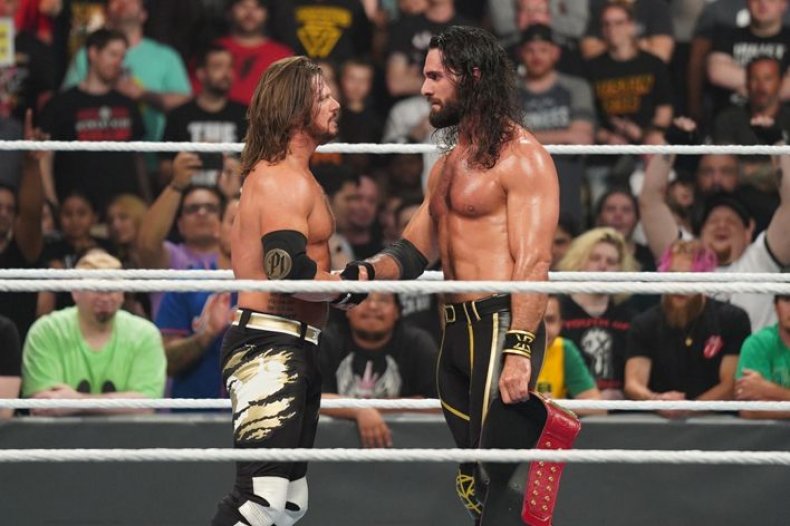 The Universal Championship match between Seth Rollins and AJ Styles at Money in the Bank delivered. It was a dream match that gave fans the first WWE match between both men and was full of spectacular moves and storytelling.
The story of AJ and Seth actually began 13 years ago when the two squared off in a high school gymnasium in Iowa, and finished Sunday with Rollins pinning Styles in front of thousands. But after the match, Styles returned to the ring to say something personal to Rollins.
"I told Seth I was right when I said 13 years ago that he would be something special in this business," Styles told Newsweek.
Friendly words that capped off a feud that was anything but. Despite the weeks of alpha male bravado, the finish to Rollins and Styles' match was clean and even when The Phenomenal One ran back into the ring to confront The Architect one last time, it was to show respect.
"We both respected each other that was never in question," Styles said. "It was two guys, two egos and a lot of testosterone that you're going to get a fight when two big dogs get next to each other. Tempers go awry and next thing you know we're fighting and it is what it is, but when it's over and someone comes out the better man you shake hands."
With his chances at being Universal Champion now in the rearview mirror, what's next for AJ Styles? The May 20 episode of Monday Night RAW should shed more light as Mick Foley will return to present a new title.
"When a new championship is involved you can't help but look at it and say, 'you know that's not a bad idea,'" Styles said. "Competitors are going to compete and they will come out, I'm sure it'll be interesting. I look forward to it."
Foley's title announcement is still being kept under wraps, but the legend's hardcore past could see the return of the Hardcore Championship. Harcore wrestling is not something Styles admits he's usually involved in but he's "not afraid of any man or object" so he'll get after it if he has to.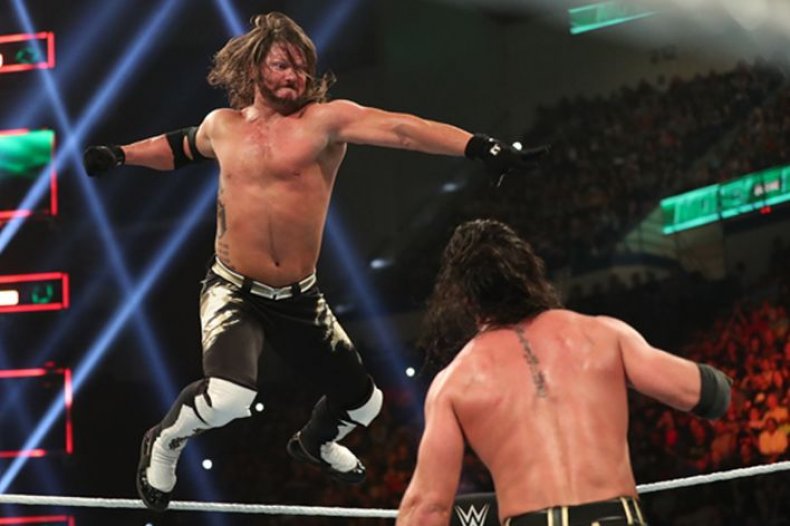 And those hoping to see Rollins and Styles again? Don't worry. Styles says this is "100 percent" not the end.
" Just because you lose doesn't mean it's over," Styles said. "I've lost before. I've lost the WWE championship before. You find your way back into the hunt. You may get derailed by going to the back of the line but you want what you want. And I want to be Universal Champion before my career is over."
That line will probably have to go through Brock Lesnar who returned to win the men's Money in the Bank ladder match in surprising fashion. The Beast lost the Universal Championship to Rollins at WrestleMania 35 so it seems like he'll set his sights on The Architect something that Styles is prepared for.
"It's interesting. Had I known I could be in the Money in the Bank match when Sami Zayn got taken out, I probably would have done it too," Styles said. "But I didn't know that was part of the rule. But yea I'll know next time. We'll see what happens."
Catch WWE Superstar AJ Styles tonight on Monday Night Raw at 8/7C on USA Network.
About the writer
Phillip Martinez is a game and culture reporter for Newsweek. Prior to joining Newsweek in 2018, he was a reporter and editor for iDigitalTimes and Player.One. A Bronx native, he graduated with his Bachelor's degree in Journalism from St. John's University in 2010. An avid Nintendo fan and wrestling mark, he's always looking to become a Pokémon Master while fantasy booking this year's WrestleMania. You can contact him at p.martinez@newsweek.com