Bump Stock, AR-15, AK-47 Among Weapons Found in Hotel Stockpile
A couple arrested for a large stockpile of weapons discovered in their Massachusetts hotel room is being held without bail pending a dangerousness hearing Friday.
The pair had driven up to a Boston suburb from Texas and rented a hotel room. Inside that room, police discovered a number of high-powered weapons including an AK-47, AR-15, shotgun, two pistols and other rifles. The couple also had a grenade launcher, a bump stock, high-capacity magazines and smoke grenades. They were arrested Saturday.
Francho S. Bradley, 59, and Adrianne D. Jennings, 40, both of Frisco, Texas, were arraigned Monday on numerous weapons charges including multiple counts of possession of a large-capacity firearm, three counts of possession of a silencer, one count of possession of a firearm without a license, three counts of possession of smoke grenades and possession of a bump stock. The pair, who are common law married, pled not guilty.
A bump stock is a device that can speed up a semi-automatic rifle to mimic an automatic weapon. Massachusetts banned possession of the gun accessory shortly after it was used by Stephen Paddock in a mass shooting in Las Vegas last year. Paddock killed 58 people and injured hundreds while firing into the crowd of a country music concert from his hotel room.
Bradley first alerted police because a surveillance feed he had set up for his Tewksbury hotel room was interrupted as he drove to Boston. He wanted police to check on the room to ensure that a gun he had left unsecured in the room was not taken and that the room had not been broken into, according to police.
Once in the room police discovered a duffel bag full of guns. After getting a warrant, police also discovered tactical vests, laptops and walkie-talkies along with the weapons.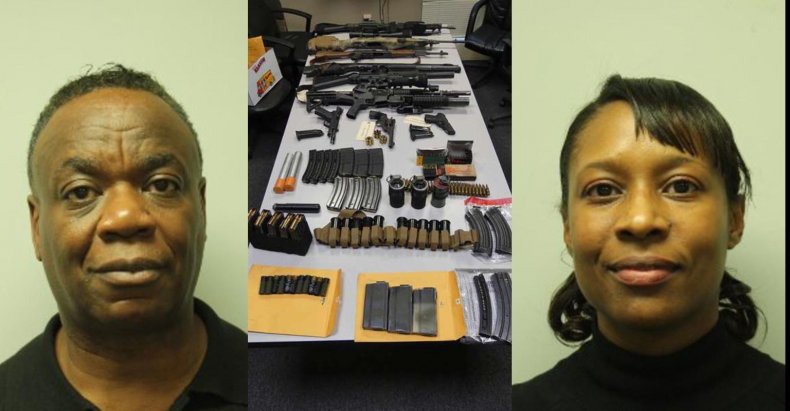 When questioned about the guns, Bradley said he was on a secret "mission" from a government agency dealing with a virus, according to the police report. He declined to say which one. Bradley made several claims about working for various government agencies to police.
Police also noted that the couple had parking tickets from Cambridge, Massachusetts, a city adjacent to Boston. The police report stated there were three tickets from three different days and suggested Bradley "may be surveilling an area." The police report also noted that a March for Our Lives rally had occurred Saturday. The Massachusetts State Police, heading up the investigation, referred Newsweek to the District Attorney's office, which did not provide comment beyond a press release.
Police reported that Bradley had a firearms license in Texas, not in Massachusetts. Multiple police agencies are investigating the incident.
The FBI did not immediately respond to request for comment.