Trump Calls Japan's First Lady a Good Wife After She Pretended Not to Know English to Avoid Him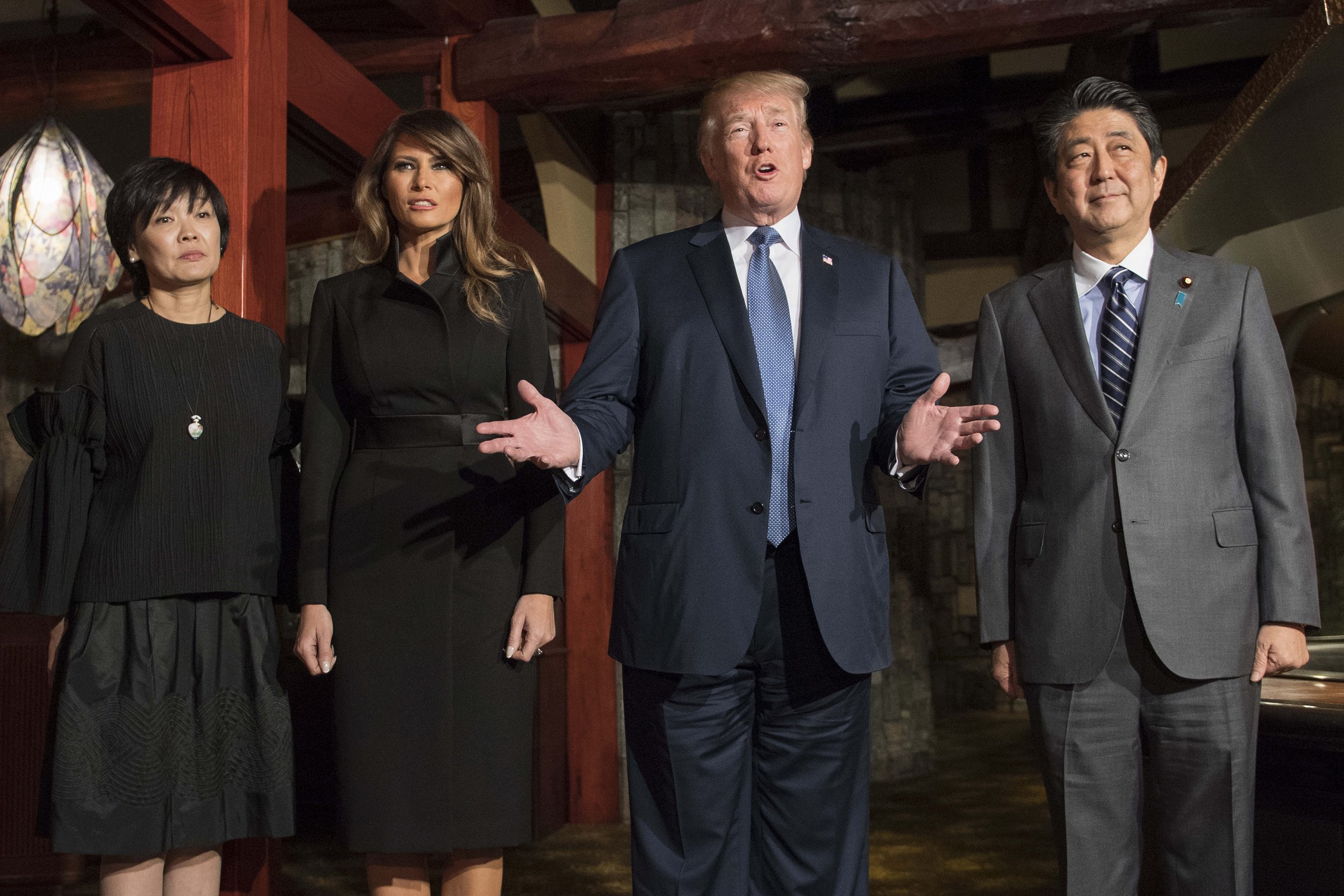 President Donald Trump has again awkwardly praised a foreign leader's wife, this time at a state dinner Monday in Tokyo, but Japan's Akie Abe might not be so receptive to his compliments. Earlier this year, rumor has it, she pretended not to understand English in order to avoid talking to the tycoon.
During joint remarks delivered alongside Japanese Prime Minister Shinzo Abe on Monday, Trump applauded the first lady, saying that he'd met with the country's emperor and empress and could tell that they, along with everyone else in Japan, really liked her.
"They love the people of Japan, they love this country dearly, and they have great, great respect for your prime minister," Trump said, according to the White House transcript. "And they truly think that your prime minister did very, very well when he decided to marry—or she decided to marry him—Mrs. Abe."
Trump's comments were significant for two reasons. One, he's already landed in trouble for giving weird, slightly sexist praise to the spouses of his counterparts abroad. During a state visit this summer, Trump made international headlines when he checked out French first lady Brigitte Macron, remarking that she was "beautiful" and "in such good physical shape." And two, Akie Abe (probably) doesn't like him.
When The New York Times sat down with Trump in July, the president talked about how he'd attended a dinner with politicians and their wives after the G-20 summit in Hamburg, Germany. In the interview, Trump mentioned Akie Abe while explaining why he got up from his seat to go talk to Russian President Vladimir Putin.
Trump said he was seated next to the Japanese first lady, who "doesn't speak English"—"like, not 'hello'"—so their conversation was lacking.
"There was one interpreter for Japanese, 'cause otherwise it would have been even tougher," he told the Times. "But I enjoyed the evening with her, and she's really a lovely woman, and I enjoyed—the whole thing was good."
Journalists on Twitter instantly seized upon the excerpt from the Times interview and pointed out that Trump's claim was likely incorrect. The Times's Tokyo bureau chief, Motoko Rich, called it "a false note," while Guardian columnist Jessica Valenti hypothesized that Akie Abe had "pretended not to speak English for nearly two hours to avoid talking to Trump."
Her alleged pettiness went viral, as others shared a video of Abe giving a 15-minute keynote address in English at a 2014 symposium on coastal resilience.
Japan's foreign ministry wouldn't comment on Trump's claim about Akie Abe's language skills to BBC News, but The Washington Post pointed out that she usually uses an interpreter.
In any case, Akie Abe seems to feel a lot more comfortable hanging out with American first lady Melania Trump. On Sunday, the two women visited a pearl store and had tea, and on Monday they went to a school to learn calligraphy. Together, the first ladies wrote the Japanese symbols for peace.