Al-Ahram Finds a New Voice for a New Egypt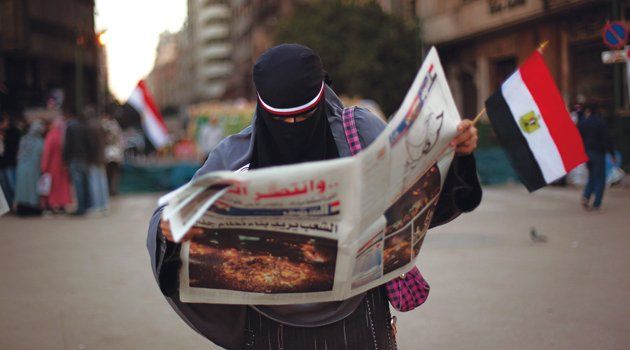 Al-Ahram, founded in 1875, is one of the oldest newspapers in the Arab world. Nationalized by Gamal Abdel Nasser after the 1952 Free Officers coup, it was once a leading publication, serializing the novels of Nobel laureate Naguib Mahfouz.
But in recent decades, the state-owned daily became a symbol of the nepotism, corruption, and incompetence that ails many institutions in Egypt.
Its slavish devotion to the regime's version of history and its blatant disregard for reality made it the butt of endless jokes.
That is, until Feb. 12. The day after the fall of Egypt's long-ruling autocrat Hosni Mubarak, the headline emblazoned on the front of the newspaper cried out: "The People Brought Down the Regime." The spirit of Tahrir Square had reached the old newsroom.
The newspaper's headquarters in downtown Cairo are a maze of half-empty rooms where office boys circulate with cups of tea and stacks of paper. New Apple computers are scattered throughout, some still wrapped in plastic, but most editors write and correct stories in long hand, sending them to a typing pool using an ancient dumbwaiter.
The historic offices have become the unlikely stage for a contemporary drama, pitting an ancient regime trying to reinvent itself against a younger generation full of revolutionary fervor.
One editor was forcefully ejected from his office by an angry crowd of employees. Journalists have staged demonstrations outside the sprawling newspaper offices in downtown Cairo to protest against senior managers who they say were corrupted by serving the government for so long.
These days, the labyrinthine hallways are abuzz. "Have you heard…?" reporters whisper to each other. They aren't just discussing the news outside—the wave of appointments, prosecutions, protests, and clashes that is sweeping Egypt. It's the battle raging over the future of Al-Ahram itself that has everyone riveted.
"There used to be a ceiling to our freedom," says editor Ahmed Amer, seated at a circular table in one of the paper's many conference rooms, its walls decorated with faded old maps. On this day, he is working on a story about an illegal land deal involving the former speaker of Parliament. The latest edition of the paper carries a headline that announces "the fall" of the country's dreaded State Security Investigative Service, whose offices have been ransacked by protesters.
Like other papers in Egypt, Al-Ahram is now printing stories that would have been unimaginable only a few months ago. But some say the paper's makeover is just that: a makeover.
"It's not smart to change your editorial policy 180 degrees in one day," says Sabah Hamamou, one of the journalists leading a small insurgency at Al-Ahram. "You can be more objective. But you shouldn't just be pro-revolution when one day earlier you were pro-Mubarak."
Hamamou is a petite veiled woman in her mid-30s, whose cherubic face belies her feisty temperament. While her editors downplayed and vilified the protests, Hamamou was sleeping in Tahrir Square and posting videos of violence against protesters to her blog.
Many journalists say that for real change to happen, Al-Ahram's CEO and its top editors—who were appointed under Mubarak and who, they say, destroyed the paper's credibility with their unstinting support for him—must also step aside.
Hamamou and hundreds of colleagues signed a letter of apology to readers for the paper's disingenuous coverage. But senior editors refused to print it.
At the top of the journalists' demands is the resignation of chief editor Osama Saraya, who last year defended a Photoshopped picture that placed President Mubarak in the foreground ahead of other Middle East leaders and President Obama, calling the doctored photo an "expressionist" rendering of Mubarak's "prominent stance"; and of CEO Abdel Moneim Said, who attributed the ruling party's landslide victory in last fall's parliamentary elections to its "minutely calibrated scientific approach" and "meticulously designed platform." (The elections were decried as some of the most fraudulent in recent Egyptian history, and the Parliament was dissolved days after Mubarak's ouster).
In an email to NEWSWEEK, Saraya wrote that his newspaper "had a strong link with the State system and this is the nature of all the national press ... We are victims of the system, we worked under its shadow and we aren't criminals who can be accused of any charges, whether it is from our colleagues or other papers. The responsibility is collective, although I accept my personal responsibility."
For his part, Said, the CEO, says he has always been a reformist within Mubarak's party and that the only reason he hasn't resigned is that the armed forces haven't appointed a successor.
"I actually want to resign," says Said, "if there is someone to take over the institution. But give it to who? I cannot leave it to the public to govern. I can't just hand in the keys."
Reporters have staged multiple sit-ins outside Said's offices. After a recent meeting of the board of directors, dozens of reporters barged into Said's office to yell recriminations at the CEO.
"Who does this board of directors represent?" a journalist angrily asked.
It seems the old guard at Al-Ahram and other state newspapers are digging in. One, calling into a TV talk show, swore he would be "martyred" before he'd give up his post. When Hamamou and three other female reporters went again to Said's office to demand a meeting, he called in the military authorities and suspended the reporters indefinitely for "creating a disturbance." He says they were "making noise, throwing papers, calling people bad names, making accusations."
But disturbances of all kinds are likely to go on. Nobel laureate and presidential candidate Mohamed ElBaradei recently complained that Al-Ahram continues to distort his positions. He called for the top management of all state media to be replaced.
On a recent afternoon, a dozen reporters stand outside the building chanting slogans against the newspaper's management. People watch from their office windows. "Don't be afraid!" a journalist yells. "Come down!" In a conference room inside, dissident journalists hold a straw poll to select a list of nominees for the paper's top positions, dropping Post-it notes with their suggestions into a cardboard box.
"This is a first step," says reporter Mohamed Harbi, who is overseeing the voting. "The important thing is that we believe in it."
While reporters hold their informal election, managing editor Abdel Azeem Darwish sits in his smoke-filled office and acknowledges that Al-Ahram was "late" in covering the uprising against Mubarak. But now, he says, "the regime changed, and we are reflecting what's going on in society." He agrees that the newspaper's chief editor needs to resign but describes reporters' demands that they be allowed to choose new management as "not practical."
Al-Ahram is an enormous entity, encompassing dozens of publications, a printing and distribution company, an advertising agency, and significant real estate.
The protests don't seem to be disrupting the paper's work flow, probably because it is ridiculously overstaffed, employing somewhere between 800 and 1,200 reporters. This, critics say, is because for decades, jobs at the paper have been handed out as favors and sinecures.
"The relatives of senior management are given plum salaries and never show up," says Wafaa' Waheed, who works in the paper's advertising department.
Since one of the main criteria for getting hired and promoted was a connection to the regime, says Hamamou, the institution is resistant to real change. "The Al-Ahram battle, the Al-Ahram revolution, is much, much tougher than Tahrir Square."
Allegations of corruption abound, and it is virtually impossible to get a clear financial picture of the paper. The government agency that reviewed Al-Ahram's finances reported directly to the president and prime minister, and hasn't issued a report since 2008, says Mamdouh El-Wally, a senior financial reporter at the paper. Circulation and profit figures for the paper "have no credibility," says El-Wally. "There is complete obfuscation."
El-Wally says the government report, whose contents he is familiar with, showed that in 2008 Al-Ahram gave away at least $4.3 million in gifts to senior political figures and businessmen, including gold jewelry, electrical appliances, mobile phones, and watches.
The earnings of upper management, meanwhile, are the subject of much speculation and controversy. They reportedly get a percentage of advertising and distribution revenues, meaning their real income "is their official salaries many times over," says El-Wally.
"I can't see any way that state media will survive" the changes sweeping the country, says Hisham Kassem, a publisher who has run several independent Egyptian publications. "It has lost credibility completely," he says, and "there is no way to restructure it and run it on a profit basis."
And El-Wally says Al-Ahram has "exchanged the sanctity of the presidency with the sanctity of the Supreme Council of the Armed Forces," which now runs the country and which the paper studiously avoids criticizing.
"We want real, not superficial, change," says El-Wally. "Our house is still not in order."
Lindsey is a writer who has been living in Cairo since 2003.