Trump May Release Video of Raid That Killed Baghdadi: 'We're Thinking About It'
President Donald Trump has suggested that he may release footage of the raid that killed the leader of militant group Islamic State, Abu Bakr al-Baghdadi.
Facing criticism over the relish with which detailed the death of the ISIS leader, whom he described as "whimpering, crying and screaming all the way", the president told reporters on Monday that the video of his demise might be made public.
"We're thinking about it. We may. The question was: Am I considering releasing video footage of the raid? And we may take certain parts of it and release it, yes," he said.
Before his departure in Air Force One and Joint Base Andrews, Trump said it had been a "great weekend for the country."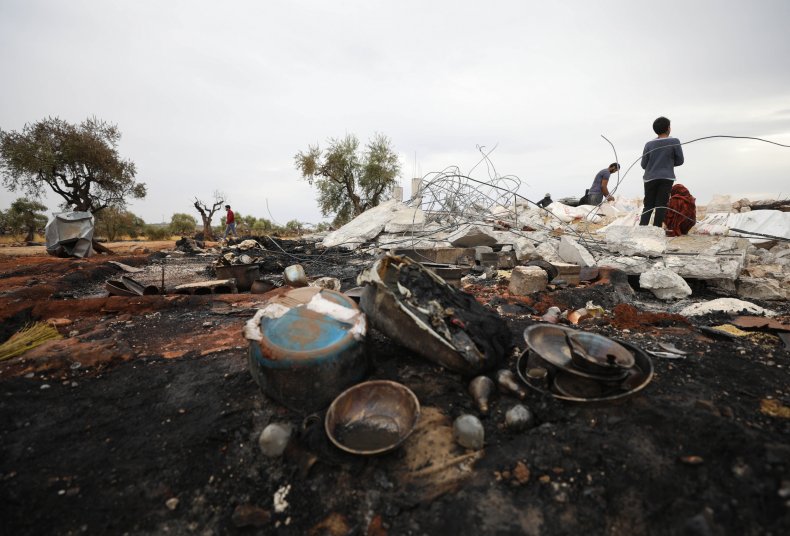 "We captured a man that should've been caught a long time ago. Unfortunately, he wasn't. He's done tremendous damage.
"But it was an amazing display of intelligence and military power and coordination, and getting along with people. Lots of great things happened. So that was a big, big day and a big weekend, and we're very happy about it," he said, according to a White House transcript.
On Sunday, Trump announced al-Baghdadi had been killed in a special operations raid, after escaping a house into a dead-end tunnel while being chased by U.S. commandos in northwest Syria.
Trump described how he watched the mission from the White House situation room in which Al-Baghdadi detonated a suicide vest that killed him and three children.
"I got to watch it," Trump told reporters on Sunday. "We had absolutely perfect—as though you were watching a movie."
"And, frankly, I think it's something that should be brought out so that his followers and all of these young kids that want to leave various countries, including the United States, they should see how he died."
Meanwhile, Trump defended his decision not to tell Democratic congressional leaders of the raid, including House Speaker Nancy Pelosi, because he was worried about an information leak.
In explaining his decision, he took another swipe at House Intelligence Committee Chairman Adam Schiff.
"The only thing is they were talking about why didn't I give the information to Adam Schiff and his committee, and the answer is because I think Adam Schiff is the biggest leaker in Washington," Trump said.
"You know that, I know that, we all know that. I've watched Adam Schiff leak. He's a corrupt politician. He's a leaker like nobody has ever seen before," he said.
Russia's Defense Ministry initially expressed doubt about Trump's claim because it had no reliable information about the U.S. operation, citing "contradictory details" by the participants in the operation.
However, on Monday, Kremlin spokesman Dmitry Peskov said if the reports of al-Baghdadi's death were true, "we can talk about a serious contribution by the president of the United States to the fight against international terrorism," according to Reuters.