Al Capone's Granddaughters Are Auctioning Off His Belongings, Here's What You Can Buy
Notorious mobster Al Capone still attracts attention 70 years after his death and now, his family is giving people a chance at owning a piece of his estate.
Capone, also known as "Scarface," gained notoriety in the Prohibition era as the head of the Chicago Outfit, an organized crime syndicate that was part of the Italian mafia. Once dubbed "Public Enemy Number 1," Capone was jailed at Alcatraz for tax evasion before his release and death in 1947.
Brian Witherell of Witherell's Auction House called the upcoming auction of Capone's belongings a "glimpse into this American legend's lifestyle." He estimated it will give people a look at his life in a more intimate way than has "ever" been done before, calling it "material culture at its finest."
The auction is set to take place on October 8 at 6:00 p.m. local time and will allow people to bid on 174 items by way of the internet. Below are some highlights of the collection.
Al Capone's 'Favorite Handgun'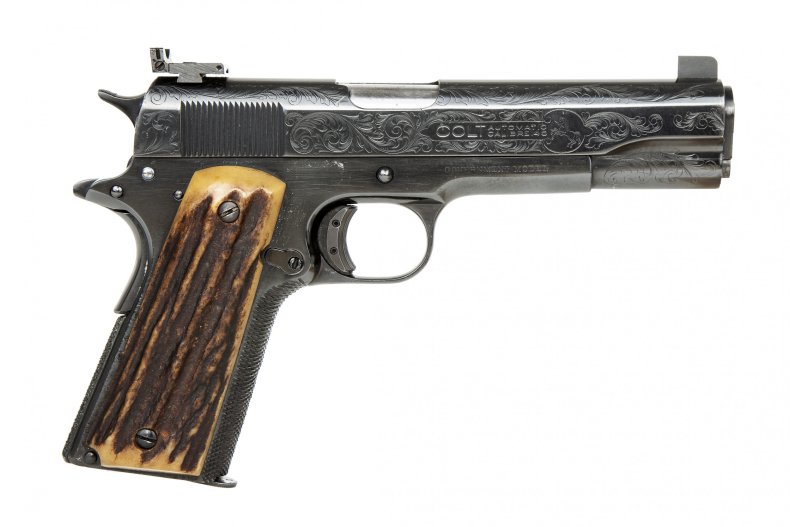 As far as the estimated value of the items, the most expensive item at the auction is a Colt Model 1911 semi-automatic pistol with a .45 caliber. Witherell's classified it as being in "good" condition overall and the grips having "excellent" condition. Its estimated value is $100,000 to $150,000 and bidding will start at $50,000. A person must have a valid license to purchase the firearm.
Al Capone's Personal Letter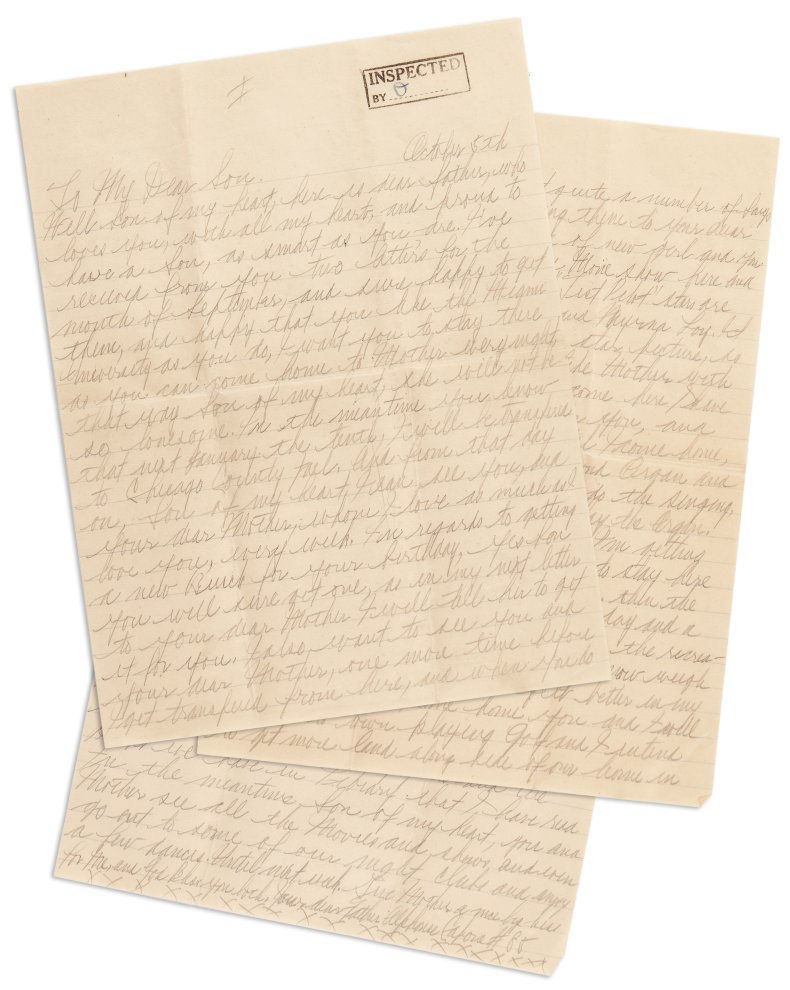 Valued at up to $50,000, bidders have a chance to own a personal letter Capone wrote to his son, Sonny Capone, while he was incarcerated at Alcatraz. Part of the letter has Capone telling his son that he loves him "with all my heart" and is "proud to have a son as smart as you are." Capone also told Sonny to give his mother a "kiss for me."
The letter is dated October 5, 1931, and bidding will begin at $12,500.
Al Capone's Original Home Movie Reel
Movie lovers looking to add a unique element to their collection may be interested in a 16 mm film featuring Capone and his associates. It's unclear exactly what's on the film, but it was recorded at his Palm Island, Florida, home in April 1929 during Lucky Luciano's visit. Witherell's also believed Frank Costello and other suspected crime figures were at the home at the time.
Bidding on the film, which lasts for about 13 minutes, will start at $2,500.
Al Capone's Bed
Estimated at a value of up to $5,000, bidding for the bed Capone shared with his wife, Mae Capone, will begin at $1,250. It features a serpentine crest feather and dates back to the 1920s. It has "scattered wear" that's consistent with its age and use, according to Witherell's.
Al Capone's Pocket Knife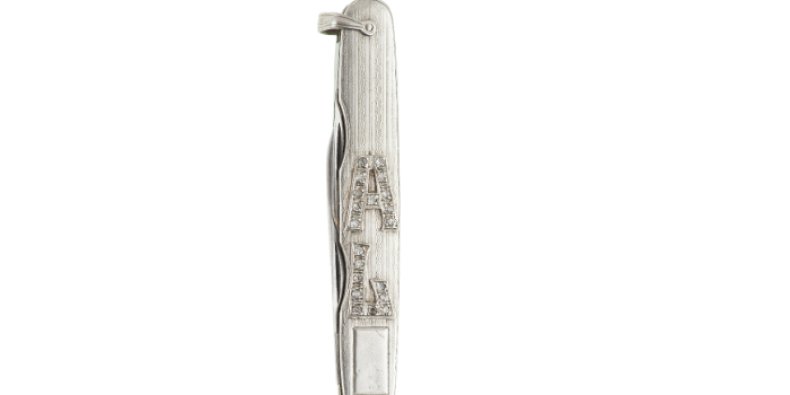 Al Capone's platinum Haynes Stellite pocket knife is encrusted with 20 single cut diamonds that form his initials, "A L." It has minor wear and bidding will start at $1,250.
Al Capone's Black Forest Carved Humidor and Side Chairs
A piece belonging to Capone and Mae, the novelty set features a bear using its paw to support the top of the table, which has a pair of box compartments. The lids of the compartments feature two sitting bears, with a third in the center of them. The piece is accompanied by two chairs, also featuring bears.
The furniture is estimated to be worth between $10,000 and $15,000 and bidding will begin at $5,000.
Al Capone's Vintage Photograph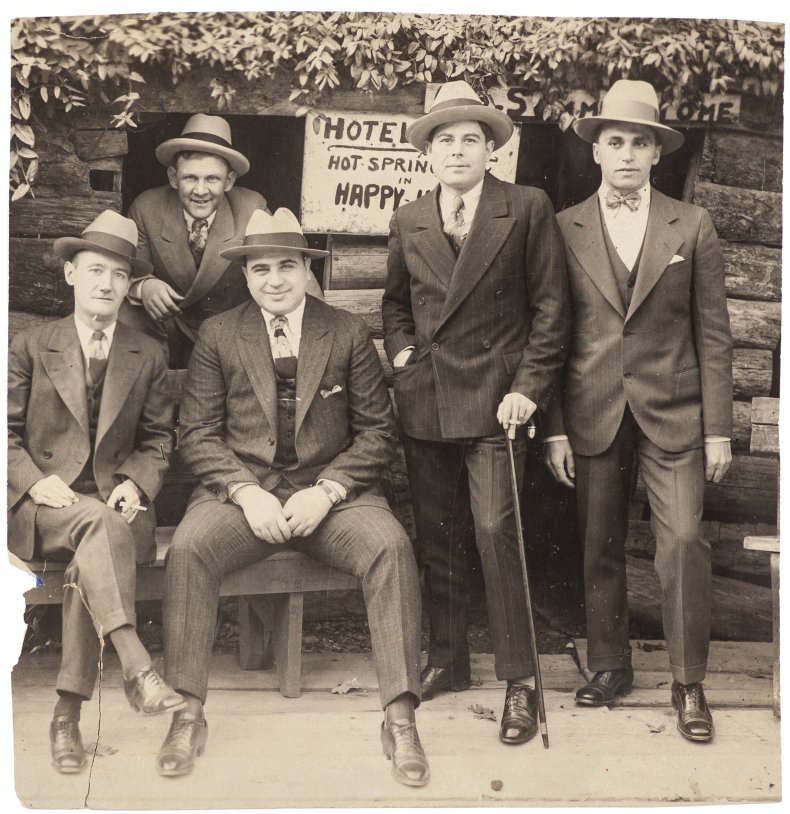 Photographs are one of the most common items in the collection that's set to be auctioned off and one features Capone and four other men in Hot Springs, Arkansas. Characterized as "associates," only one man, Rocco De Grazia, was identified, but Witherell's guessed one man could also be Frankie LaPorte.
Bidding will begin at $1,250 and the photograph is estimated to be worth between $2,500 and $5,000.
Al Capone Gold-Rimmed Crystal Stemware
Described as being "very finely etched and garland festooned with 24-karat gold borders" the collection of stemware includes eight aperitif glasses, nine sherry glasses, four red wine glasses, seven white wine glasses, 10 water glasses, six champagne flutes and seven lemonade glasses.
Al Capone's Porcelain Valentino Figurine Boudoir Lamps
Two porcelain Valentino figurine boudoir lamps are thought to represent Rudolph Valentino and Vilma Banky in the film, The Son of the Seikh, according to Witherell's. They're 24-inches high and bidding will begin at $1,250.
Al Capone's Matchbook Cover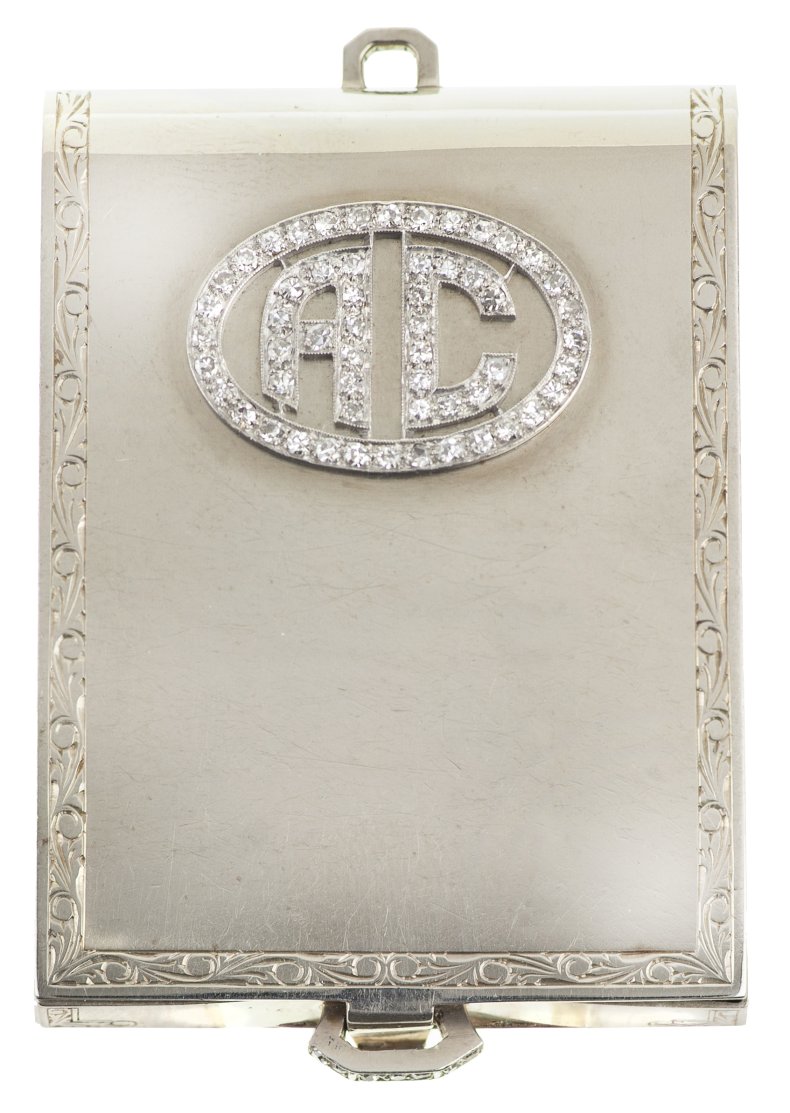 The 14-karat white gold matchbook cover has 63 single cut diamonds on it and has a few minor surface scratches.
"Some of the items that are going to be up for auction are very personal items of Al Capone's. There is one in particular that he was very fond of, it's a platinum matchbox that has diamond initials on the front of it. And he used to carry stick matches with him to light his cigars," Diane Capone, the Chicago gangster's granddaughter said.
Al Capone's Rug
Capone's Chinese-style rug has a "Bird of Paradise" and floral motif on a dark blue background and a red floral border. It was kept in the main house in Palm Island, according to Diane, and has some damage from cigar ashes.
Al Capone's Final Photograph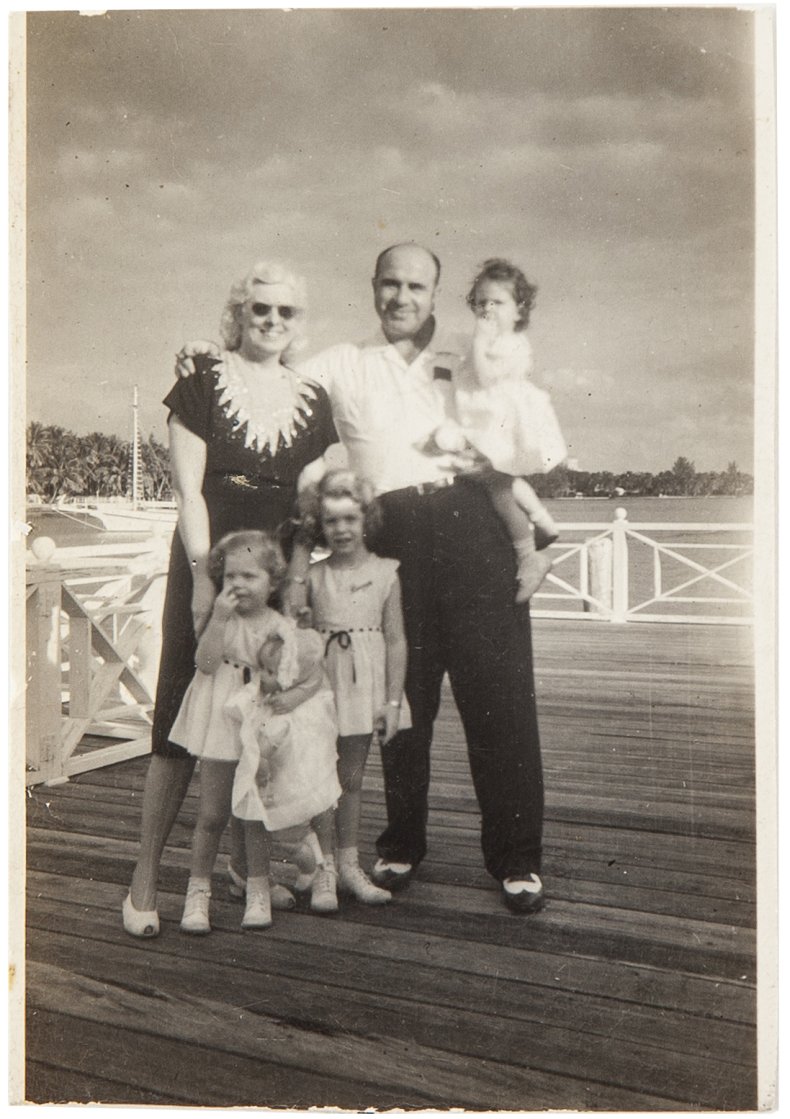 The last photograph ever taken of Capone features him with his wife and his granddaughters, according to Barbara Capone, his granddaughter. Taken on December 25, 1946, the photo dates back to three weeks before Capone's death.
Al Capone's Signed Copy of Abraham Lincoln, Sa Naissance, Sa Vie, Sa Mort
While imprisoned at Alcatraz, Capone was given a copy of a biography of former President Abraham Lincoln. It was previously signed by former President Theodore Roosevelt and bears the inscription, "To Ye Little Book unto the keeping of a new friend Alphonse - and ye guard it well. The happiness of the new year - 1934."
Al Capone's Decorative Side Table
A decorative side table features octagonal tops that are ornately carved with a foliate design. Three animal heads were carved into the base of the table, which has many areas of discoloration and lost its finish on the top.
One of the cheaper pieces in the collection, it's only valued at up to $1,000 and bidding will start at $100.
Along with the above items, the auction will include numerous knives, guns, household items and pieces of jewelry belonging to Capone, his wife and Sonny.