Al Franken Suggested Trump Was Crazy After He Bragged About Touching Women on 'Access Hollywood' Tape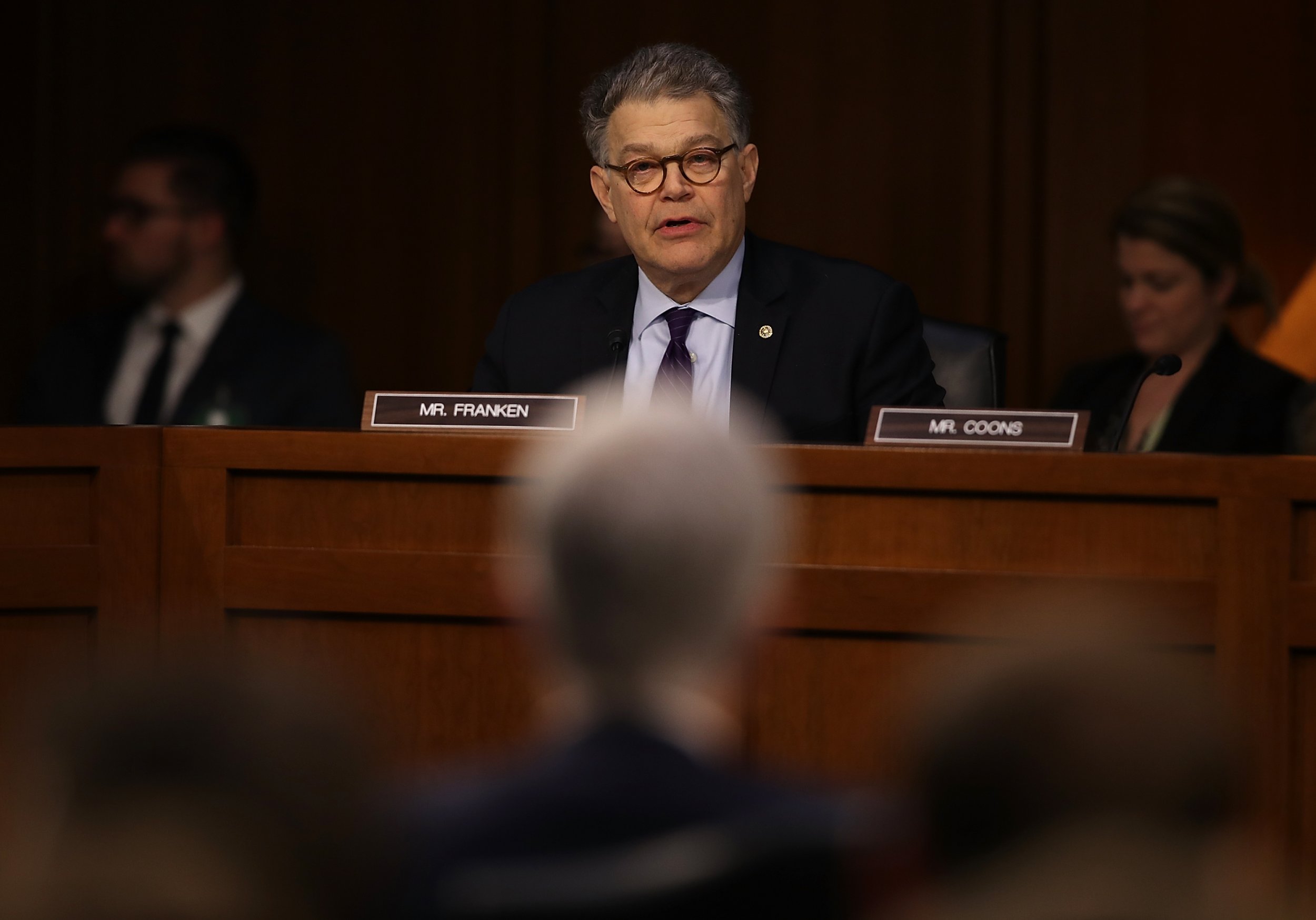 Senator Al Franken apologized Thursday for forcibly kissing and groping a woman in 2006. But around this time last year, he was criticizing Donald Trump for merely talking about such behavior.
Franken, a Minnesota Democrat, appeared on Late Night with Seth Meyers after the release of a 2005 tape from Access Hollywood in which Trump was caught having a vulgar conversation about women with host Billy Bush. The then-presidential candidate bragged that he kisses women without asking and "grab[s] them by the pussy" because "when you're a star, they let you do it."
Meyers asked Franken his thoughts on Trump's defense that the exchange was just "locker-room banter."
"I've been in a lot of locker rooms. I belong to a health club in Minneapolis—you can tell," Franken said, joking with Meyers. "Our locker room banter is stuff like, 'Is Trump crazy?'"
Franken went on to suggest that maybe Trump worked out with Roger Ailes, the late founder of Fox News accused of sexually harassing at least seven female employees, among them Fox & Friends anchor Gretchen Carlson. After going back and forth with Meyers for a minute, the senator made another dig at Trump.
"These stories are going to make it hard for Trump to focus on his message that he knows nothing about public policy," Franken added.
Franken's remarks came under new scrutiny this week after former model and radio host Leeann Tweeden published an essay alleging that he kissed and groped her without her consent while the two were on a USO trip overseas. Tweeden also shared a photo of Franken pretending to touch her breasts while she slept.
Franken apologized, saying that he was disgusted with himself for taking the picture and would cooperate with an ethics investigation into himself.
"I respect women. I don't respect men who don't. And the fact that my own actions have given people a good reason to doubt that makes me feel ashamed," he said.
The recent focus may be on allegations surrounding Franken, Alabama Senate candidate Roy Moore and Hollywood producer Harvey Weinstein, but the president has also been accused of improper conduct. It's not just the Access Hollywood clip—at least 16 women have come forward to say he harassed or sexually assaulted them.
Despite this, Trump tweeted about the Franken scandal Thursday night. He wrote that the picture was "really bad" and "speaks a thousand words."
He then asked, "Where do his hands go in pictures 2, 3, 4, 5 & 6 while she sleeps?"