Will Al Franken Resign? What Happens if Minnesota Democrat Steps Down Over Groping Radio Host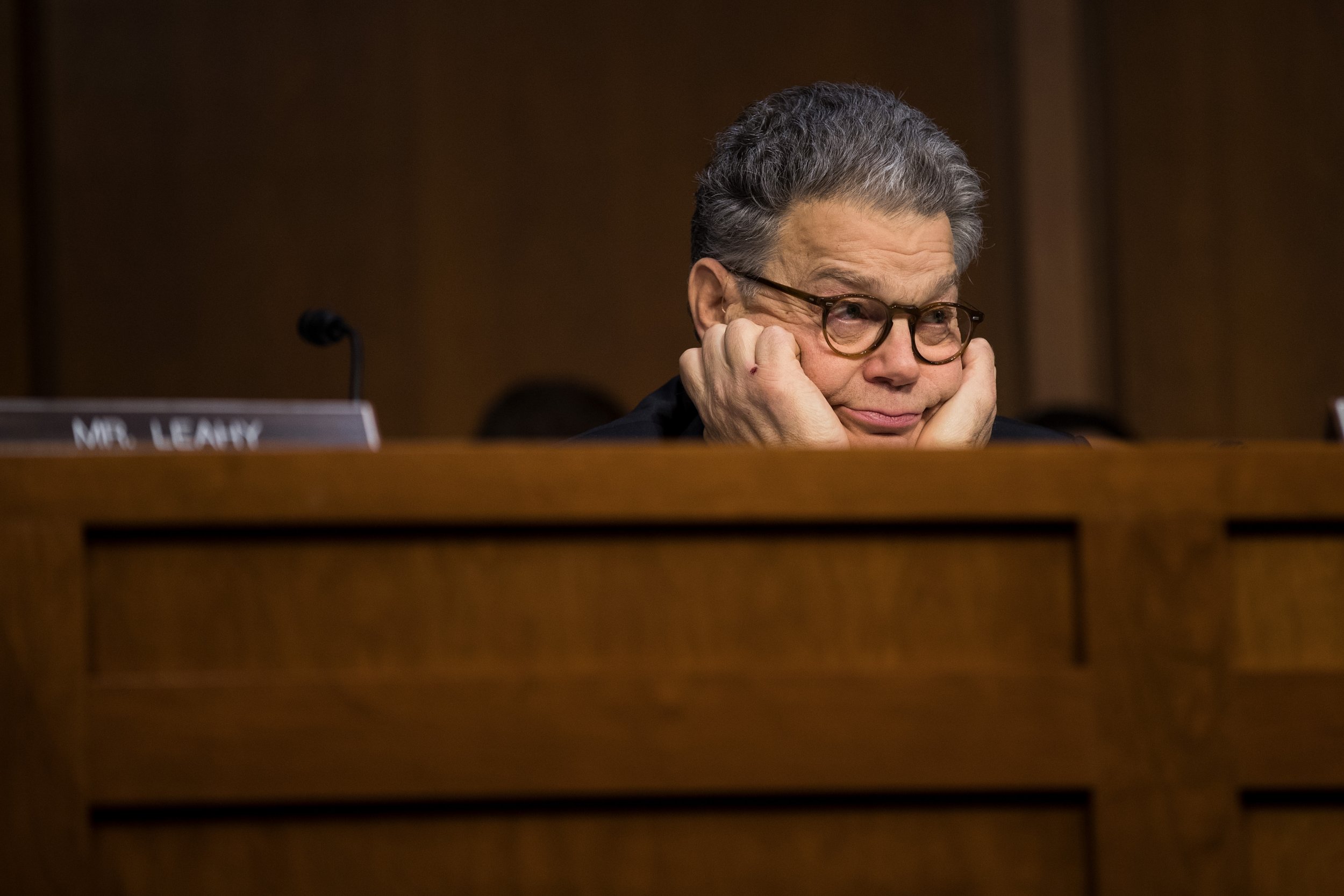 Calls for Senator Al Franken's resignation were circulating on social media Thursday after news anchor Leeann Tweeden publicly accused the Minnesota Democrat of inappropriately kissing and groping her in 2006.
Former Alaska Governor Sarah Palin told reporters she thought Franken should step down. Comedian Kathy Griffin flatly tweeted that he should be replaced. Women's organization UltraViolet demanded accountability, arguing that "no one who does this deserves to be in the Senate," while actress Alyssa Milano chimed in to say, "Sorry, [Franken], you should not be in a position to represent the female constituents in your state."
Franken has apologized, requested an ethics investigation into himself and vowed to cooperate. But Tweeden's allegations—that he forcefully kissed her under the guise of rehearsing for a skit and was later photographed putting his hands near her breasts while she slept—could halt the career of a senator once named as a possible 2020 candidate.
Here's what could happen:
If he were to resign within the next few months, Minnesota Governor Mark Dayton would appoint someone to take his seat. The appointed senator would serve until the next scheduled election, at which time there would be a special election to choose a successor, according to the National Conference of State Legislatures. Minnesota's next statewide contest takes place in November 2018.
If Franken waited to resign until just before the 2018 primary, the governor would appoint someone, and the state would vote on a successor in November 2019, according to Minnesota law.
In either case, Dayton is a Democrat, so he would probably appoint a Democrat to fill Franken's seat. Social media users on Thursday were suggesting lawmakers like Representative Keith Ellison, Attorney General Lori Swanson, State Auditor Rebecca Otto and Lieutenant Governor Tina Smith. Given that Minnesota is a blue state, a Democratic candidate would also likely win the eventual election to permanently replace Franken.
As Minnesota Public Radio detailed, a similar sequence played out after the death of Senator Paul Wellstone, a Democrat who was killed in a plane crash in 2002. The state's then-Governor Jesse Ventura selected Dean Barkley to replace Wellstone, but Barkley didn't seek election. Barkley, incidentally, ran for senator as an Independent in 2008—and Franken won.
For her part, Tweeden said during a Thursday news conference that she wasn't asking Franken to quit.
"People make mistakes. I mean, I'm not calling for him to step down. That's not my place to say that," Tweeden said, then trailed off. "If there are other people who come out and say he's done this..."