Al Franken Returns to Public Eye After Resigning for Sexual Misconduct
Former Minnesota Senator Al Franken is poised to make his first public appearance since resigning his post in January at a cybersecurity forum next month.
According to CNN, Franken will deliver remarks about Russia's 2016 election meddling, as well as recent revelations into the Cambridge Analytica data breach and other matters of privacy at the event, which is to take place in Lisbon, Portugal.
"As a senator, I fought to implement laws that would protect users' personal information and raised the alarm about the growing influence of these new corporate giants," Franken said in a press release. "Now, I'm coming to Lisbon to talk about what went wrong in the leadup to these scandals — and what we need to do to make sure it doesn't happen again."
Franken's former colleague, Minnesota Senator Amy Klobuchar, hinted that the disgraced congressman could soon return to the public eye last weekend, when she was asked about Franken at the New York Times's TimesTalks event.
"He's had two acts and he's still going to have a third," Klobuchar said of Franken. On the broader subject of the #MeToo movement, which is thought to be the catalyst for Franken's downfall, Klobuchar said: "As we're dealing with a change in the workplace ... we have to make sure there's due process and graduated sanctions."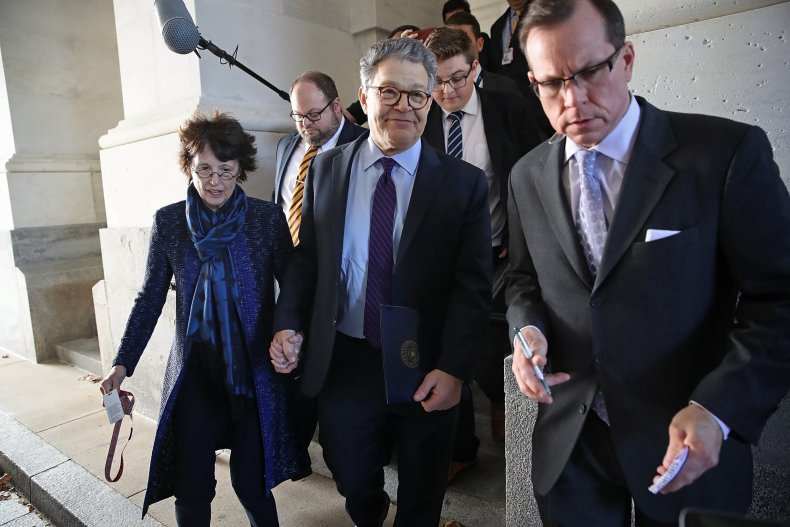 Klobuchar's apparent hope for a Franken comeback speaks to the mixed feelings Senate Democrats had over Franken's departure.
Franken announced his plans to resign his post in December, in the weeks following a landslide of sexual misconduct allegations from multiple women who said the once-beloved senator had groped or otherwise harassed them. Calls for Franken to step down originated largely from female Democrats in the Senate, but soon came to include dozens of senators, up to and including Senate Minority Leader Chuck Schumer.
"I consider Senator Franken a dear friend and greatly respect his accomplishments, but he has an obligation to his constituents and the Senate, and he should step down immediately," Schumer said at the time.
After Franken went before the Senate in December to announce his resignation, many of his colleagues said they were sorry to see him go. Senator Minority Whip Dick Durbin, an Illinois Democrat, said Franken would "be remembered" and would still "have an opportunity to use his voice for others in the future."
Word that Franken will soon make a public appearance arrives at a time when many worry he's just one of several men "plotting their post-#MeToo comeback."
Last week, the Cut — joined by a slew of other outlets — reported on a handful of men who may be "testing the waters" to see if the moment is right for them to return to public life. So far, the list includes the likes of TV host and journalist Charlie Rose, celebrity chef Mario Batali and comedian Louis CK. Could it come to include Franken, too?
"The systems that have kept these men in charge are strong enough to weather a few incriminating news stories," the Cut's Amanda Arnold wrote. "And it seems the time has come for them to plan their return."