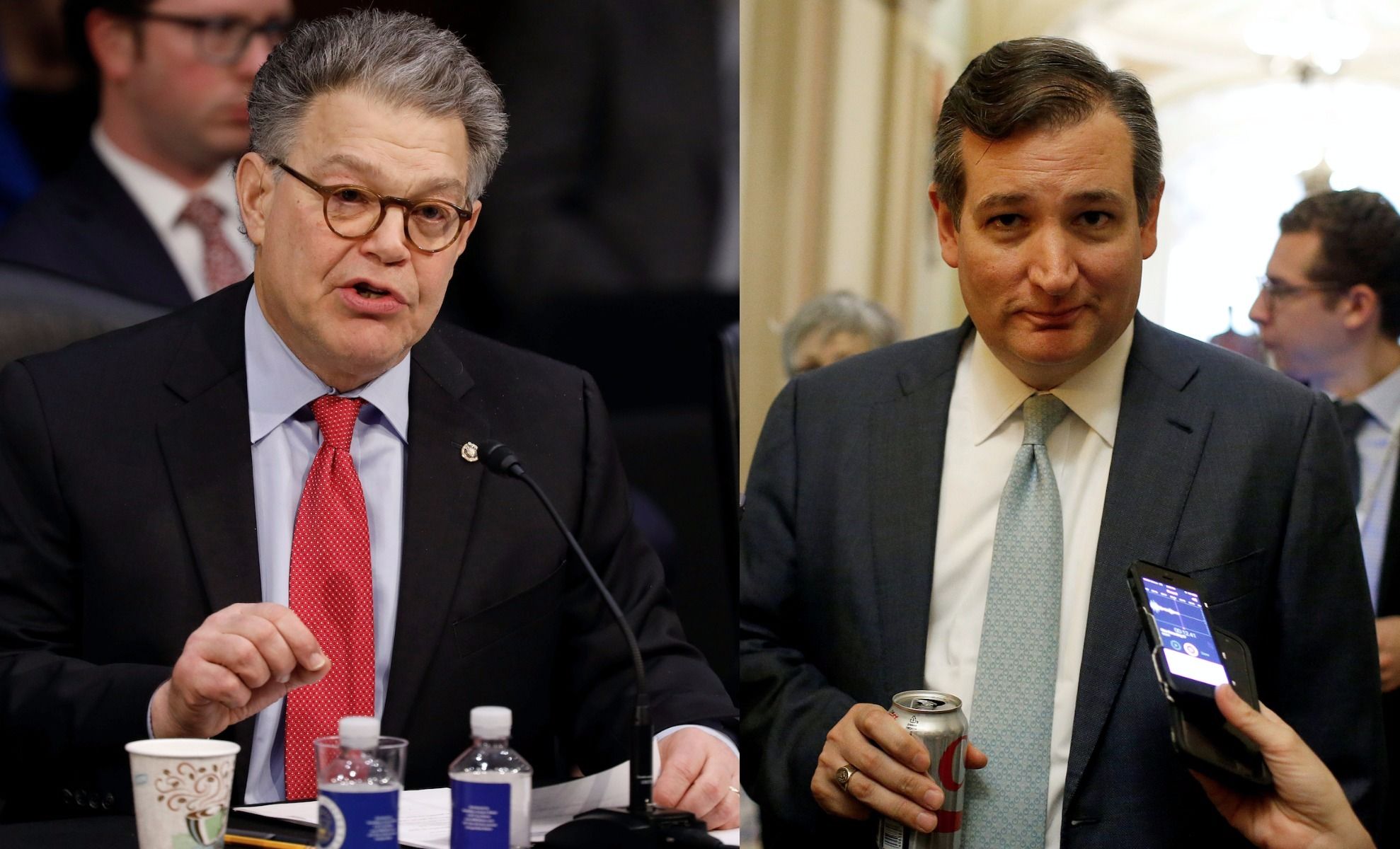 Ted Cruz and Al Franken really don't like each other. The senator from Texas, who probably had the best shot to win the Republican presidential nomination before getting steamrolled by Donald Trump, has a reputation for being loathed by fellow politicians, none more so publicly than Franken, the Democratic senator from Minnesota who famously used to write for—and occasionally appear on—Saturday Night Live.
Related: Punk rocker-turned-congressman challenges Cruz for Senate
So acrimonious is their relationship that Franken dedicated an entire chapter of his new book, Al Franken, Giant of the Senate, to bashing Cruz. The chapter, titled "Sophistry," calls the Texan both "singularly dishonest" and "exceptionally smarmy," according to USA Today.
"You have to understand that I like Ted Cruz probably more than my colleagues like Ted Cruz," wrote Franken, "and I hate Ted Cruz."
On Wednesday, Franken continued to bash Cruz on Sirius XM, telling The Hill that Cruz is so unappealing to other senators that they have refused to buy him Secret Santa gifts.
"I've had people pick out Cruz's name and then drop it on the floor," Franken said. "I've actually had that happen."
We'd imagine it would be difficult for a politician to pick out a genuinely thoughtful present for someone who could be his or her most hated colleague across the aisle. The Senate's holiday gift-swapping tradition was actually started by Franken in 2011, in an effort to foster bipartisanship. Democrats are encouraged to draw the names of Republicans and vice versa.
If Franken is so intent on bringing Democrats and Republicans together, though, it seems odd that he would take such a strong public stance against Cruz. Franken explained his feelings about Cruz last month at the Vulture Festival in New York City.
"I have to say, he's an exception to my rule, which is you basically have a rule that if you have a conversation with somebody and it makes them look bad, it's a private conversation. You don't repeat it," he said, via Entertainment Weekly.
"But I made an exception with him because he broke that rule, he broke the protocol of the Senate," Franken continued. "It wasn't quite that rule, but he got up to speak and called Mitch McConnell a liar. And that was completely against protocol. So I make him an exception. So I don't say bad stuff about my other colleagues."
The Secret Santa revelation wasn't all Franken said about Cruz on Wednesday. On CNN's New Day, he said that "Ted doesn't get anything done" and that "his big accomplishment was shutting down the government." To Anderson Cooper, he said Cruz was "kind of a toxic guy in an office, the guy who microwaves fish."
A little later on Wednesday, Franken sat down with Samantha Bee for a deep dive into the filing cabinet of Cruz insults.
Some highlights:
"The Dwight Schrute of the Senate."
"An obnoxious wrench in the gears of government."
"World-class butthole."
"The love child of Joe McCarthy and Dracula."
Nothing, however, compares to this anecdote from Al Franken, Giant of the Senate, in which Franken delivered a thoroughly devastating burn straight to Cruz's face.
Cruz, of course, has been asked about the book chapter. "Al is trying to sell books, and apparently he's decided that being obnoxious and insulting me is good for causing liberals to buy his books," he told Politico last week. "I wish him all the best."
His most Cruz-ian response, however, came Wednesday, when—like Hillary Clinton, a similarly inhuman politician desperate to seem hip—he grabbed a piece of low-hanging "covfefe" fruit.
Well played, Ted.