Who Is Al Franken's Wife? Meet Franni Bryson, the Woman Who Won Him His Senate Seat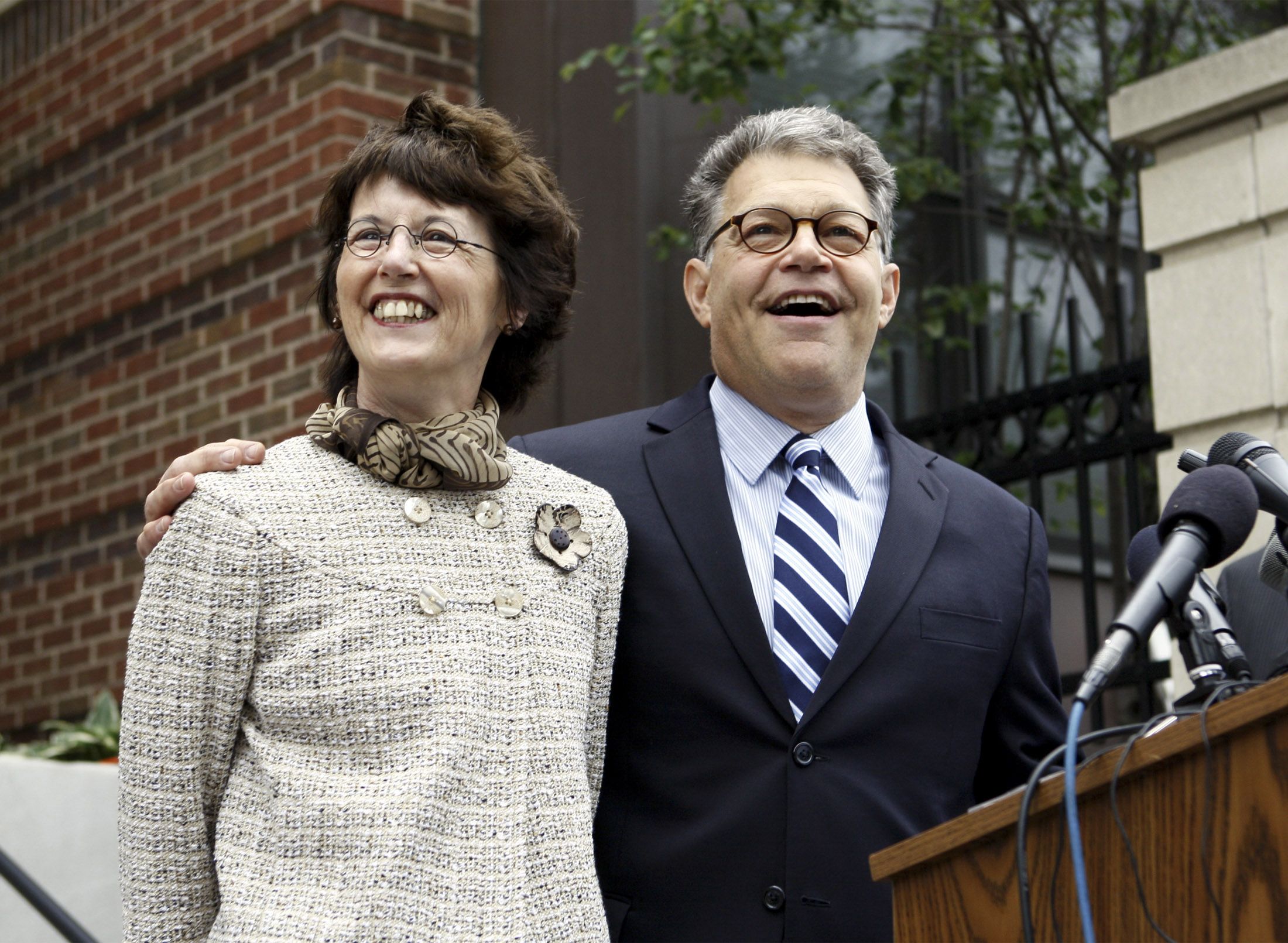 Minnesota Senator Al Franken was accused of sexual misconduct on Thursday by Leeann Tweeden, a radio news anchor with KABC in Los Angeles. Tweeden said Franken forcibly kissed and groped her when they were overseas entertaining U.S. troops in 2006. Franken was, and still is, married to his wife of 42 years, Franni Bryson.
When asked why he decided to run for office, Franken often cites his wife's childhood in Portland, Maine. When Bryson was a baby, her father was killed in a car accident. He left her mother widowed with five children. The family was able to survive with the help of Social Security survivor's benefits and the GI Bill, but they often went without food or heat. Still, four out of the five children managed to go to college.
"They tell you in this country you have to pick yourself up by your bootstraps," Franken often says in stump speeches. "First you have to have the boots. And the government gave my wife's family the boots." Franken has teared up on more than one occasion discussing it.
Bryson met Franken while he was a freshman at Harvard University in 1969; she describes it as "love at first sight." The pair were married in 1975, the same year Franken began writing for Saturday Night Live.
Bryson gave birth to two children, a son and a daughter, during Franken's 20 years at Saturday Night Live, but also struggled with alcohol dependency. She first discussed her alcoholism publicly in a 2008 Senate campaign ad for Franken.
"How could a mother of two fabulous, healthy children be an alcoholic?" she asked. "When I was struggling, Al stood right by my side and he stood up for me. The Al Franken I know stood by me through thick and thin." Franken credits the ad as the reason he won his Senate bid.
Bryson was instrumental in both of Franken's Senate campaigns. In May, he told CBS News that Minnesotans were relieved to see he wasn't a showbiz bigwig with a trophy wife 20 years younger than him. He quickly corrected himself by saying, "I do have a trophy wife, but she's only six months younger than me."
Franken has joked that when he decided to run for office he called his friends and said, "Franni and I are running for Senate, and if we win, I get to be the senator." During his victory speech, he said that many voters decided to vote for him after meeting Franni.
Bryson's official bio says she is, "Al's life partner and political soul mate" and that "she served as his de facto running mate during the campaign – spending every day traveling Minnesota, charming everyone she meets, bringing pies and winning hearts."
Franken made no mention of his wife in his official apology letter following the incident.