Al Gore And Tony Blair Throw Support Behind Florida Shooting Survivors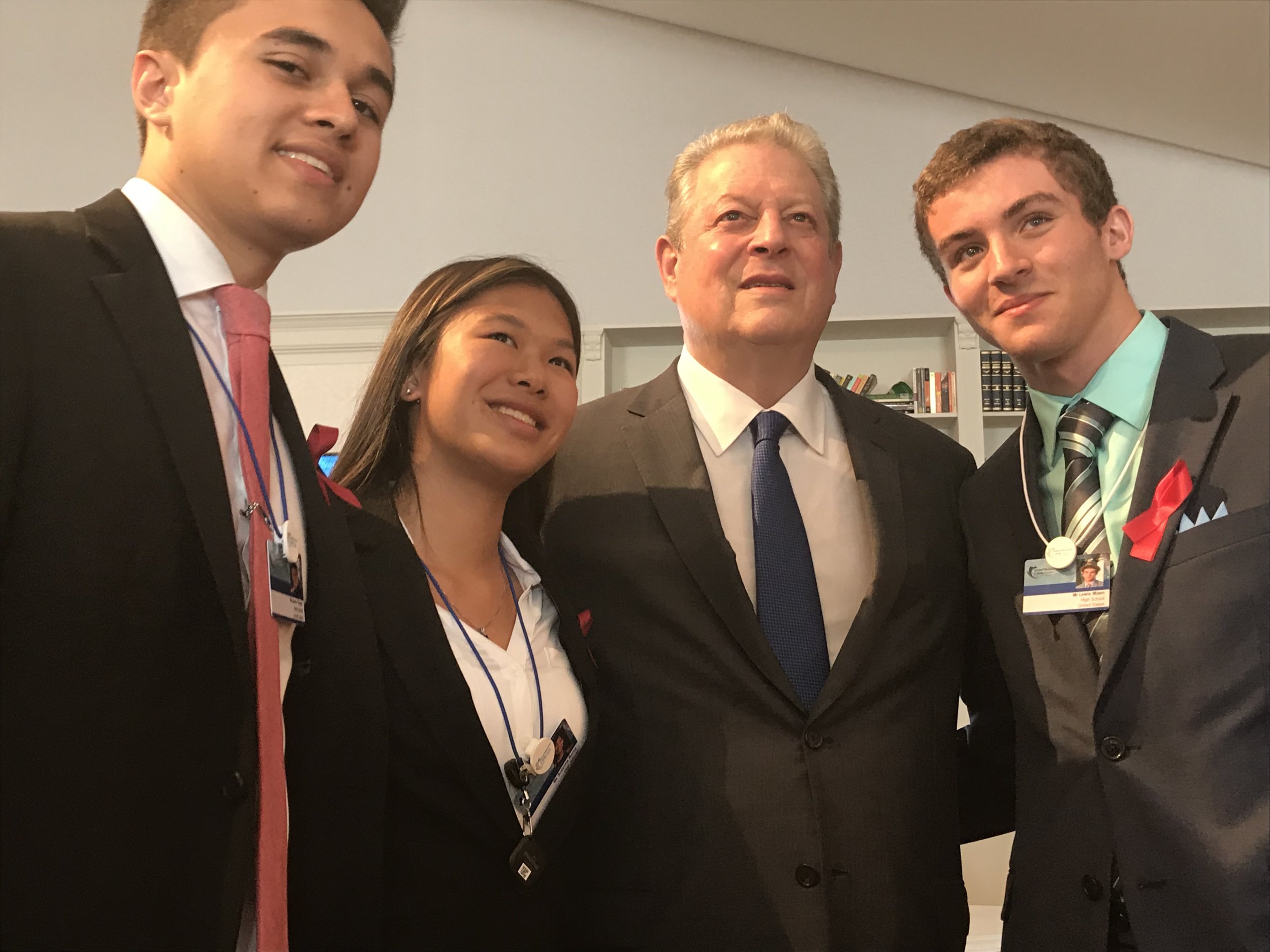 Survivors of last month's Florida school shooting received a show of support from former U.S. Vice President Al Gore and former British Prime Minister Tony Blair while taking their message to the international stage over the weekend.
Lewis Mizen, Suzanna Barna and Kevin Trejos, who survived the February 14 attack that claimed the lives of 17 of their classmates and teachers, travelled to Dubai to shared their harrowing experience with a room full of former world leaders, lawmakers and educators at the Global Education and Skills Forum in a bid to push for gun control in the United States and abroad.
At the conference, the trio had the opportunity to ask Gore and Blair for advice on how to ensure that calls for gun control don't start to dim with the passage of time as they have in previous incidences.
"We asked [Gore] for advice about what to do next after the march to keep up the momentum," Mizen told Newsweek.
"He said to just trust your instinct and keep on doing what you're doing," Mizen said.
During his time as 45th vice president of the U.S. from 1993 to 2000, Gore had a checkered history when it came to his stance on gun control.
Despite appearing to be in support of gun ownership as a congressman in rural Tennessee, the politician appeared to change his tune as a senator and as vice president, calling for a ban on assault weapons and working in support of the Brady Handgun Violence Prevention Act, according to the Economist.
The Brady Bill mandated federal background checks on all firearm purchasers in the U.S., while also ensuring a five-day waiting period existed on purchases until the National Instant Criminal Background Check System (NICS) was brought about in 1998.
Given the opportunity to ask Blair for advice, Mizen asked the former British prime minister how, in a time when the political sphere appears to have become increasingly divided, more "moderate" activists could "actually make change and bring people together?"
"That's a great question," Blair said. "My advice is to keep going and to make sure that by reaching larger numbers of lawmakers who will listen to a moderate and sensible case, you know, will, in the end, break through."
The former prime minister, who founded the Tony Blair Institute for Global Change in 2016, was responsible for overseeing a total ban on handguns after the 1996 Dunblane massacre that saw shooter Thomas Hamilton killed 16 schoolchildren, as well as a teacher, before shooting himself.
In the wake of the deadly shooting, which took place at Dunblane Primary School near Stirling, Scotland, widespread public outrage resulted in the passage of two Firearm Acts, which outlawed private ownership of most handguns across the U.K.
The laws were introduced by Sir John Major, the then-Tory prime minister, before being enforced as a total handgun ban by Blair's government in 1997.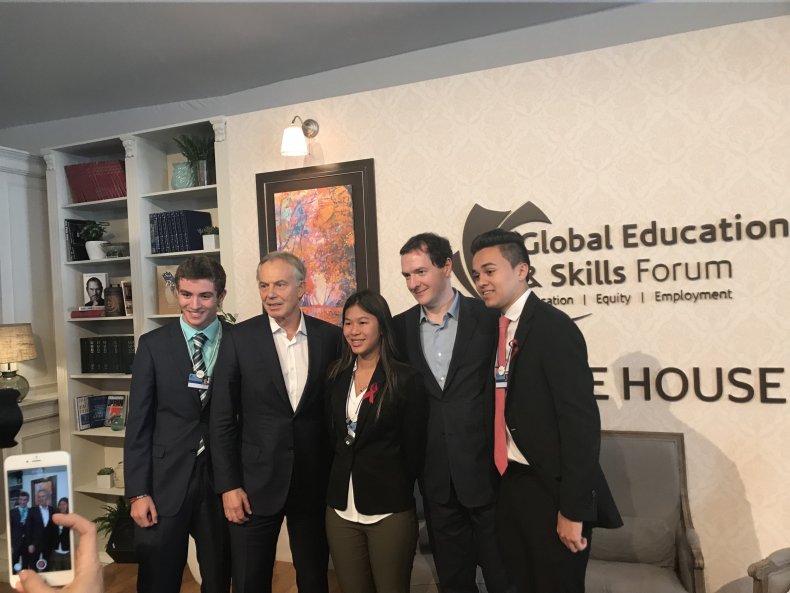 "There are many examples I can remember from the time when I was prime minister where if you were in decision-making and you were wanting to make change, the manner in which the people asking for the change asked for it was an important component for allowing you to make the change," Blair said.
The former world leader told the students to "keep going" with their fight and to try to win over politicians who have historically opposed tighter gun control.
"My advice would be keep going with what you're doing and try to find some of those people who may be at the moment opposed to what you are advocating, but are persuadable."
Blair also told the students that they should be prepared to stand up to their opponents when necessary.
"The other thing which is really difficult to do ... is sometimes you've got to be able to speak up against those people. Frankl, some are more interested in getting their face on the TV and being somebody who's going to get the round of applause of the meeting than actually achieve the objective and it's a very tough thing to do particularly on a tough issue."
However, Blair told the students to avoid "finger jabbing," which he said would only polarise politicians further.
"Ultimately, you know, experience of political change is it comes about when you've got a good cause well pursued," the former prime minister said, adding: "History is littered with good causes badly pursued that don't achieve results, so I think it's a really difficult thing that you are engaged in, but it's really important to do it."
Barna said it was an "incredible experience," saying the two former leaders "provided a wealth of knowledge" to the activists. "We asked each of them a question or two and they gave thorough responses. I really appreciated their genuine help and the kindness they showed us."
Trejos said he and his peers are not trying to ban guns altogether "because we understand it's practically impossible to do," but want to limit access to them, as well as the type of guns people can purchase, including restrictions on the purchase of high-capacity magazine firearms, including the AR-15 semi-automatic rifle used in last month's attack.
Barna, 17, told Newsweek she and her peers plan to keep on fighting for gun control after some of them graduate this year. The high school student said she also wanted to make the fight a global campaign after hearing from students around the world, including in Finland, Nigeria and Brazil, who she said reached out to her for advice on campaigning for stricter gun control in their own countries.