Trump Impeachment Vote Could Happen Next Week in Response to President's NFL Protest Comments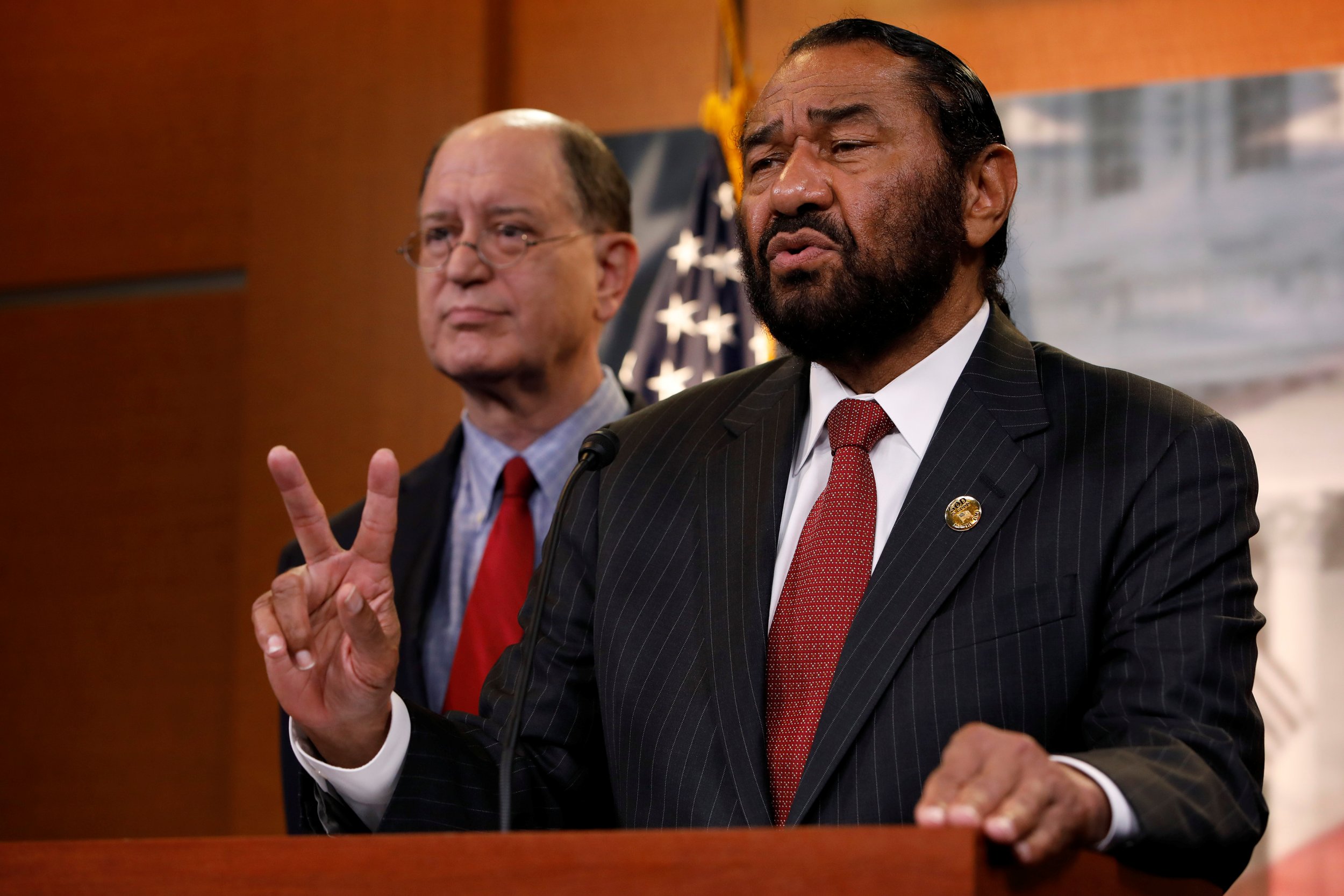 Amid a national controversy about athletes who "take a knee" in silent protest at sporting events, a Democratic lawmaker from Texas says he's making good on his promise to put into motion articles of impeachment against President Donald Trump, a Republican.
"I rise today as a proud American, a person who believes in his country, who salutes the flag and says the Pledge of Allegiance and sings the national anthem," Rep. Al Green said on the House floor Tuesday. "I rise today, Mr. Speaker, to make comments that I never thought I'd have to make in the well of the house of Congress."
Green vowed to file what's called a "privileged resolution" in order to force a vote next week.
He addressed his colleagues in the House on a day when Trump was tweeting about the fracas before 6:30 a.m. Later in the morning, Trump tweeted: "The NFL has all sorts of rules and regulations," the president posted at one point. "The only way out for them is to set a rule that you can't kneel during our National Anthem!"
Green swiftly turned his attention, without naming names, to Colin Kaepernick, the former San Francisco 49ers quarterback who popularized the kneeling protest.
"I rise to defend any mother who has been called a dog because her son engaged in peaceful protest," the Texas legislator said, and "to defend any son who is called the son of a dog because he engaged in peaceful protest."
During a rally in Alabama last week, Trump asked his audience: "Wouldn't you love to see one of these NFL owners, when somebody disrespects our flag, to say, 'Get that son of a bitch off the field right now, out, he's fired. He's fired.'"
Kaepernick's mother took to Twitter with a pithy retort: "Guess that makes me a proud bitch!"
Green said Trump's comments during the entire debate over the protests had "brought discourse to a new low" and displayed "a level of indecency that is unbecoming" to the presidency.
The Lone Star State Democrat also raised the specter of impeachment in an impassioned speech in the spring, questioning Trump's dismissal of then-FBI Director James Comey amid ongoing investigations of possible Russian interference in U.S. politics.
In June, Green said he had begun drafting articles of impeachment against the president.
While the idea of impeaching Trump has become popular in some circles during his young and divisive presidency, the likelihood of his actual ouster is slim: Fully half of the House of Representatives and then two-thirds of the Senate would have to cast votes that would lead to the removal of the commander in chief.
Both chambers are currently controlled by Trump's Republican Party.