Why Mike Tirico Dumped ESPN for NBC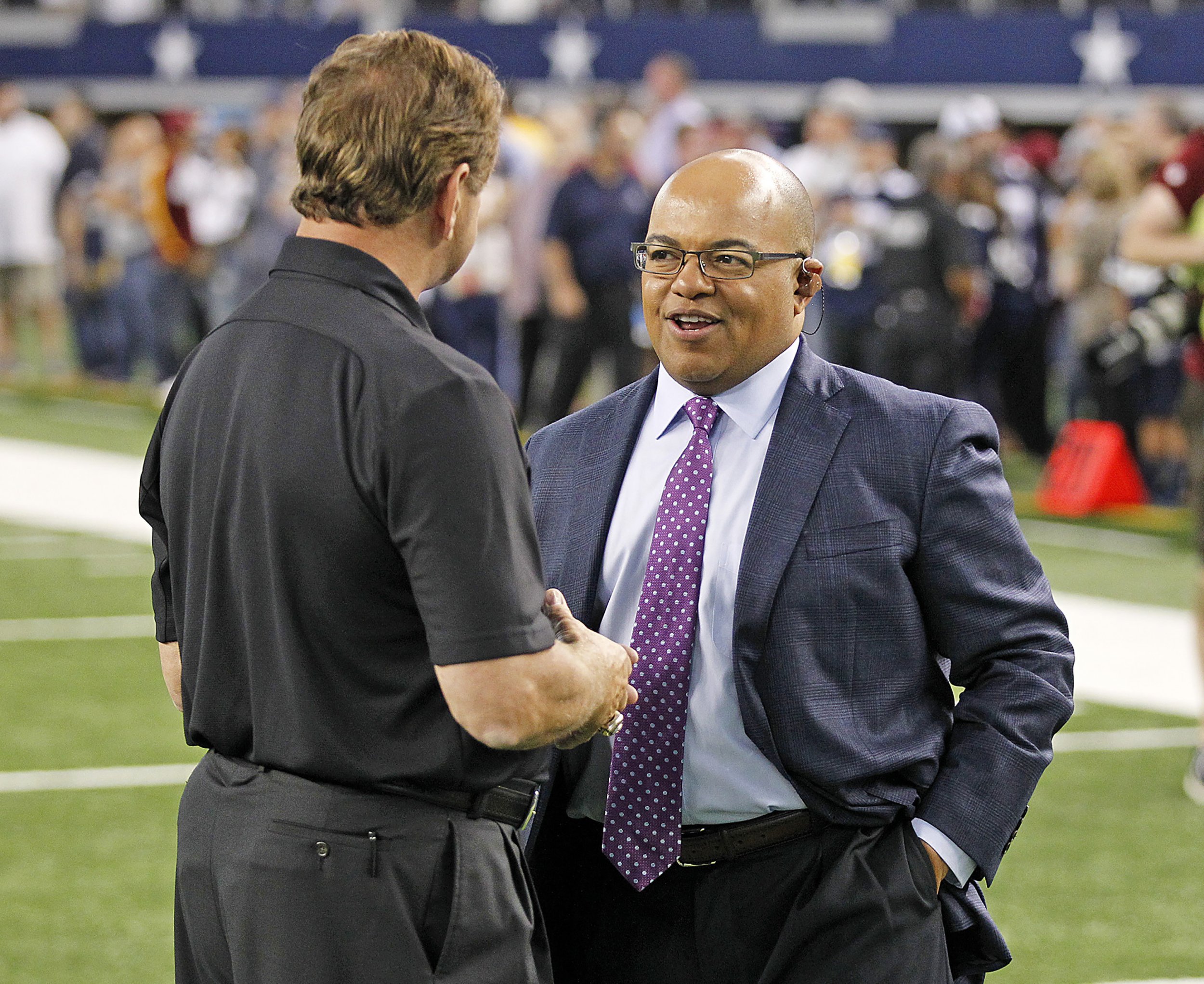 Back in the '70s, the Philadelphia Phillies had a fleet-footed, giraffe-limbed centerfielder named Garry Maddox of whom it was famously said, "Two-thirds of the Earth is covered by water; the other one-third is covered by Garry Maddox."
Mike Tirico, who is departing ESPN for NBC, according to John Ourand of Sports Business Journal, has long been the Garry Maddox of broadcasting at the Worldwide Leader. In fact, Tirico, 49, may be closer to water in terms of saturation coverage. There he was in Rio de Janeiro in 2014 hosting ESPN's World Cup coverage, in Augusta earlier this month hosting ESPN's early Masters coverage, in Bloomington, Indiana, and other Big Ten precincts doing play-by-play for college basketball last winter; in Memphis just yesterday calling an NBA playoff contest.
No broadcaster at ESPN is more versatile, none is more peripatetic, and no one is more highly regarded as a consummate professional. Until Monday, Tirico was best known for being the voice, for the past decade, of ESPN's flagship live sporting event, Monday Night Football. But that's about to change.
By joining NBC, Tirico is trading in multitude for magnitude. He may no longer be the "If it's Tuesday, this must be East Lansing" guy, but he may soon be the voice of the highest-rated show in prime time, NBC's Football Night In America on Sunday nights, as well as the host of the largest-scale sporting event on the planet, the Olympics. The timing is right.
Al Michaels, the host of Football Night in America, is 73 years old. Bob Costas, NBC's Olympics host dating back to 1992 in Barcelona, is 64. While neither one of these heavyweights, both of whom have been on the air since Maddox was patrolling outfield for the Phillies, appears willing to hang up his earpiece any time soon, that day will come.
NBC Sports Chairman Mark Lazarus was eager to have Tirico in the fold and on deck. "We said after [the 2014 Winter Olympics in] Sochi we would start to think about what life after Bob might be, whether post-Rio, post-Pyeongchang, post-Tokyo, whenever he does not want to do it anymore," Lazarus told SI.com during the 2014 Sochi Games, where Costas missed a week of telecasts due to a bout with pink eye. "Certainly, we would be foolish not to be thinking about what a succession might look like."
Besides, NBC is adding five prime-time Thursday Night NFL games next season. What Tirico's duties at NBC will be in the immediate future, besides a likely hosting role at the Summer Games in Rio de Janeiro, remains opaque. But he instantly becomes the network's most prominent sports broadcaster not in possession of an AARP card.
Meanwhile, the mass exodus of broadcasting talent away from ESPN continues. In just the past year, Bill Simmons, Jason Whitlock, Colin Cowherd and Keith Olbermann have all packed up and left. And now, the most valuable commodity of them all, Tirico, is also departing. This is not what ESPN President John Skipper meant when he famously invoked the foreboding term "cord-cutting" last winter.
Two summers ago, in Rio, ESPN's breakout stars at the World Cup were a pair of self-denigrating, cupcake-obsessed Brits named Michael Davies and Roger Bennett. Collectively, the Men in Blazers endeared themselves to audiences and ESPN alike, and one of their bits of shtick was to refer—and defer—to Tirico as a deity. The pair even invoked a religion that they dubbed "Tiricoism."
Soon after the World Cup ended, Davies and Bennett left for NBC, which owns the domestic rights to the world's most prestigious soccer property, the Barclays Premier League. When word came on Monday afternoon that Tirico would soon be a colleague of theirs once more, they tweeted a photo of him and the words, "He is risen. #Tiricoism."
No one at ESPN is rejoicing today, though.