Al-Qaeda Losing 'Deadly Competition' With ISIS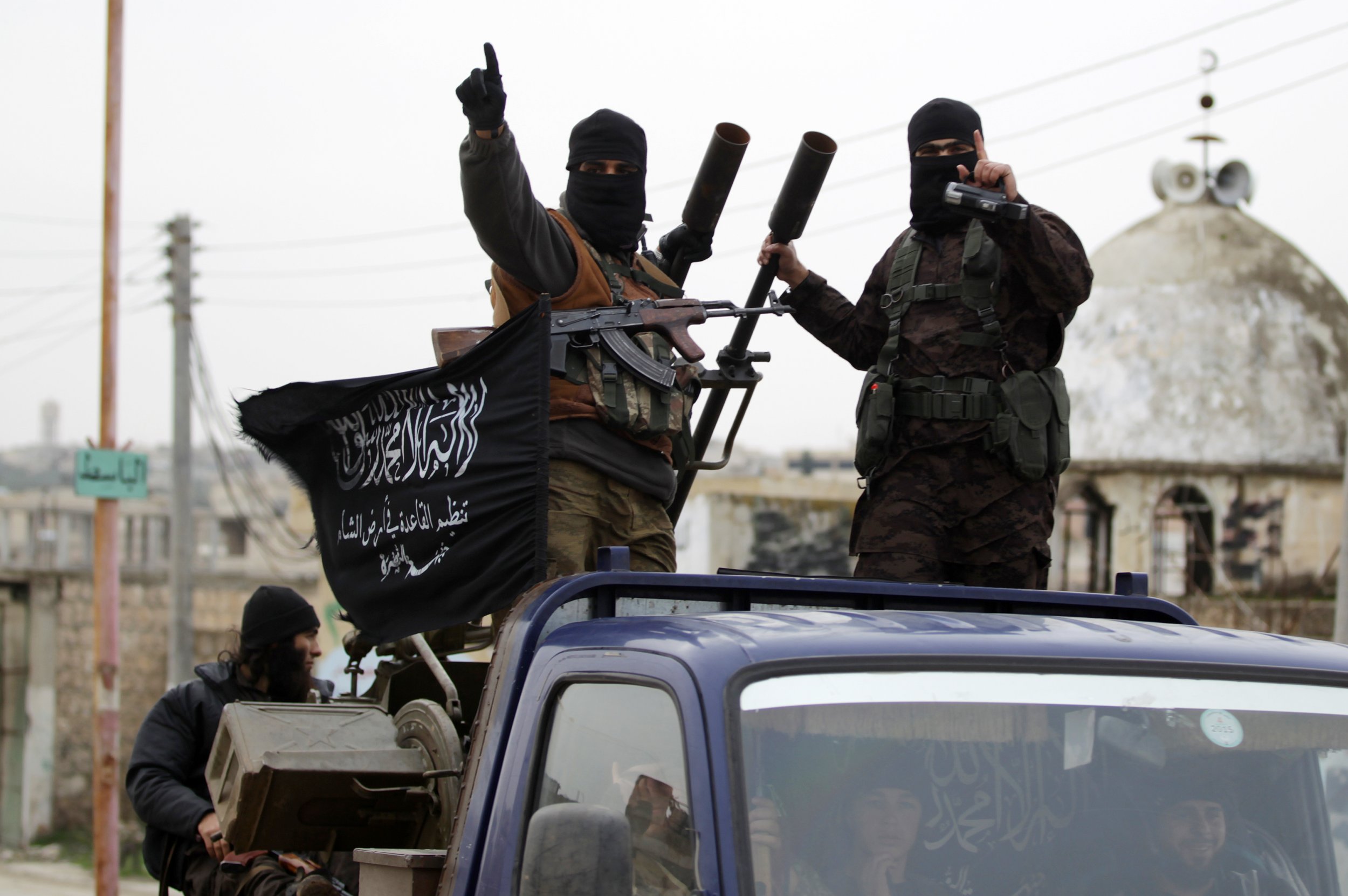 The leadership of Syria's Nusra Front is considering ending its relationship with al-Qaeda, as the terror group's influence continues to wane in the face of a more-powerful Islamic State [ISIS], as the two battle for the crown of global jihad.
Sources close to the jihadist group revealed that the group's leaders are focusing on creating a new group which could have the financial support of key Gulf states, such as Qatar, in an attempt to increase its battle against Syrian president Bashar al-Assad.
"A new entity will see the light soon, which will include Nusra and Jaysh al Muhajereen wel Ansar and other small brigades," Muzamjer al-Sham, an important jihadi figure in Syria with close ties to the group, told Reuters.
"The name of Nusra will be abandoned. It will disengage from al-Qaeda. But not all the Nusra emirs agree and that is why the announcement has been delayed," he added.
A Qatari official, speaking on condition of anonymity to the news agency, revealed that the Gulf emirate had pledged "more support, i.e. money, supplies" if they cut their relations with the terror group.
For al-Qaeda, losing the Nusra Front would represent a major setback in a competition that al-Qaeda is already seen as losing, says Michael Horowitz, senior analyst at the geopolitical risk consultancy Max Security Solutions.
"In the deadly competition between the Islamic State and al-Qaeda, the latter has suffered several setbacks in the past months," he adds. "Jabhat al-Nusra's [another name for Nusra Front] defection would de facto prove that al-Qaeda's overall strategy, based on a long-term approach aimed at building ties with the local population, is a failure, further validating the Islamic State's approach."
The financial might of the Gulf states would propel the Nusra Front to greater prominence in Syria, allowing them to mount a challenge against, not just Assad, but also ISIS, according to Max Abrahms, professor of political science at Northwestern University and member at the Council of Foreign Relations.
"I think that leaving al-Qaeda would boost the group," he said. "I'm quite sure that the new Gulf patrons would be able to greatly exceed that financial incentive and contribution of al-Qaeda central."
If Nusra Front was to cut ties with al-Qaeda, it would leave al-Qaeda in the Arabian Peninsula (AQAP) as the group's only major affiliate, notes Abrahms. Most recently, the cell claimed responsibility for the deadly Paris attacks on the offices of satirical magazine Charlie Hebdo. In addition, a number of groups who were initially inspired by al-Qaeda, such as Egypt's Ansar Beit al-Maqdis in the Sinai Peninsula, have now chosen to pledge allegiance to ISIS in light of al-Qaeda's fading attraction.
Al-Qaeda has been viewed as a group in decline since the death of its leader Osama bin Laden in May 2011. It has been referred to as the "Microsoft" of the jihad world by Clint Watts, a senior fellow at the Foreign Policy Research Institute. "[Al-Qeda] is big name but an aging brand, one now strikingly out of touch with the 18–35-year-old-demographic," he wrote, arguing that has tried and failed to compete with ISIS. Last September, al-Qaeda's leader Ayman al-Zawahiri attempted to counter the rise of ISIS in the Middle East by announcing the creation of an Indian front known as 'al-Qaeda in the Indian Subcontinent' although there have yet to be reports of this affiliate carrying out any activities or attacks.
After a series of the group's senior leaders were killed in U.S. drone strikes on the Afghanistan-Pakistan border prior to 2014, the U.S. State Department issued an assessment last April that the group is failing to attract new members and conduct attacks. "As a result of both ongoing worldwide efforts against the organization and senior leadership losses, AQ core's leadership has been degraded, limiting its ability to conduct attacks and direct its followers," it read.
While the Nusra Front is not the most prominent jihadist group in Syria, it is known for a number of kidnappings in the country, including that of some 45 Fijian UN peacekeepers
last August, who were subsequently released, and the capture of American journalist Theo Padnos, who was captured in October 2012 before being tortured in captivity and released by the group in August last year.