African Jihadi Groups Unite and Pledge Allegiance to Al-Qaeda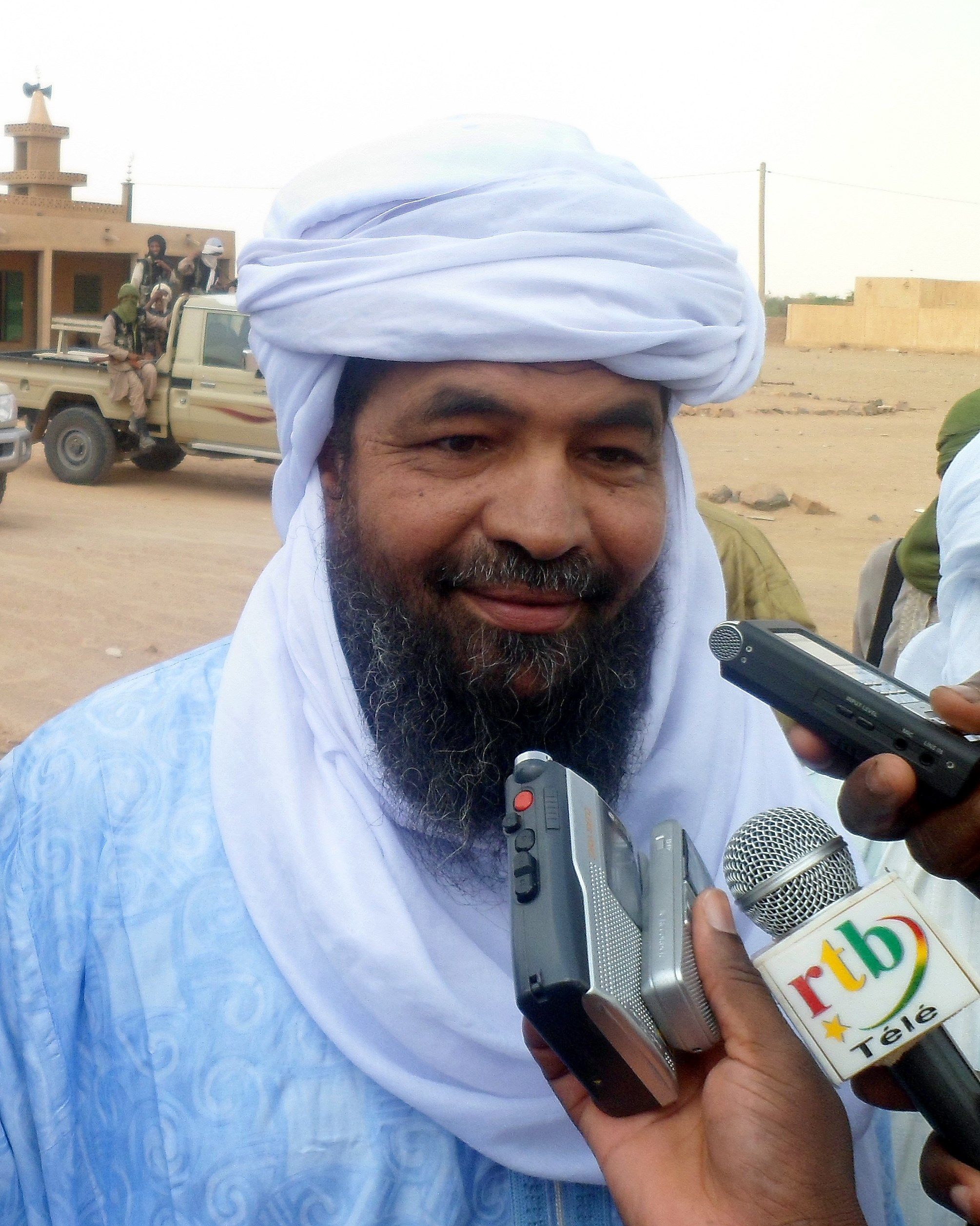 Three Al-Qaeda-affiliated jihadi groups based in Africa's Sahel region have announced a merger, creating a unified militant base in a region threatened by instability.
A video sent to Mauritanian private news agency ANI showed five jihadi leaders sat together, with Iyad Ag Ghaly, the leader of Islamist group Ansar Dine, at the center.
Ansar Dine played a leading role in the northern Mali uprising in 2012, which saw militants backed by Al-Qaeda taking total control of the region for almost a year. A 2013 counter-insurgency, led by French forces, restored the region to nominal government control, but it remains volatile.
The video also featured representatives of Al-Mourabitoun—an Al-Qaeda splinter led by Algerian jihadi Mokhtar Belmokhtar—and the so-called Sahara branch of Al-Qaeda in the Islamic Maghreb (AQIM), which is Al-Qaeda's official affiliate in the region, according to ANI.
The news agency also identified Amadou Koufa, the leader of an ethnic Fulani and Islamist group known as the Macina Liberation Front, or Macina Brigades, based in central Mali.
The four groups will now operate under a single movement called the Group to Support Islam and Muslims, which will be led by Ag Ghaly, ANI reported.
In an audio excerpt, Ag Ghaly pledged allegiance to Al-Qaeda's current leader, Ayman al-Zawahiri, and Abu Musab al-Zarqawi, a Jordanian militant who led Al-Qaeda in Iraq (AQI) until his death in 2006. AQI later evolved into the Islamic State militant group (ISIS).
Ag Ghaly can also be heard praising Osama bin Laden, the founder of Al-Qaeda, who was killed in a U.S. raid in Pakistan in 2011.
The Sahel, a vast arid belt stretching across Africa below the Sahara, has been the site of increased militant activity in recent years, particularly around Mali. Several militant groups—including Al-Mourabitoun and AQIM—claimed responsibility for an attack at the Radisson Blu hotel in the Malian capital Bamako in November 2015, which left 20 people dead.
Several months later in January 2016, the same groups perpetrated an attack on a hotel and cafe in Ouagadougou, the capital of neighboring Burkina Faso, killing 30 people. Then, in March 2016, Al-Qaeda-linked militants launched an assault on a beach and hotel in a holiday resort in Ivory Coast, killing 19 people.
More recently, a group calling itself the Islamic State in Greater Sahara has emerged and received recognition from AMAQ, the semi-official media channel of ISIS. The group is led by Adnan Abu Walid al-Sahrawi, a former al-Mourabitoun leader and ally of Belmokhtar, and has been linked to several attacks in Burkina Faso and Niger. Al-Qaeda's leader, Al-Zawahiri, has previously called upon Muslims to reject ISIS in favor of his group.
The merger is likely to pose a challenge for Malian security forces as the country struggles to implement a peace deal struck with ethnic Tuaregs—who were also involved in the 2012 uprising—and uphold security. Militants still carry out frequent attacks on U.N. peacekeepers and military bases in northern Mali: AQIM said that Al-Mourabitoun was responsible for a suicide car bombing in the northern city of Gao in January that killed at least 50 people, according to the BBC.