Al-Qaeda 'Islamic Police' on Patrol in Libyan City Contested With ISIS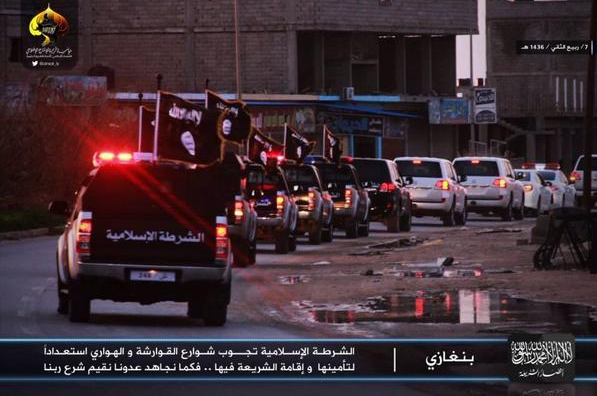 Images have emerged of al-Qaeda-affiliated "Islamic police" on patrol in the Libyan city of Benghazi, once hailed by British prime minister David Cameron as an "inspiration to the world", but now the scene of a power struggle between al-Qaeda and Islamic State (ISIS).
Al-Qaeda-backed Ansar al-Sharia has released images of what they claim to be a convoy of its new police" force, featuring new Toyota 4x4s flying jihadist flags, saying they are preparing to enforce Sharia law.
The group is battling for control of the city against the Islamic State's Barqa branch and General Haftar's Operation Dignity forces who are aligned with the internationally recognised government.
The pictures of the convoy have captions which explain that the jihadist group are on a police patrol in the streets of Gwarsha and Harawi - two districts of Benghazi where the group have notable influence. Newsweek could not independently verify the images.
"Since these Salafist militias have entrenched themselves in these eastern cities [in Libya] there has always been the effort to push for the establishment of Islamic law," says Kayla Branson, North Africa analyst at global political risk consultancy the Risk Advisory Group.
"Benghazi is still quite contested between Operation Dignity forces and Salafist militias," she added. "I understand that Ansar al-Sharia's training camps and offices were in or around Harawi and Gwarsha, so they do have a certain level of influence [there] but not necessarily control."
This battle with rival militias, such as IS Barqa, which seized control of the eastern town of Derna last November, has seen Ansar al-Sharia widely publicise their activities in Benghazi through social media in recent weeks as they attempt to assert their authority in contested districts.
"It's a projection of power, a projection of influence," says Charlie Winter, researcher at the anti-radicalisation thinktank Quilliam Foundation, of the videos.
"They are trying to give the sense that they, even if they don't have full control of these areas, they are in enough control of them to have their own police force in them. It's all about giving a sense of ubiquity."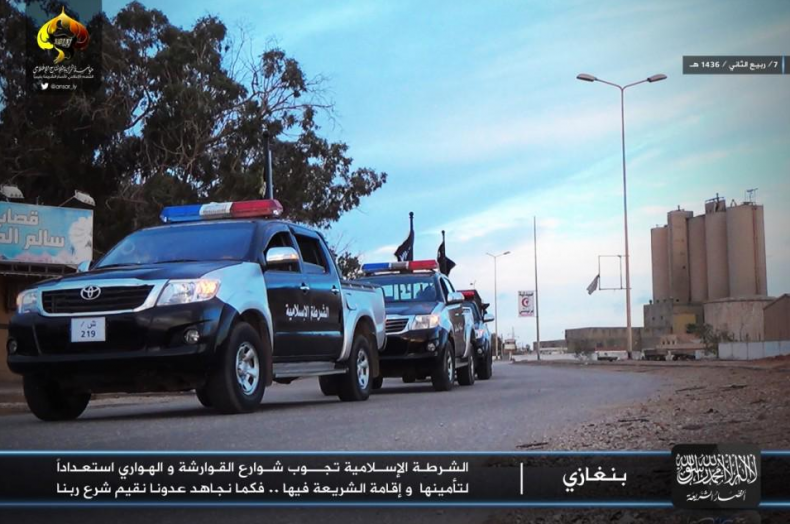 However, Mohamed Eljarh, Libyan analyst and non-resident fellow with the Atlantic Council's Rafik Hariri Centre for the Middle East, says that the group may be trying to disguise the fact that they're losing ground. "In reality, the army units and forces of Operation Dignity in the city have the upper hand and they have been putting them under a lot of pressure,"he says. "As a result, they are trying to have a war of propaganda."
Earlier this month, Ansar al-Sharia confirmed that its leader, Mohamed al-Zehawi, was killed near the city's airport in clashes last October,
Last January, the United States designated the group as a terrorist organisation and has claimed that the jihadist group was responsible for the deadly raid on the U.S. consulate in Benghazi in 2012, in which the U.S. ambassador to Libya and three other American nationals were killed.
The country is currently divided between two rival factions in its western and eastern regions following the removal of Colonel Muammar Gaddafi in 2011 by rebels backed by a coalition including France, Britain, United States and Italy.
One faction is linked to the internationally-recognised government in the east, which is based in the city of Tobruk, and the other is allied to the Islamist-backed Fajr Libya (Libya Dawn) who took control of Tripoli last summer.
Eljarh says that the proliferation of jihadist groups such as Ansar al-Sharia and IS Barqa, coupled with the country's descent into a bloody civil war between rival factions, is partially the result of the international community's inaction following its role in ousting Gaddafi from power.
"Basically, part of the blame for the current crisis in Libya is on Libyans themselves for their inability to overcome their differences, for their inability to start their own institutions and establish a democratic government and rule of law in the country," he argues.
"On the other hand, part of the blame is on the international community, particularly the coalition that took part in toppling the Gaddafi regime. Why? Because they took a backseat as soon as the Gaddafi regime was overthrown and decided to leave Libya to its own devices."
"Libyans had no experience, no expertise, no capacity, to take this country forward and now we see the results of that on the ground."
This week, ISIS's branch in the capital Tripoli launched an attack on the Corinthia hotel, regularly frequented by westerners, killing nine people - including five foreign nationals.