Trump Attacks Al Schmidt, GOP Philadelphia Election Chief Who Said 'Not a Single' Dead Person Voted
An official responsible for the voter count in Philadelphia has rejected claims that dead people cast ballots in the city, sparking an angry rebuke from President Donald Trump.
The comment by one of the three Philadelphia city commissioners, Al Schmidt, follows claims by some Trump supporters without evidence that a substantial number of votes had been fraudulently cast by the deceased in the state which has been called for President-elect Joe Biden.
Among the highest profile GOP figures pushing the claims were Trump's personal attorney Rudy Giuliani, while on Sunday, Republican Sen. Lindsey Graham told Fox News that the campaign had "evidence of dead people voting in Pennsylvania."
But Schmidt told CNN he had seen "the most fantastical things on social media, making completely ridiculous allegations that have no basis in fact at all."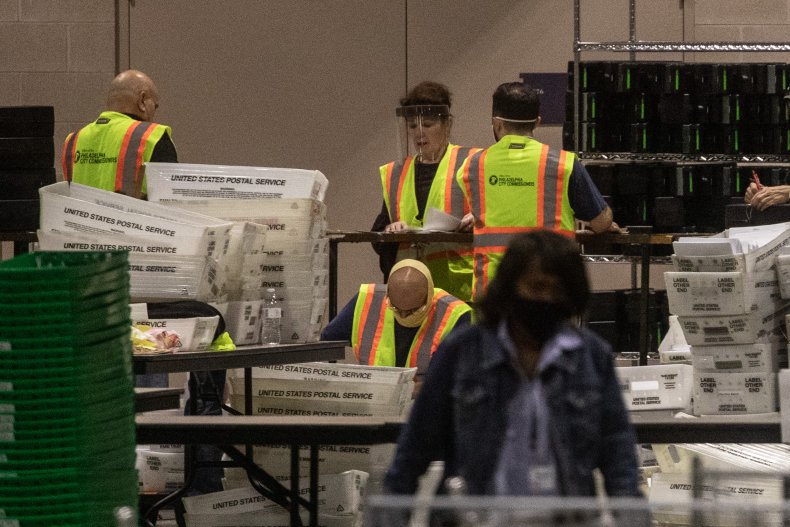 "One thing I can't comprehend is how hungry people are to consume lies and to consume information that is not true." When asked to specify, he referred to how he had seen claims that "there was a long list of people they said were dead voters who voted in Philadelphia."
"We looked it up, each one of them, to see what their vote history was. Not a single one of them voted in Philadelphia after they died."
Schmidt also said he had not seen any evidence of fraud at all in the Philadelphia count and that if any was brought to the attention of him or his fellow commissioners, it would be examined and referred to law enforcement.
However, Trump took to Twitter to disparage Schmidt, describing him as a "so-called Republican (RINO)", who the president tweeted was "being used big time by the Fake News Media to explain how honest things were with respect to the Election in Philadelphia.
"He refuses to look at a mountain of corruption & dishonesty. We win!" Trump added in the tweet which sparked a Twitter warning saying: "this claim about election fraud is disputed."
Election experts say people voting fraudulently for those who have died does sometimes happen and a man in the Luzerne County was charged after applying for a mail-in ballot in his dead mother's name, factcheck.org reported.
However, Richard Hasen, a law professor at the University of California, Irvine and an election law expert told factcheck.org: "I have not yet seen any evidence showing dead people voting in Pennsylvania, a very common allegation that seldom pans out."
"Even if a few cases were found, it would not invalidate the election," he added.