Al Sharpton Calls for Special Prosecutor in Andrew Brown Shooting After 'Bizarre, Unconvincing' DA Decision
The Reverend Al Sharpton is calling for a special prosecutor to look into Andrew Brown Jr.'s shooting after a North Carolina district attorney decided no charges will be filed against sheriff's deputies who shot and killed the 42-year-old Black man.
"Elizabeth City DA Womble who is running for Superior Court Judge gave a bizarre and unconvincing defense of not charging Police for shooting Andrew Brown, Jr. In the back of head! The Feds and a Special Prosecutor is clearly needed," Sharpton tweeted on Tuesday afternoon.
In late April, North Carolina Governor Roy Cooper had also urged having a special prosecutor handle the case, saying it "would help assure the community and Mr. Brown's family that a decision on pursuing criminal charges is conducted without bias."
On Tuesday, Pasquotank County District Attorney Andrew Womble said during a news conference that deputies were "justified" in their actions because they had reason to believe they were in danger.
Brown was killed April 21 while officers were executing search and arrest warrants at his home. Officials said deputies were serving a warrant for Brown's arrest on felony drug charges.
Brown was attempting to drive his car away from the officers when they started firing, Womble said. Three deputies fired a total of 14 shots while trying to execute the warrant. During the encounter, Brown suffered two gunshot wounds in the shoulder and head.
"The actions were consistent with the training and fully supported under the law in protecting their lives and this community," the district attorney said.
Seven Pasquotank deputies involved in the shooting were initially placed on administrative leave, but four were allowed to return to duty after it was determined they did not fire their weapons.
Multiple body-camera videos were shown to the public for the first time during Tuesday's news conference. The videos showed the entirety of the incident, which lasted approximately 44 seconds.
In the clips, Brown's car is seen going in reverse and then moving forward toward at least one deputy, who fired at the windshield. Brown's car continued to drive across a lawn as deputies fired at the back of the vehicle, which stopped when it crashed into a tree.
Asked by a reporter if the officers should have let Brown go and arrested him later, rather than firing their weapons, Womble said they "simply couldn't let him go."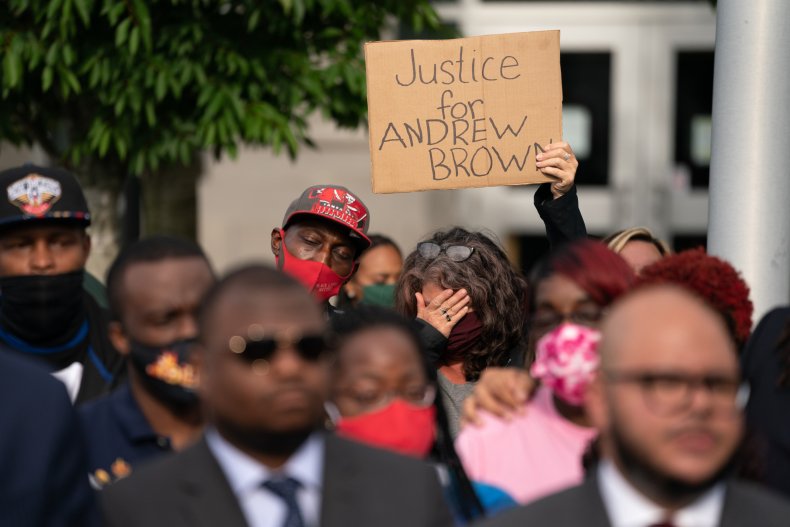 Womble's account has varied from that from Brown's family and their attorneys, who have called the shooting an "execution."
Brown's family commissioned an independent autopsy they say shows he was shot five times, including once in the back of the head. Ben Crump, one of the family's attorneys, said Brown died from a "kill shot" to the head.
The family was also shown video footage of the incident. Last week, they were shown 20 minutes of the more than two hours of video taken before and after Brown's death. Attorneys for the family said Brown did not pose a threat.
"What we saw on that video was an unjustified killing," said Bakari Sellers, one of the lawyers. "What we saw on that video is something that we believe also denotes further investigation and does have some criminal liability."
Newsweek reached out to Womble's office for comment but did not receive a response before publication.