Responding to recent criticism levied by President Donald Trump, Reverend Al Sharpton said on Monday that if he were truly a "con man," as Trump recently accused him of being, then the president would "be nominating me for his cabinet."
Democrats have said Trump again made racially-charged remarks about minority members of Congress, this time for claiming that a lawmaker has allowed crime to run rampant in his district and represents a city that's a "rat and rodent infested mess." Just hours before Sharpton shot back, Trump accused him of being someone who "Hates Whites & Cops!​"
"As for his attacks on me personally, Donald Trump and I have known each other for 25 years," Sharpton said during a press conference in Baltimore, elaborating that he's "dealt with" Trump on previous remarks about the Central Park Five and his suggestion using "birtherism" that former President Barack Obama was not born in the U.S.
"He can say what he wants. Calling me a troublemaker. Yes, I make trouble for bigots. I'm going to keep making trouble for bigots," Sharpton said. "As far as me being a 'con man,' if he really thought I was a 'con man,' he'd be nominating me for his cabinet."
The quip was met with laughter and applause from those in attendance. Sharpton, a longtime black community activist and founder of the National Action Network, was accused by the president earlier that day on Twitter of being "a con man, a troublemaker, always looking for a score."
Trump has once again landed himself in hot water with remarks he wrote on the social media platform over the weekend, which Democrats have condemned as racist.
"Rep, Elijah Cummings has been a brutal bully, shouting and screaming at the great men & women of Border Patrol about conditions at the Southern Border, when actually his Baltimore district is FAR WORSE and more dangerous," Trump wrote on Saturday of Congressman Cummings, the black chairman of the House Oversight Committee whose 7th Congressional District in Maryland includes Baltimore.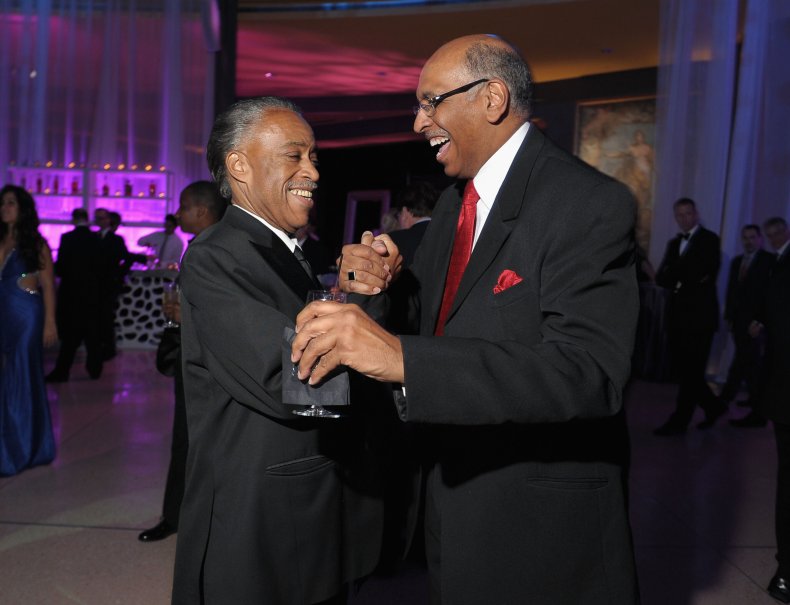 The decades-long lawmaker grilled Acting Homeland Security Secretary Kevin McAleenan earlier this month about the overcrowding and treatment of detained migrants at government facilities along the southern border.
"His district is considered the Worst in the USA..........As proven last week during a Congressional tour, the Border is clean, efficient & well run, just very crowded," Trump's weekend tweets continued. "Cumming [sic] District is a disgusting, rat and rodent infested mess. If he spent more time in Baltimore, maybe he could help clean up this very dangerous & filthy place."
Throughout the weekend, the president relentlessly targeted Cummings and Baltimore, doubling down on his criticism of the member of Congress and city by further tweeting: "There is nothing racist in stating plainly what most people already know, that Elijah Cummings has done a terrible job for the people of his district, and of Baltimore itself. Dems always play the race card when they are unable to win with facts. Shame!"
In another tweet, Trump wrote: "If racist Elijah Cummings would focus more of his energy on helping the good people of his district, and Baltimore itself, perhaps progress could be made in fixing the mess that he has helped to create over many years of incompetent leadership. His radical 'oversight' is a joke!"
Sharpton categorized the series of attacks on him and others as being made in "the most bigoted and racist way."
"He attacks everybody. I know Donald Trump. He's not mature enough to take criticism. He can't help it. He's like a child. He's thin-skinned and not really matured that well," Sharpton said. "But he has a particular venom for blacks and people of color. He attacks other whites, but he never says their districts or states are places that no human being wants to live."
The remarks by Trump come just weeks after the House formally condemned the president of the United States for issuing racist tweets that four, outspoken freshmen minority Democrats—Alexandria Ocasio-Cortez of New York, Rashida Tlaib of Michigan, Ayanna Pressley of Massachusetts and Ilhan Omar of Minnesota—to "go back" to the "crime infested places" they "came from." All but four House Republicans voted not to formally condemn Trump's remarks.
Cummings has previously defended his GOP counterparts accused of making questionable comments on race, such as when Tlaib alleged Republican Representative Mark Meadows, a member of the Oversight Committee and a conservative Trump ally, said in February that the North Carolina lawmaker committed a "racist act."
Sharpton was joined at the press conference by Michael Steele, the former chairman of the Republican National Committee and conservative media commentator.
Steele, who is also black, extended an olive branch to Trump, pleading with him to "work with the community instead of disparaging" it.
"Mr. President, your reprehensible comments are like water off a duck's back when it comes to this community. It just washes over them. It does not stick to them. It does not stain them," Steele said. "Mr. President, come on down. Folks want to talk to you. Put the tweet down and show up."