Al Sharpton at Aretha Franklin's Funeral Says Donald Trump Needs to Learn What Respect Means
Reverend Al Sharpton took a jab at President Donald Trump on Friday during Aretha Franklin's funeral.
During the service in Detroit, Michigan, Sharpton paid respect to the Queen of Soul and the legacy she left in music, Mediaite reported. While making his remarks, he blasted Trump and said he wanted to teach Trump what respect means while referencing how he misspelled the word 'respect' on his show last week.
"You know the other Sunday on my show, I misspelled 'Respect,' and a lot of y'all corrected me," he said. "Now I want y'all to help me correct President Trump to teach him what it means."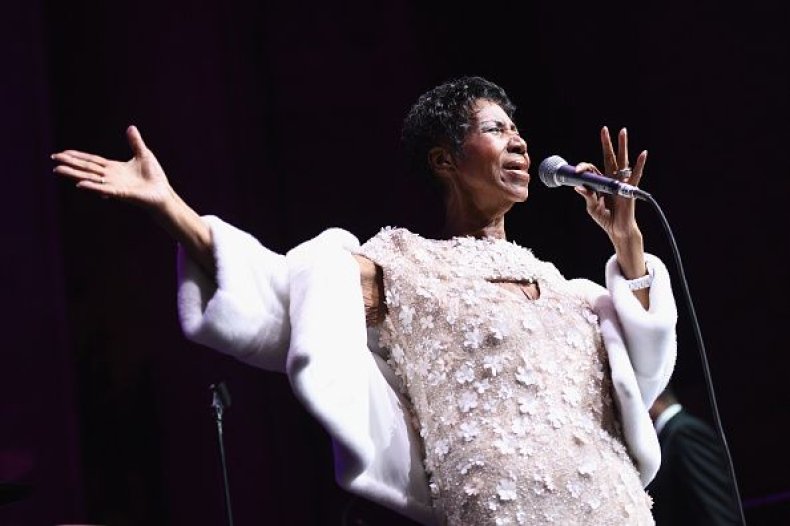 Sharpton brought up Trump's remarks during a public statement he made when Franklin passed away on August 16, saying that the Queen of Soul "worked for me on numerous occasions, the was terrific," HuffPost reported.
"And I say that because when word went out that Miss Franklin passed, Trump said, 'she used to work for me.' No, she used to perform for you," Sharpton said. "She worked for us. Aretha never took orders from nobody but God."
Newsweek has reached out to Sharpton's representatives but did not hear back in time for publication.
Franklin was 76-years-old when she died after battling pancreatic cancer, her representative told the Associated Press. The music legend was nominated for a Grammy 44 times, with her last Grammy Win in 2007 in the category of Best Gospel Performance for "Never Gonna Break My Faith."
Family, friends, celebrities, and fans gathered at the Greater Grace Temple in Detroit to pay their respects for the music legend. Celebrities like Ariana Grande, Faith Hill, Jennifer Hudson, and The Clark Sisters performed in the Queen of Soul's honor, USA Today reported.
Fans all over the globe were honoring the Queen of Soul. During Friday's Changing of the Guard at Buckingham Palace in London, the Band of the Welsh Guards performed Franklin's song, "Respect."
"Respect for others underpins all we do in the [British Army] so it was no surprise that the [Band of the Welsh Guards] paid tribute to musical icon and inspiration [Aretha Franklin] at Changing of the Guard at Buckingham Palace today," the Army in London tweeted.