Al Sharpton Recalls Rodney King at Valentina Orellana-Peralta Funeral: 'Here We Are Again'
The Rev. Al Sharpton reflected on the 1991 Rodney King beating and his effort to drive police reform in Los Angeles, saying, "And here we are again," as he delivered the eulogy for Valentina Orellana-Peralta, 14, who was fatally struck by an officer's stray bullet while shopping with her mother in North Hollywood last month.
Sharpton said he made the decision to travel across the country this week so he could attend the funeral for the teen in person. He began his remarks by recalling his response to the beating of King by officers with the Los Angeles Police Department (LAPD).
"Thirty-one years ago, I came to Los Angeles because LAPD beat a man on a highway. His name was Rodney King," Sharpton said. "I led marches and joined in all kinds of efforts to call on the prosecution of those police, and calling on the Los Angeles Police Department to reform how they do policing in this city and county. Through those 31 years, we keep seeing LAPD get it wrong. And here we are again. How long will it take for you to get it right?"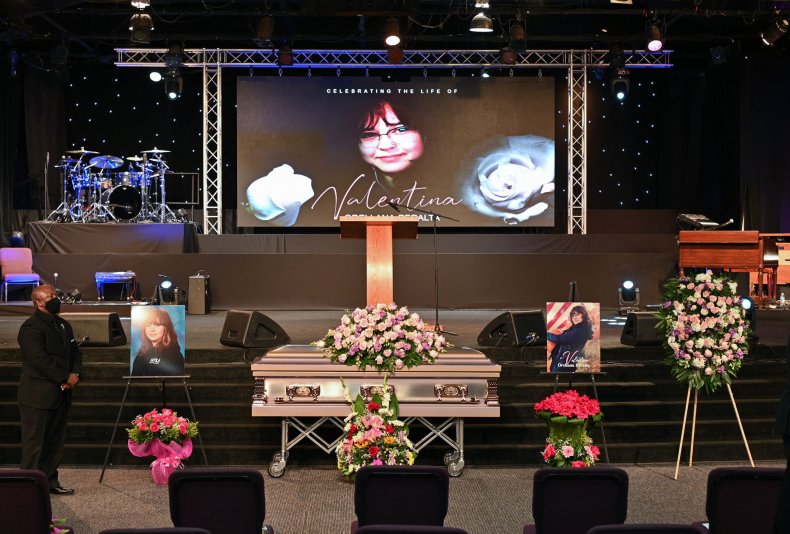 Sharpton added: "There is no rationale for you to go in a department store two days before Christmas and be in pursuit of a man that you maybe should have been there to de-escalate, but have disregard for the innocent lives that you could endanger with the tactics that you use to try to go after this man."
Sharpton said Orellana-Peralta's death was both a "tragedy" and a "travesty."
"This could have been my daughter," he said. "This could have been your daughter. And if we don't stop it, it will be your daughter or my daughter. This must stop."
Orellana-Peralta was at a Burlington Coat Factory in North Hollywood with her mother on Dec. 23 when officers responded to reports of an assault with a deadly weapon at the store. The LAPD said in a Dec. 27 news release that the body of a 14-year-old, who was later identified as Orellana-Peralta, was found in the store's dressing room area after the officers' exchange with the suspect. Both the suspect and Orellana-Peralta were pronounced dead at the store.
The LAPD said the preliminary steps taken in its investigation into the incident suggested the teen was struck by an officer's bullet that had been fired at the suspect. LAPD Chief Michel Moore described the "chaotic" incident as "tragic and devastating for everyone involved."
Days after the incident, the LAPD released surveillance video and body-cam footage, though the legal team representing Orellana-Peralta's family said during a Dec. 28 press conference that they believe there may be additional footage that has yet to be released.
A public viewing for Orellana-Peralta was held at Angelus Funeral Home in Los Angeles on January 8. Her funeral was held Monday at the City of Refuge Church in Gardena.
Before Sharpton delivered the eulogy, members of the legal team representing Orellana-Peralta's family addressed those in attendance to reiterate their intention to pursue justice for her death. Attorney Ben Crump led the crowd on a brief chant as he declared, "Valentina is innocent." Crump said her "innocent blood" will "not come off the hands of the Los Angeles Police Department as long as they attempt to justify their unjustifiable actions."
Orellana-Peralta's life "was needlessly taken away with an AR-15 assault rifle by the very people who were charged with protecting her," attorney Rahul Ravipudi said.
"With Valentina's spirit guiding us, we will expose that truth, hold accountable those responsible for her death, and implement changes that will allow all Americans, all immigrants, and everyone to feel that same American dream: The one where we're raising children in a place where we feel safe and protected," Ravipudi said. "And that is the cause of Valentina."
Newsweek reached out to the LAPD for comment and will update this article with any response.