Al Sharpton Slams Donald Trump for Unannounced Visit to Martin Luther King Jr. Memorial: 'Who Goes to a Memorial in Secret?'
The Reverend Al Sharpton has hit out at President Donald Trump over what the civil rights activist branded a "secret" visit to the Martin Luther King Jr. Memorial in Washington, D.C.
Both Trump and Vice President Mike Pence paid a visit to the memorial early Monday morning to mark Martin Luther King Jr. Day, despite Trump's public schedule having no events listed for the holiday. During the visit, which reportedly lasted two minutes, Trump and Pence laid a wreath at the memorial. Noting that Trump had failed to announce any plans ahead of time to mark the national holiday, Sharpton questioned why Trump would go to the memorial "in secret."
Related: Mike Pence compares Trump to Martin Luther King Jr.
"I honestly don't believe [Trump and Pence] intended to do anything for Dr. King's birthday," the reverend and civil rights activist said during an appearance on MSNBC. Sharpton said he believed Trump was only "reacting to the fact that all of us were attacking" him for the lack of planned events.
"Who goes to a memorial in secret? Why wouldn't it have been on the schedule if they intended to it?" Sharpton asked. "You don't just decide, 'I'm going to privately get the vice president to sneak by Dr. King's memorial to surprise'—surprise who? The monuments?"
Neither Trump nor Pence has explained why their visit was unannounced. Earlier that morning, the president recognized Martin Luther King Jr. Day with a tweet. "Today we celebrate Dr. Martin Luther King, Jr. for standing up for the self-evident truth Americans hold so dear, that no matter what the color of our skin or the place of our birth, we are all created equal by God," he wrote.
However, Sharpton was critical of the fact that Trump had failed to hold any public event honoring Martin Luther King Jr. Speaking at an annual breakfast to honor the civil rights leader's life and work, Sharpton called the lack of an official event at the White House an "insult to the American people," according to the New York Daily News.
Former Vice President Joe Biden and former New York Mayor Michael Bloomberg, who are both considering the possibility of running in the 2020 election, joined Sharpton at the annual breakfast event.
Delivering a speech at the event, Biden acknowledged that he has not "always been right" when it comes to criminal justice issues. "I know we haven't always gotten things right, but I've always tried," he said.
Biden also said that white Americans must acknowledge systemic racism in the country. "There's something we have to admit—not you—we, white America, has to admit. There's still systemic racism, and it goes unnoticed by so many of us," Biden said.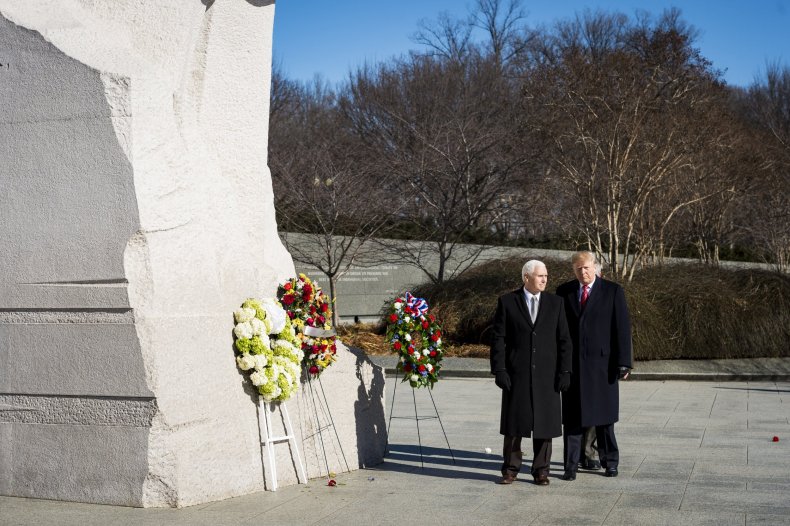 Al Sharpton Slams Donald Trump for Unannounced Visit to Martin Luther King Jr. Memorial: 'Who Goes to a Memorial in Secret?' | U.S.