Who Is Alabama Governor Kay Ivey and Will She Sign Controversial Abortion Bill into Law?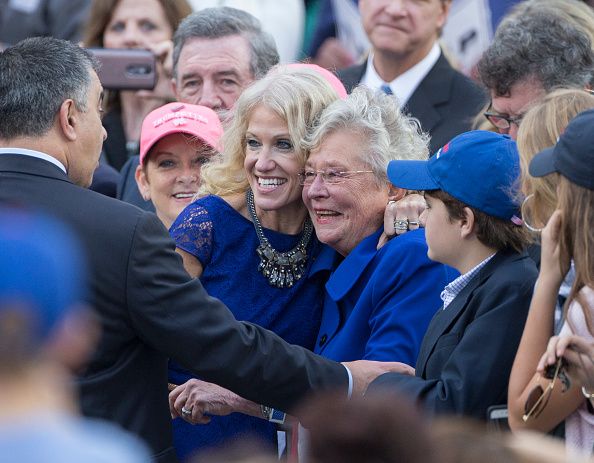 Alabama legislators have approved a law that would ban nearly all abortions in the state and now the legislation, one of the strictest measures of it's kind in the nation, goes to the desk of Republican Governor Kay Ivey.
The controversial law, passed on a vote of 25-6 in the state legislature on Tuesday night, will make it a felony (punishable by up to 99 years or life in prison) for a doctor to perform an abortion. The only exception would be if a woman's health is at serious risk. If the bill is signed by Ivey, it would go into effect in six months.
Last week, before the bill was approved by state lawmakers, Ivey said that she would not decide whether to sign it into law until she saw the final version on her desk.
"We'll see how far it gets and what it is when it gets passed," Ivey said at the time. "The abortion issue is a serious issue and I hope it's fully debated."
When pressed about whether she would consider signing an abortion ban that did not include exceptions in cases of rape and incest, Ivey repeated that she would "make a decision when I see the final bill."
Ivey, previously the state's lieutenant governor, has been serving as the governor of Alabama since April 2017 after her predecessor resigned amid allegations that he was in a relationship with a top aide.
Ivey was elected to a full term as governor during the 2018 midterm election cycle, though she was heavily criticized for refusing to debate her Democratic opponent or Republican primary challengers. In her gubernatorial bid, Ivey focused on Alabama's record low unemployment and education.
After the bill was approved on Tuesday, Governor Ivey officially declined to comment on the abortion ban. According to her deputy press secretary Lori Jhons, Ivey "intends to withhold comment until she has had a chance to thoroughly review the final version of the bill that passed."
On Wednesday, Ivey told reporters that she has not seen the abortion legislation and was still not ready to say if she would sign it. But when asked about the bill not including exceptions for rape and incest, Ivey responded that "all human life is precious."
Ivey has a long history of taking legislative positions against abortion. In 2013, when she was serving as lieutenant governor, Ivey declared that she was "strongly pro-life."
"We can't ban abortion—that's a federal issue that's been confirmed by the U.S. Supreme Court—but at the state level, we can regulate and control unsafe health practices. I support the legislature's efforts to restrict the operation of unsafe clinics to help ensure a woman's health," Ivey said as then-Governor Robert Bentley signed a law that increased regulations on Alabama's abortion clinics.
Later, in her 2018 bid for governor, Ivey slammed her Democratic challenger Walt Maddox for opposing a statewide amendment that would add an affirmation to the right to life of the unborn to Alabama's constitution.
"It's unconscionable to me that Walt Maddox would join abortion rights activists from across the country in opposing this measure that simply recognizes the rights of our precious unborn babies," Ivey said in the press release.
Ivey also gained the endorsement of a national anti-abortion group, the Susan B. Anthony List, during her run for governor in 2018. The group's mission is to "end abortion by electing national leaders and advocating for laws that save lives."
In their endorsement, the Susan B. Anthony List called Ivey a "longtime friend" and said that she "will fight to protect unborn children and their mothers and keep Alabama taxpayers out of the abortion business."
Last year, Ivey also expressed disappointment after the U.S. 11th Circuit Court of Appeals affirmed an earlier decision that the Alabama Unborn Child Protection from Dismemberment Abortion Act was unconstitutional. The law targeted a medical procedure known as dilation and evacuation, which is often used during second-trimester abortions.
"I was supportive of the bill when it passed through the Legislature in 2016, and I signed it as president of the Senate. I am disappointed in the court's ruling today; however, we should not let this discourage our steadfast commitment to protect the lives of the unborn, even if that means taking this case to the U.S. Supreme Court," Ivey said in a statement after the ruling.
Ivey also added that the court's decision "clearly demonstrates why we need conservative justices on the Supreme Court, and I look forward to the confirmation of Brett Kavanaugh."
Kavanaugh's confirmation to the Supreme Court last year raised questions about the future of Roe v. Wade, the landmark 1973 decision that established the constitutional right to an abortion.
During his confirmation hearing, Kavanaugh repeatedly said that Roe v. Wade was "precedent" and settled law. But just this week, the Supreme Court's conservative majority (which includes Kavanaugh) ruled to overturn a 40-year-old precedent—1979 decision in Nevada v. Hall permitting a sovereign state to be sued in another state's courts without consent. That move has left many questioning what landmark cases might be in jeopardy next.
If Ivey does sign the abortion ban into law, it will likely face immediate legal challenges from advocacy groups. Planned Parenthood and the American Civil Liberties Union have already threatened to sue the state over the measure.
"Today is a dark day for women in Alabama and across this country. Banning abortion is bad enough. Imprisoning doctors for providing care goes beyond the brink. Alabama politicians will forever live in infamy for this vote and we will make sure that every woman knows who to hold accountable," Staci Fox, the president and CEO of Planned Parenthood Southeast Advocates, said in a statement.