Alabama Abortion Law: Local Newspapers Publish Essays From More Than 200 Women Speaking Out About Ban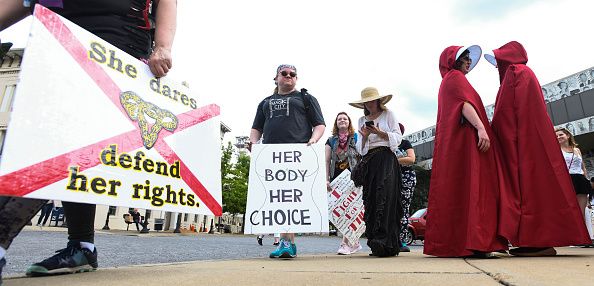 Local newspapers published essays from more than 200 Alabama women after the state Legislature passed the strictest anti-abortion law in the country, which would make performing an abortion a felony, even in cases of rape and incest.
The Alabama Media Group, which includes the The Birmingham News, Press Register and The Huntsville Times, filled the Sunday edition of their newspapers with responses to the abortion ban from more than 200 women.
The package of essays was also published online, with the headline:"It's time to hear Alabama's women."
Kelly Scott, the vice president of content at the Alabama Media Group, wrote in an editorial that it took less than 24 hours for more than 200 women to share their personal experiences and opinions on the law.
"They are women who live here, and some who have left. Those who have prayed for this very law, and those who now live in fear," Scott wrote. "Mothers, trying to understand the message this law sends to their daughters and sons. And women who are angry that a majority of men in the state legislature spoke for them."
Last week, Governor Kay Ivey, a Repubican, signed the legislation into law. It would ban nearly all abortions in the state, including an exception only for cases in which a woman's health was at "serious risk." The GOP-controlled Legislature refused to add exceptions for incest and rape.
In the state Senate, all 25 votes in favor of the bill came from white men. Many celebrities and activists took to social media to highlight the irony of a group of male legislators making decisions about women's bodies and reproductive health.
"Of those 25 men who voted to ban abortion in Alabama, I'd like to know how many of them have ever been pregnant. Or have gotten pregnant as a result of rape. I'd like to know how many of those men know exactly what it is like to be a woman. The answer is zero," comedian Chelsea Handler tweeted.
Not set to take effect until January 2020, Alabama's abortion law already faces legal challenges from reproductive choice advocacy and civil liberties groups, such as the American Civil Liberties Union and Planned Parenthood.
Staci Fox, the president and CEO of Planned Parenthood Southeast Advocates, said in a statement that "Alabama politicians will forever live in infamy for this vote, and we will make sure that every woman knows who to hold accountable."