Abortion Rights Activists Call for Alabama Boycotts, but Democratic State Leaders Urge the Country Not to Leave Them Behind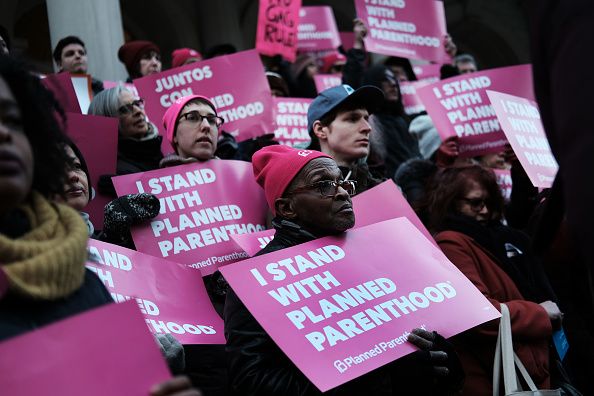 Abortion rights activists are calling to boycott Alabama after it's female governor signed a law making it a felony for doctors to perform the procedure, but state leaders and advocates urge the country not to leave them behind.
The controversial law, set to go into effect in January 2020, bans nearly all abortion in the state. It includes only an exception for cases where a woman's health is at "serious risk." The Republican-controlled legislature that passed the bill rejected a proposal to add exceptions for cases of incest and rape.
Alabama Governor Kay Ivey said in a statement shortly after signing the bill that it "stands as a powerful testament to Alabamians' deeply held belief that every life is precious and that every life is a sacred gift from God."
That is not the view of many abortion rights activists and government officials who are now calling for economic retaliation in response to the law's passage. But local leaders say that a boycott will only further victimize Alabamians and instead encourage activists to join them in fighting against the policy.
"I don't think that is the answer for this particular issue," Linda Coleman-Madison, a Democratic state senator, told Newsweek. Coleman-Madison was one of the two women in leadership to vote against the abortion bill. In total, only six of the 35 senators opposed the measure.
"One of the best ways [to challenge the law] is that we can let our voices be known on the national level in hoping that the Supreme Court will not keep this case as one to be heard," she added. "Certainly it would be a travesty if Roe v. Wade is struck down or changes are made that are more in line with the Alabama law."
The hashtags #BoycottAlabama and #LeaveAlabama have been trending on Twitter since the law was signed. Activists have called for boycotts of both products and events, including an upcoming music festival.
State officials in Colorado and Maryland have banned government employees from traveling to Alabama for work-related projects. Maryland's comptroller also announced a plan to divest it's $52 billion retirement pension fund from Alabama businesses.
Celebrities have also called for Hollywood and other entertainment giants to pull their production out of the state. The move would likely cost Alabama millions of dollars.
According to the Alabama Film Office, which is part of the Alabama Department of Commerce, more than a dozen movie and television productions have qualified for state tax incentives since October. In turn, these projects hire residents and spend money throughout the state.
In 2018, there were over 147 production projects across the state that generated $63.5 million in expenditures. With this year set to eclipse previous records, the amount of money that could be lost to a boycott would be even higher.
The same Hollywood strike is being proposed in Georgia (the third-largest production hub in the U.S.) after the governor signed a bill banning abortion after a fetal heartbeat is detected. Unlike the Alabama law, Georgia's "heartbeat" bill makes exceptions in the case of rape and incent but only if a woman files a police report before seeking an abortion.
Georgia's Stacey Abrams, a rising star in the Democratic Party, disagreed with using economic boycotts to challenge the abortion law. Instead, she called for Hollywood and other industries to invest their resources and energy on the ground and donate to reproductive choice groups.
"I support the idea of economic boycotts. They have been incredibly instrumental in transforming the South. However, in this instance we have leaders who do not care," Abrams told MSNBC on Thursday. "They legitimately have rejected the idea that it matters if we lose the dollars here because they know they can make money in other ways."
U.S. Representative Terri Sewell agreed that increased activism is the best route for challenging lawmakers, telling Newsweek in a statement that "civic and public engagement is the best way for Americans to make their voices heard."
"Alabamians, both men and women, should demand more from our state's government and hold these state legislators accountable for putting politics above both the health and fundamental rights of women in our state," Sewell added. The Democrat has been representing the state's 7th Congressional District since 2011.
While economic protests have a prominent place in U.S. history for prompting change, like the Montgomery Bus Boycott or the Delano Grape Strike, historian Joshua Rothman told Newsweek that boycotts are not always effective.
More recent boycotts, like those targeting Indiana's religious freedom law or North Carolina's regulation of transgender people's use of public restrooms, have seen limited success. After major organizations like Apple and the NCAA banned travel to Indiana, the state slightly amended the controversial law. In North Carolina, the state got rid of it's original "bathroom bill" but replaced it with one that imposed a three-year ban on local nondiscrimination ordinances.
"Should major industries decide to pull out of the state or avoid it altogether, that would certainly have an impact, though it's impossible to say whether or not the state legislature would be moved to repeal or alter the law as a consequence," he said. Rothman is chair of the History Department at the University of Alabama. He urged abortion rights activists to take other approaches to create "a more humane and progressive Alabama."
The American Civil Liberties Union of Alabama is encouraging abortion rights activists to organize at both the state and national level to show support for the state rather than punish them economically for the actions of their elected officials.
"I don't think it's going to influence the politicians who need to hear this message," Rebecca Seung-Bickley, the director of communications and public education at the ACLU chapter, told Newsweek about the boycott proposal. Seung-Bickely grew up in Montgomery and attended the University of Alabama.
"What it would do instead is leave behind a lot of people in this state without support, without resources and without the national attention and awareness that this is generating," she added.
Instead, activists can organize sister marches in their own states or donate to local organizations that work for reproductive justice. Advocates can also call their own representative in Congress and insist they support the federal Women's Health Protection Act, which would protect abortion by creating a safeguard against restrictions on the procedure that apply to no similar medical care.
"Our state is at the bottom in almost every metric you can imagine. Poverty is pretty rampant. There are a lot of issues we have to deal with here … Boycotting is just going to decrease those resources and decrease the support we have which is already pretty limited," Sueng-Bickley said.
Alabama ranks 50th nationally in education and 49th in terms of life expectancy. Alabama also has the fourth-worst infant mortality rate in the United States. According to the Centers for Disease Control and Prevention, in 2017 Alabama experienced 7.4 deaths per 1,000 live births.
The state also has nearly no regulations on child care services. Just last year, Governor Ivey signed a bill that added partial regulations for child care centers but it still did not require the licensing and inspection of all facilities.
"The challenges that are before us, it's kind of like we are majoring in the minors," Alabama Senator Coleman-Madison said. "All of these issues are staring us in the face that we really need to be dealing with, and the Republicans are sticking their heads in the sand and not looking at the real issues."