Alabama Can Ban Curbside Voting, Supreme Court Rules 5-3 Along Ideological Lines
In a 5-3 ruling issued Wednesday, the Supreme Court ruled that Alabama can bar curbside voting, a method of drop-off voting sought by state advocates to minimize possible COVID-19 exposure in public polling places on Election Day.
The court's rulings broke down along ideological lines with its five conservative-leaning justices opposing curbside voting and its three liberal-leaning justices supporting it.
Alabama's Republican Secretary of State John Merrill had banned curbside voting in the upcoming election.
In response, the Alabama conference of the National Association for the Advancement of Colored People (NAACP) and the American Civil Liberties Union, joined five elderly and disabled state voters in a lawsuit to force the state to allow curbside voting in counties that were "willing and able" to do it.
In court documents, Alabama's Republican Attorney General Steve Marshall said the state had taken "extraordinary measures" in the elections to reduce possible COVID-19 exposures, CNN reported. Marshall also said curbside voting wouldn't fit with current state election laws and laws protecting ballot secrecy, namely laws around third party submission of other people's ballots.
On October 13, the U.S. Court of Appeals for the 11th Circuit voted 2-1 to allow curbside voting to proceed. In response, Merrill issued an emergency petition asking the Supreme Court to take up the case.
USA Today reports that the court's five conservative justices didn't write an explanation for their decision, something commonly excluded in decisions on emergency petitions.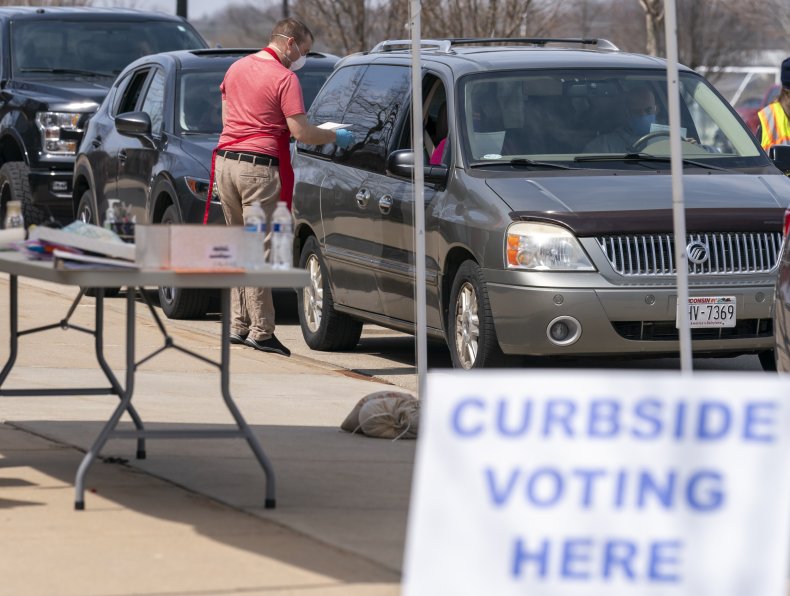 In her dissent, Associate Justice Sonia Sotomayor wrote that "COVID-19 is disproportionately likely to be fatal" for disabled and elderly voters. As such, she reasoned, they shouldn't be required to stand indoors "for as long as it takes, in a crowd of fellow voters whom Alabama does not require to wear face coverings."
Alabama will keep in place two state laws requiring voters who submit absentee ballots to include copies photocopies of government-issued IDs as well as affidavits signed by a notary or two adult witnesses.
In a statement to Newsweek, Alabama Republican Party Chairman Terry Lathan called the ruling "another win for the rule of law in Alabama" accusing Democrats "running to the courts to make up laws that don't exist or try and twist ones that do."
"The proper lane to deal with state election law is the state legislatures who are elected by the people," Lathan told Newsweek. "Courts across the nation are turning back these drive-by attempts to upend election laws.... Any eligible voter in our state can easily vote even under the Covid situation. Alabama has record voter registration and turnout. We expect the same for November 3."
Wednesday night's decision marks the second state voting case that the Supreme Court has ruled on in the last two weeks leading up to the election.
On Monday, the Supreme Court ruled that election officials in Pennsylvania will be allowed to count absentee ballots for three days after November 3.
Pennsylvania state Republicans had asked the court to overturn part of a Pennsylvania Supreme Court decision allowing ballots postmarked by November 3 to be counted in the three days following the election. Republicans said the three days of counting violated federal law establishing the first Tuesday after the first Monday in November as Election Day.
The Republicans in that case also argued that the state supreme court's ruling effectively overrode the state legislature, violating the U.S. Constitution's provision allowing state legislatures the right to determine their own election methods.
Update (10/24/2020, 12:16 a.m.): This article has been updated to include a statement from the Alabama Republican Party.