Alabama Children's Hospital Treating Record 22 Kids With COVID, 5 on Ventilators
The Children's Hospital of Alabama put out desperate pleas this week for parents to inoculate children ages 12 and up against COVID-19 and mask those younger as a deluge of minors enter its doors with severe cases of the virus.
A statement from one of the largest pediatric medical centers in the United States released Thursday reported that 22 COVID positive inpatients are being treated there, with five of them on ventilators. Previously, their highest COVID census in January was just 13.
"This marked increase is due to the community spread of the Delta variant that is impacting younger people, including children. The threat to Alabamians is serious," the hospital said in a statement.
"Children's strongly encourages the community to help us protect the most vulnerable in our state by [vaccinating children 12 and up, masking and social distancing] and by following current CDC COVID recommendations, including washing your hands, using hand sanitizer and staying home if you are sick."
In a press conference on Tuesday, Dr. David Kimberlin, co-director of University of Alabama at Birmingham and Children's of Alabama's Division of Pediatric Infectious Diseases, begged the public to take the virus seriously, particularly as schools prepare to welcome back students en masse for the first time since the onset of the pandemic.
Nationwide, school systems are grappling with political discord over masks in schools, particularly in Republican-led states that have enacted bans on enacting mask mandates. While state health officials in Alabama are advising students to mask up, some local lawmakers, like District 3 State Representative Andrew Sorrell, are drafting legislation that goes against those advisories.
"I'm just trying to be pro-freedom; that's really what this is about," Sorrell told local news station WHNT. "I don't see everyone in school under 12 getting coronavirus; I just don't see it happening and I don't think that the masks have been very effective at stopping it. We had masks all last school year so I don't think that the data is there to back that up."
But in his address on Tuesday, Kimberlin wanted that the Delta variant is "rapidly spreading among children" and implored school system to adhere to the recommendations to require masks wearing made by the CDC, the Alabama Department of Public Health, the American Academy of Pediatrics, the Infection Diseases Society of America and the Pediatric Infectious Disease Society.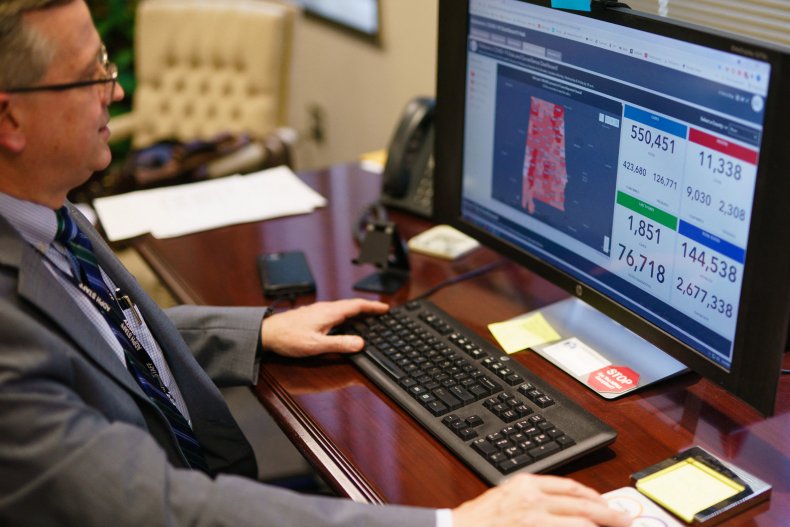 A group of Birmingham-area pediatricians who released a statement earlier this month also stressed the urgency of masks in schools ahead of the return to classrooms.
Presently, only 34 percent of eligible people in Alabama are vaccinated, one of the lowest rates in the country. State health officials said earlier this month that they have discarded 65,000 doses of the vaccine due to low demand.
State Health Officer Dr. Scott Harris said in a press conference Thursday that Alabama is about to hit an "unprecedented" high for positive cases and hospitalizations.
The Alabama Department of Public Health confirmed 4,167 new cases on Thursday, adding to the more than 4,000 from the day before. There have been 18,000 new cases in the last seven days, according to state data.