Alabama Coach Nick Saban Tests Positive for COVID-19
Nick Saban, the head football coach at the University of Alabama, has tested positive for coronavirus. Greg Byrne, the school's athletic director, has also reportedly tested positive.
Saban, 68, said he told his players earlier Wednesday about his positive COVID-19 test, and that Steve Sarkisian will lead the team during in-person activities and practices.
"I informed our team of my positive test at 2 p.m. [CT] today on a Zoom call and let them know offensive coordinator Steve Sarkisian will oversee preparations at the complex while I work from home," Saban said in a statement.
Saban said he has no symptoms. Meanwhile, Byrne has self-isolated at home.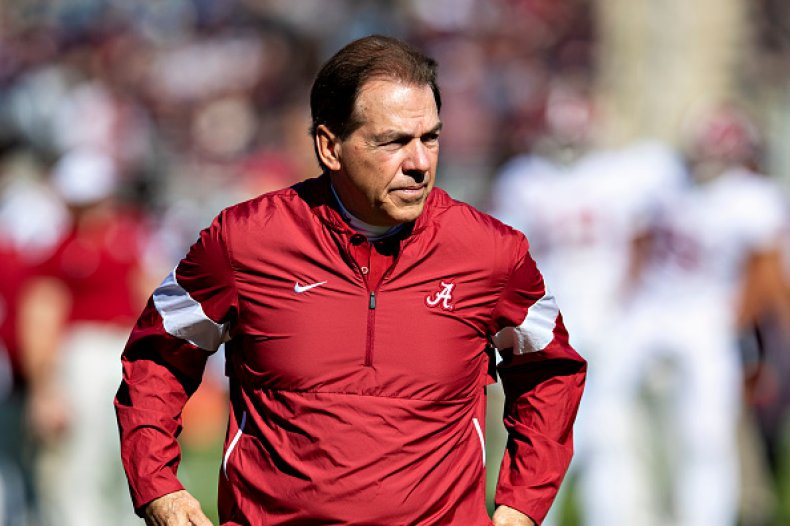 "We've been diligent about mask wearing and social distancing from the start and want to continue to encourage you all to take the necessary precautions to help stop the spread of this virus for yourself and those around you."
This comes as Alabama, ranked No. 2 in the country, is scheduled to host No. 3 Georgia this Saturday in Tuscaloosa.
The positive tests comes after Alabama traveled to face Ole Miss last Saturday. Ole Miss has had a recent outbreak of positive tests on campus.
The SEC, which pretty much held college football together during the pandemic, kicked off its 10-game, conference-only schedule on Sept. 26.There were no interruptions through the first three weeks.
Now, the league is starting to postpone games because of the virus. Through Wednesday, there have been two announced postponements and another possible game that may be affected.
These SEC games scheduled for Saturday (Oct. 17) have been postponed because of COVID-19 infections:
LSU at Florida
Vanderbilt at Missouri
There's a good possibility that Ole Miss at Arkansas could be postponed as a number of Ole Miss players have reportedly tested positive.
Saban is one of the best college football coaches in history, having won six national championships in his career. He won his first at LSU in 2003, and has won titles with Alabama in 2009, 2011, 2012, 2015 and 2017. He finished runner-up two other times.
Saban's diagnosis comes just a week after the announcement of former college football coach Bobby Bowden's diagnosis. Bowden, 90, was hospitalized for the illness, but said earlier this week that he was feeling much better.
"I am sure [God] answered a prayer," Bowden told the Tallahassee Democrat. "I do feel better. I am doing good. I appreciate everyone's thoughts, I really do."
Bowden said he has regained enough strength to start walking around, but that he still gets "frustrated" at times.
"You get fever, you get frustrated, you don't feel good and you wonder if you were able to get up," Bowden said. "But now that's behind me. I took another [COVID-19] test. ... I can't go home until that's cleared."