Nick Saban, head coach for the University of Alabama football team, said Monday that Auburn will be the best team his team will have played this season when the teams meet in the Iron Bowl this Saturday.
Not quite specifying "coach speak" or just trying to hype up his team, it caught the attention of college football fans, especially those in the South and others who follow teams trying to get into the College Football Playoff (CFP).
Then again, it could be a political move for Saban, who needs his team to not only win against its in-state rival on Saturday, but needs some dominoes to fall so the Crimson Tide can make another playoff run.
While talking to the media on Monday, Saban said of Auburn, "This is the best team we've played, probably, so far this year."
Alabama has one loss this year, which is to LSU, a 46-41 setback at home in Tuscaloosa. LSU's previous game before beating Alabama was a 23-20 takedown of Auburn in Baton Rouge.
Alabama is 10-1 and ranked No. 5 in the latest CFP rankings, a ranking expected to hold on Tuesday night after its weekly release. The good news for Alabama is that No. 1 LSU and No. 4 Georgia will meet in the SEC Championship game on Dec. 7. An LSU win would likely knock Georgia from the rankings, but a Georgia win would almost guarantee that LSU and Georgia both make the four-team playoff.
Alabama has scenarios that favor them, and others that don't. For example, Alabama would most likely benefit of No. 3 Clemson loses a game, but not if No. 2 Ohio State loses just one game.
Utah will most likely be the No. 6 team after Oregon lost on the road at Arizona State last weekend, and a Ducks win over Utah in the Pac-12 would help Alabama state its case to make the playoff, despite not even playing in its own conference championship.
Beyond Auburn's strong defense, Saturday's game will not be easy for Alabama. History tells that lesson. The last six times these two teams met at Auburn's Jordan-Hare Stadium as ranked opponents, Auburn has won every time.
Then there's the quarterback factor. Auburn freshman quarterback Bo Nix has started every game this season. He has beaten Oregon on a neutral site, and his only losses are to No. 1 LSU, No. 4 Georgia and to No. 11 Florida.
Alabama has made the College Football Playoff in all five years of its existence, but this year could potentially be the first time the Crimson Tide could be left out of the mix. Crimson Tide quarterback Tua Tagovailoa, who sustained a season-ending hip injury against Mississippi State two on Nov. 16, has been replaced by Mac Jones, who is now 2-0 as a starter.
But this weekend's Iron Bowl performance against one of the best defenses in football could determine who goes where after conference championships are settled.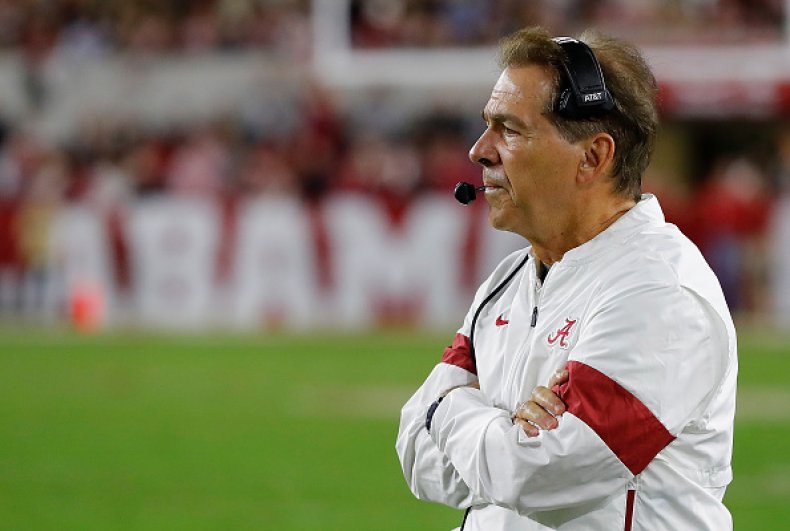 Uncommon Knowledge
Newsweek is committed to challenging conventional wisdom and finding connections in the search for common ground.
Newsweek is committed to challenging conventional wisdom and finding connections in the search for common ground.
About the writer
Scott McDonald is a Newsweek deputy night editor based in Cape Coral, Florida. His focus is assigning and writing stories across all topics, from news to politics, business, weather, sports and international news. Scott joined Newsweek in 2018 after a lengthy career of print journalism in Texas, including The Dallas Morning News, where he was a sportswriter, and he's a voter for the Heisman Trophy. He has been a newspaper editor-in-chief and also a newspaper publisher. He is a graduate of The University of Texas at Austin. You can get in touch with Scott by emailing s.mcdonald@newsweek.com. Languages: English