Alabama Considering Making Transgender Treatment for Minors a Felony, Even if Parents Approve It
The Alabama state legislature is considering a bill that would criminalize doctors prescribing puberty blockers, hormonal treatments and the procedures for minors who identify as transgender, even if their parents consent to the medical services.
The Alabama House Health Committee listened to arguments on both sides of the Vulnerable Child Compassion and Protection Act on Wednesday. The bill, sponsored by Republican State Senator Shay Shelnutt of Trussville, passed in the State Senate 23 to 4 on March 2, and would be the first of its kind to become law in the country.
"Children aren't mature enough to make these decisions on surgeries and drugs." Shelnutt said to the Associated Press. "The whole point is to protect kids."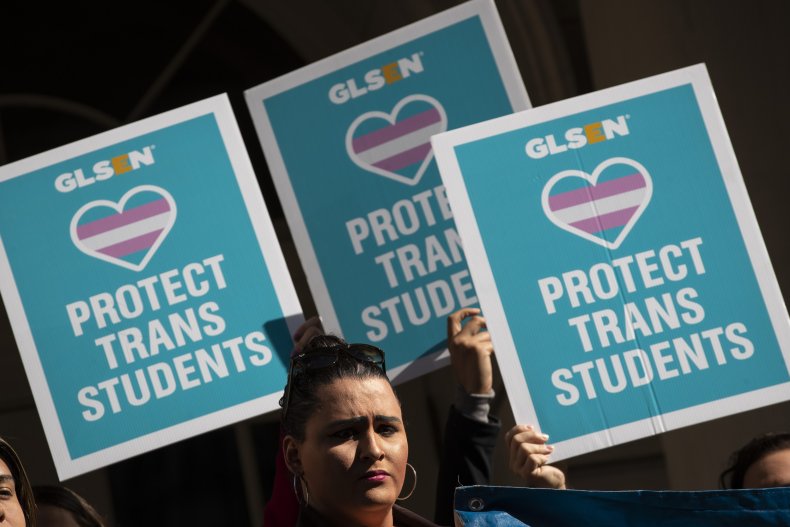 The bill would make any medical prescription or procedure meant to alter or delay puberty considered a Class C felony worthy of 10 years in prison or a $15,000 fine for violators—even if parents approve of the treatment. A spokesperson for the American Civil Liberties Union (ACLU) of Alabama confirmed in an email to Newsweek that parents would not be able to override the law unless they seek care for their child in a state where it's legal to provide gender-affirming care. The spokesperson added that this puts medical providers in the position of choosing between "doing their jobs" and facing prosecution.
Gender-affirming therapies are considered a "public health risk," according to the proposed law, and police have the right to prosecute medical providers for prescribing hormonal doses to minors and performing surgeries that aren't for a "medically verifiable disorder."
"These youth are not mentally ill," Dr. Morissa Ladinsky, a pediatrician at the University of Alabama at Birmingham, said to the committee. She added that while the bill prohibits surgeries to genitalia of minors, these operations are never performed on minors in Alabama.
Long-term effects of hormonal treatments and puberty blockers "have not been rigorously studied" enough to administer to children, according to the bill, which also states that gender confusion is temporary because most children "ultimately identify" with biological sex by the time they're young adults.
Ladinsky said about 1.5 percent of people have a gender identity that conflicts with their biological sex, and the effects of hormonal treatments are 100 percent reversible.
"They did not choose to be this way," Ladinsky said. "Nor did their parents ask for this. But the dysphoria they experience merits specialized health care. And for them we use evidence-based, standardized medicine to keep them healthy."
If the bill were to become law, schools would also be required to disclose to parents if they think "a minor's perception that his or her gender is inconsistent with his or her sex."
The mandate to teachers and administrators causes concerns among critics that schools will be put in a tenuous ethical position of having to "out" minors to potentially hostile parents, according to a statement from the Campaign for Southern Equality. School personnel also cannot "encourage or coerce" a minor to withhold this information from a parent or guardian.
The ACLU spokesperson said this raises ethical concerns for school-based counselors: "This bill violates the confidentiality between the child and their counselor and the reporting requirement could put more minors in danger, despite whatever the counselors professional judgement about how sharing this information make impact the safety of that minor."
Suicide is also a risk for transgender children, and critics are concerned that without the proper therapies transgender children could be at a great risk of mental health issues. Sgt. David Fuller with the Gadsden Police Department, whose daughter is transgender, told the committee nearly half of transgender youth attempt suicide. The bill stated that there is no "rigorous study" linking gender-changing therapies to a "reduction in suicide."
A first large-scale study in the journal Pediatrics published early last year found transgender adolescents who take puberty blockers were at a significantly lower risk of suicide. Researchers found that between 30 percent and 51 percent of transgender adolescents reported engaging in lifetime suicide behavior.
"If you take this healthcare away, my kid is dead," Fuller said to the lawmakers. "You say you want to take care of these kids, then you want to make the doctors criminals. I'm a police officer. You're asking me to arrest the folks that I know saved my kid's life."
During the Senate debate on the bill, Shelnutt said he had never spoken to a transgender youth before, according to the AP. He added that he did not even know such treatments were even performed until last year when he initially introduced the bill.
Alabama is one of eight states where conservative legislators are pushing bills arguing against hormonal treatment for children.
Newsweek reached to Shelnutt for comment.
This story has been updated with comment from the ACLU of Alabama.